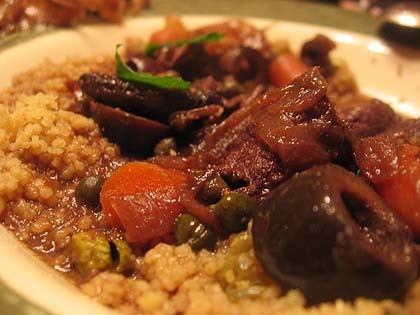 This month's Weekend Cookbook Challenge is hosted by Mel's Diner with the aptly chosen, Celebration Dishes as the theme. For this, I chose my newest cookbook, Nigella Express and made a lamb stew from it.
She calls it a tagine, but since I didn't cook it in an actual tagine and I'm not familiar enough with Moroccan cooking to judge it's accurateness, I'm certainly not going to call it a tagine. So, uh, no one get their knickers in a twist.
Anywho….I used a mix of olives here, mainly because that's what I had — nicoise, kalamata and a handful of plain black, pitted olives. But, I'm thinking oil cured might be super tasty here. I also just made my own caramelized onions, rather than hunting down a jar of them (as the recipe calls for). I have never even seen jarred caramelized onions…maybe that's a British thing? Another thing I changed is that I added carrots. I just felt the need for more vegetables with the big meatiness of the stew.
Let's celebrate!
Lamb Stew with Olives and Caramelized Onions
Adapted from a recipe by Nigella Lawson
2 1/4 pounds diced leg of lamb
1 head garlic, separated into cloves
12 ounces pitted black olives in brine, 5 ounces drained weight to give 1 1/4 cups
1 white or yellow onion, diced roughly
1 tbsp honey
1 tbsp olive oil
sprinkle of salt
3 tbsp capers
2 tsp ground cumin
2 tsp ground ginger
1 bottle red wine (I meant to use a merlot but I grabbed a cab by mistake — worked just fine!)
1 1/2 cups chopped carrots — about 1-2 inch pieces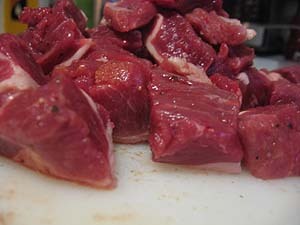 Preheat the oven to 300 degrees F.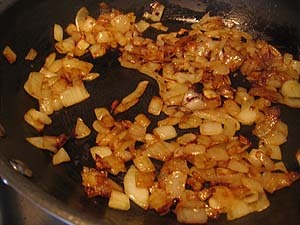 Preheat a pan over medium heat — preferably a big Dutch oven that you can layer the whole recipe into for its trip into the oven. Add the olive oil and then onions and honey. Give a small sprinkle of salt. Cook until light brown and caramelized, about 20 minutes. Turn the heat down if need be to keep from burning.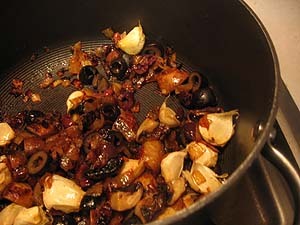 Add the garlic, olives and lamb. Brown the lamb just for a few minutes, maybe 5 total, stirring a bit to get color on as many pieces as possible.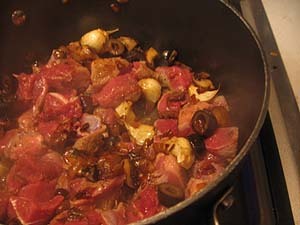 Next, add the wine, the capers, and the ginger and cumin. Increase the heat to high, give it a good stir and bring to a boil.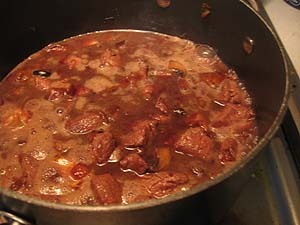 Put a lid on it and stick it in the oven for two hours total. After the first hour add the carrots and continue to cook until the lamb is super tender.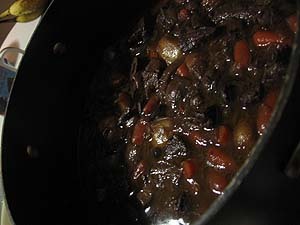 We had this with some couscous that I cooked with chicken broth, about a handful of shelled pistachios and a handful of golden raisins. What were we celebrating? Ah, a cold December evening!
Thanks again to Mel's Diner for hosting WCC this month!