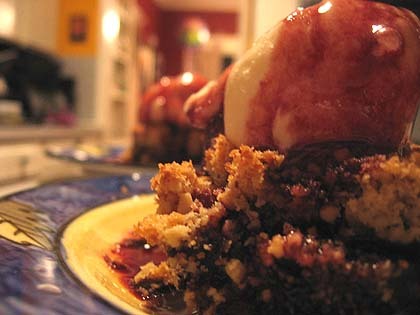 Sugar High Friday, hosted by Cream Puffs in Venice is all about figs this month. Awesome. I really like figs. For this SHF I turned towards perhaps the perfect cookbook for this event — The Girl and the Fig cookbook, one that I really like. In fact, I'm trying to finagle my way into lunch or dinner there next time we're near Sonoma. But, back to SHF, I'm going to guess I'm not the only one who makes something out of this book given the theme. We'll see…
Anyway, this was wonderful! A lot of steps, but it makes a great Saturday afternoon project. I did halve the recipe (I used a square 8 inch X 8 inch baking pan) and still ended up freezing about half of it for later snacking — it's very rich.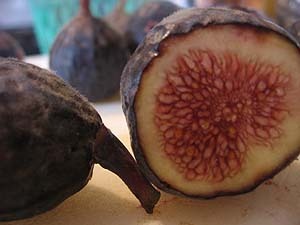 Warm Fig & Thyme Crisp with Fig Syrup
Pastry:
2 cups walnut halves
6 tbsp + 3/4 cup granulated sugar
3/4 cup packed light brown sugar
1 1/2 tsp salt
1 1/2 tsp baking powder
4 1/2 cups AP flour
3/4 lb (3 sticks) unsalted butter, thinly sliced
3 tsp vanilla extract
3 egg yolks
Jam:
2 1/2 pounds dried figs (I used about half dried figs and half fresh figs, which, for my halved recipe turned out to be 1 8-oz bag of dried figs and 1 pint of fresh figs)
3/4 cup granulated sugar
zest of 3 lemons
1 bunch thyme, tied with twine
3 tbsp lemon juice
Port-Fig Syrup:
2 cups Port
5 dried Black Mission figs, sliced
1 cinnamon stick
1 clove
1/2 cup sugar
Pastry
Preheat oven to 350 degrees. In a food processor, grind the walnuts (until medium-fine) with the tablespoons of sugar and set aside. Don't worry, you'll come back to them, but not until you're ready to assemble the crisp. Next, mix the 3/4 cup granulated sugar, the brown sugar, salt, baking powder and flour until well combined. Add the butter and mix until the mixture clumps, about 2 minutes.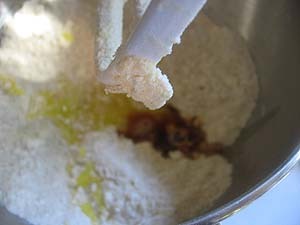 Add the vanilla and egg yolks to the mixture and mix for 40 seconds. Pack two-thirds of the dough into the bottom of a 9 X 12 inch ungreased pan and bake until it's lightly golden — about 25-30 minutes.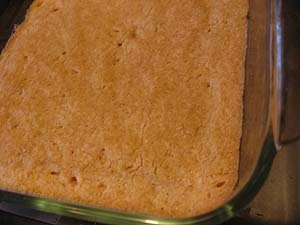 Jam
To make the Jam, combine the figs, sugar, lemon zest thyme and lemon juice and pour in enough water to cover. Bring to a boil and boil for 10 minutes. Don't be shy with the water. I was kinda skimpy and had to add more water half way through cooking. Go ahead and really cover everything from the beginning.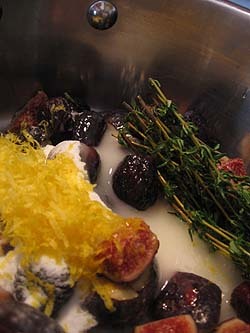 Reduce the heat and simmer until the figs are tender, about 30 minutes. Remove the thyme. Puree the mixture in a food processor.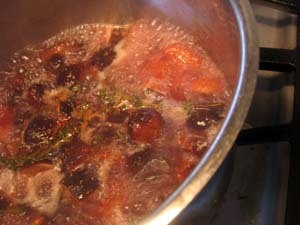 Syrup
Heat the figs, port, cinnamon and clove in a pan over medium heat and reduce to about 1/2 cup. Strain the sauce, pushing on the figs to get as much juice out as possible. Whisk in the sugar and serve.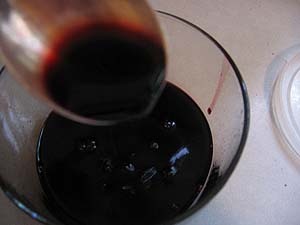 Assembley
Spread the jam evenly over the baked dough.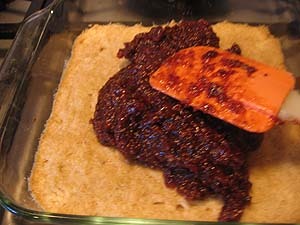 In a bowl, crumble together the remaining third of the dough with the walnut and sugar mixture. Sprinkle this mixture over the jam and bake for about 50 minutes. (If you make a half recipe in a smaller pan, give it about 35 minutes).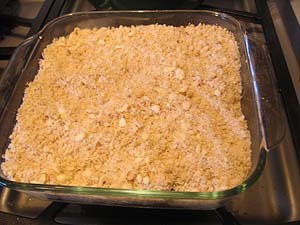 Cut into pieces and serve warm with vanilla ice cream (or frozen yogurt) and drizzle with the port sauce. So amazingly decadent! And delicious!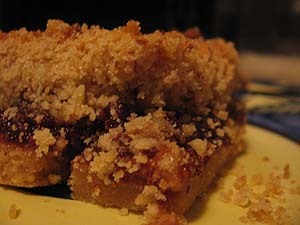 Thanks again to Ivonne for hosting and coming up with a tasty theme! I can't wait to see all of the fig recipes.