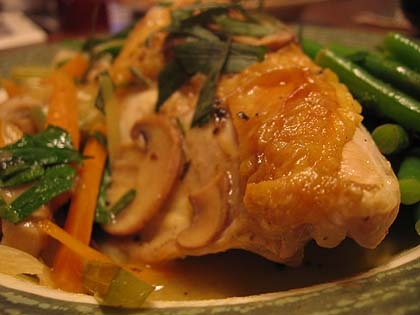 When I first came across this event hosted at Champaign Taste I knew I wanted to participate for many reasons:
1. She (Lisa, not Julia Child) has a cat that looks like one of my cats
2. I fondly remember watching Julia Child with my mom on the weekends
3. does a person really need a reason to make a meal inspired by Julia Child?
So, I started my research. I knew I wanted to make chicken…but what kind of chicken? During my research I came across this article in the New York Times from 1987. It was written by Julia and is entitled, "The Most Interesting Recipe I've Clipped." Well, hell, if a recipe is good enough for Julia Child to clip and expand upon, then it's good enough for me. Plus, it's really a one-pot dish — that's always a bonus.
I added a couple of things to the original recipe — browning the chicken, mushrooms, garlic and fresh tarragon while taking away a few others — most of the cream and the egg yolks. I also only used two big, split chicken breasts (with skin and bone), as there were only two of us eating the meal. I served the waterzooi with slices of a French baguette…oh, okay, I also put some Boursin cheese out. Fine. But only because it was something that Julia probably would have done too. Yeah.
Waterzooi of Chicken
Julia Child
2 medium carrots
1 medium onion
2 tender ribs of celery
10 button mushrooms, sliced
1 medium-sized leek, white and tender green parts only
4 cloves of garlic, sliced into mini-matchsticks
1/2 tsp dried tarragon
Salt and freshly ground pepper
2 tbsp olive oil
2 bone-in, skin on chicken breasts
1/4 cup + 1 1/4 cup dry white wine
1 1/2 cups chicken broth (or more)
1/4 cup heavy cream
1 tsp cornstarch
3 tbsp minced fresh tarragon
1 tbsp fresh parsley
Trim and wash the vegetables and cut them into julienne matchsticks. Toss them in a large mixing bowl with the tarragon and a sprinkling of salt and pepper.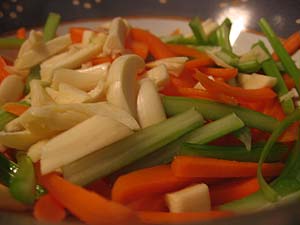 Wash and dry the chicken, then salt and pepper it a little on each side. Heat the olive oil in a dutch oven (or big stove-top casserole) and brown the chicken on each side — about 4 minutes total.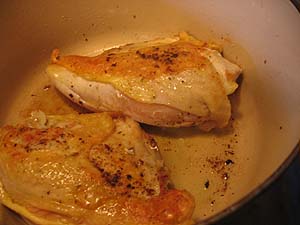 Remove the chicken from the pan and set aside. Add the mushrooms to the pot and sauté over medium heat until just starting to color and soften. Deglaze the pan with 1/4 cup of wine and let the wine absorb into the mushrooms a bit. Remove the mushrooms from the pan and set aside with the chicken.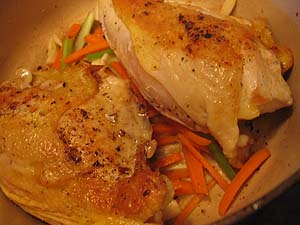 Now, start layering the pot in the following order: one half of the vegetables, the browned chicken breasts and mushrooms and then the remaining vegetables. Pour in the wine and enough chicken broth to barely cover the chicken.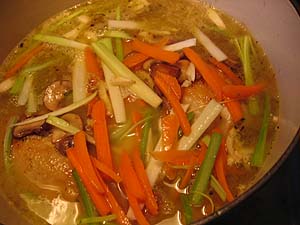 Bring the pot to the simmer, covered, and cook slowly 25 to 30 minutes or until the chicken pieces are tender and, when pierced, the juices run clear.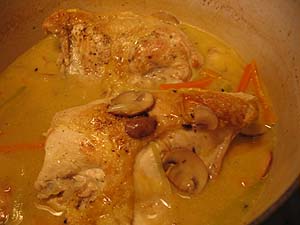 Remove the chicken and keep warm with foil. Turn up the heat and reduce the sauce for about 5 minutes. Blend the cream and cornstarch in a small mixing bowl and add the mixture into the sauce. Continue to cook for about 2 more minutes. Taste and adjust any seasonings.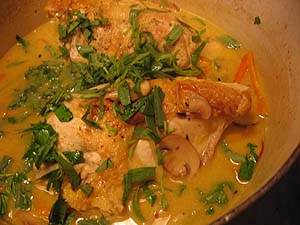 Add the chicken back into the sauce and garnish with the fresh tarragon and parsley. Spoon into bowls and marvel at the amazing flavor. Seriously, this was so good. But, should I have expected any less given the source?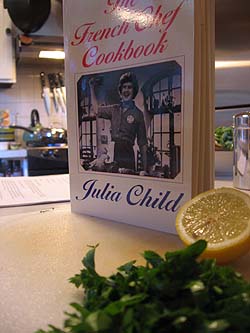 On the side
We had some crusty French bread and Julia's Haricots Verts au Maitre Hotel — or green beans tossed with butter, lemon juice and parsley. This is from the cookbook, The French Chef Cookbook.
Haricots Verts au Maitre Hotel
Julia Child
1 lb fresh green beans, washed right before using
1 tbsp kosher salt
boiling water
1 tbsp butter
lemon juice
1 tbsp minced parsley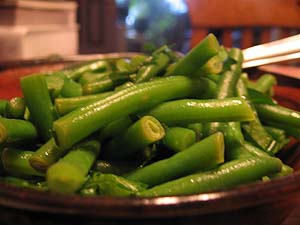 Snap ends off of beans and boil in salted water, uncovered, for 8 minutes. When done, drain and run cold water over the beans. When ready to serve, toss the beans in a sauce pan over moderate heat to evaporate any remaining liquid. Add the butter, salt and pepper and toss until the butter is melted and the beans are reheated — about 2 minutes. Toss again with a squeeze of lemon juice and the parsley. Serve immediately.
Thanks again to Lisa at Champaign Taste for creating and hosting this event! And, happy birthday Julia!