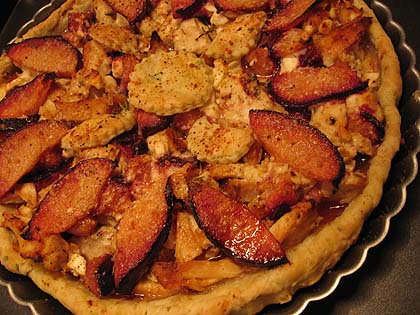 I think I totally forgot about last month's Weekend Cookbook Challenge. That makes me sad as I think that's the first one I've missed for the past year or so. I'm also going to blame it on my cold last month and rejoin WCC this month as if nothing had happened…la-la-la-la-la.
So, for WCC#16 the theme is "something new". Perfect timing, as I just got a new book while in Ashland last month — Shakespeare's Kitchen: Renaissance Recipes for the Contemporary Cook by Francine Segan.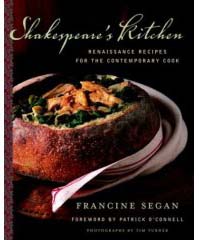 It's really a beautiful book and a lot of the recipes caught my eye but the chicken plum tart was the one I wanted to try first. I did change a few things, though (as is my way, it appears). The original recipe seemed kind of dessert-y with cinnamon, brown sugar and cloves. Instead, I opted to try adding fresh thyme and feta cheese. My changes are in the recipe below, but I've also listed the original ingredients if you want to make the authentic version.
Chicken Plum Pie
1 lb cooked chicken meat, shredded
2 plums, pitted and diced
1 plum, cut into slices
1 tbsp butter, melted
1 tbsp fresh thyme leaves
1/2 cup feta cheese
3 tbsp chicken stock
1 tbsp Parmesan cheese
Salt + pepper
Alternately, you can omit the thyme and feta and follow the real Shakespearean recipe and instead use a pinch of ground cloves, 1/4 tsp ground cinnamon, 1 tbsp brown sugar and 1/2 tsp ground mace.
Renaissance Dough
2 cups sifted, loosely packed pastry flour (I admit I used AP flour for this)
1/2 cup ice water
1/2 tsp salt
1 large egg, beaten
1/2 cup butter, cut into small cubes
1 tbsp chives, snipped (my addition — if you're making the sweeter version, omit the chives)
The actual recipe in the cookbook described a process where you mix the flour, egg, water and salt together on a cold surface and then roll the butter into the dough. Some people could probably have this work just fine for them. Me? I opted to make this dough how I make all my doughs — in a food processor. Quite honestly, the Renaissance was 500+ years ago and I have a food processor at my disposal and I am lazy. So there.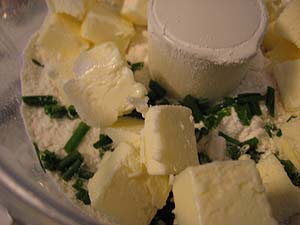 Pulse the butter into the flour, salt and chives. Add the egg, Pulse. Then add water until the dough comes together (although it'll be a little crumbly). You can also use the above-mentioned rolling pin method or one of those wiry, pastry blenders, forks or your fingers. Whatever works best for you.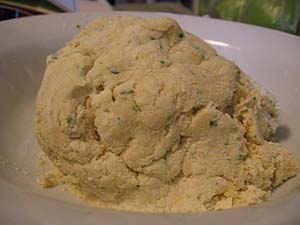 Gather up into a ball and refrigerate for at least an hour. When ready to use, divide in half and roll one half out for your tart. The other half can be refrigerated for a few more days and used later in the week for something fun. Or, you could also just make a half recipe of the dough for this tart. I opted for fun. But more on that later.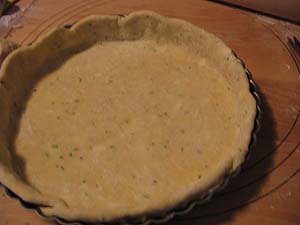 Preheat the oven to 375 degrees. Roll out the dough to 1/8 inch thickness and press into a round tart pan or even a square baking pan. Prick all over with a fork to avoid the air bubbles. Bake for 10-15 minutes until it starts to get a bit golden. If you have extra dough, you can always roll it out and use a cookie cutter to make fun shapes for the top.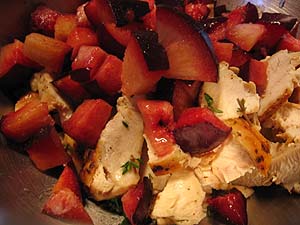 Combine the chicken, thyme, stock, feta and diced plums in a bowl (or, omit the thyme and feta and add the cloves, mace, cinnamon and brown sugar instead). Season to taste with salt and pepper.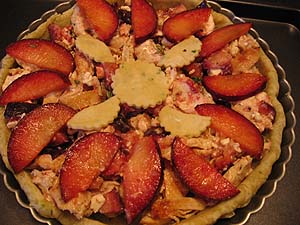 Spoon the mixture into the pie crust and drizzle the butter over the top. Sprinkle with the Parmesan (or brown sugar). Bake for about 40 minutes, until the crust is golden, the filling is all bubbly and the plums have caramelized a bit. Let cool for a few minutes, then slice and serve. We had ours with a spinach salad which was a wonderful combination.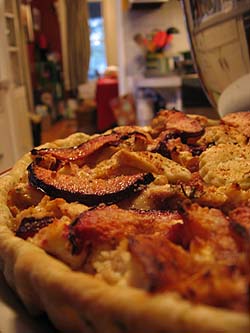 It was really good. An interesting combination of meat and fruit. I liked the thyme and feta a lot, it made it seem more like a chicken pie with fruit rather than a fruit pie with chicken.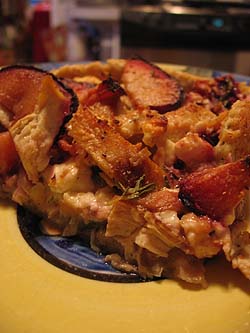 Since I made a full dough recipe, I had a ball of Renaisssance dough leftover. What to do? Well, I used it to make an olive, tomato, provolone and artichoke heart tart. I pre-baked the tart shell and then lined it with slices of provolone cheese. Then came a mixture of chopped artichoke hearts and olives, then I poured over a custard (1/4 cup evaporated skim milk + 2 eggs whisked together along with some salt and pepper) and tomato slices. Okay, fine, I also sprinkled Parmesan cheese over the top.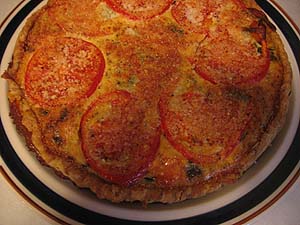 I baked it for about an hour at 350 degrees and it was another dinner (and breakfast the next day for jwa and I). Excellent. Thanks again, as always, to Sara of Weekend Cookbook Challenge and all around great blogger and cook.
Crap. Now I have to vaccum.