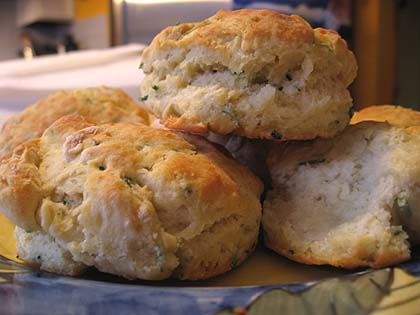 I made these the other day and they were quite good — but the recipe (from Everyday Food magazine) may need a bit of tweaking. It calls for 2 cups of milk, which results in very wet, sticky dough. I turned mine out onto a very well floured board and patted more flour into it until I could work with it, but you may want to just use less milk. I'd suggest about a cup and a half.
The herbs smell so good while these are baking! Very Thanksgiving-y with the fresh sage. I just used a combination of mostly chives and a little bit of everything I could snip fresh from outside — sage, rosemary, oregano and thyme.
Herbed Biscuits
4 cups all purpose flour
2 tbsp baking powder
1 1/2 tsp salt
8 tbsp (1 stick) cold unsalted butter cut into pieces
1/2 cup snipped fresh chives, thyme or sage, or a combination
1 1/2 – 2 cups cold milk (original recipes calls for 2 cups — I think that's a bit too much)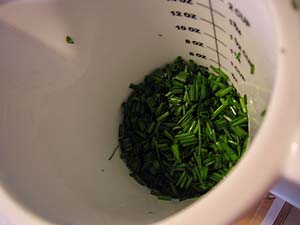 Preheat oven to 400 degrees. In a food processor, combine flour, baking powder, salt and butter.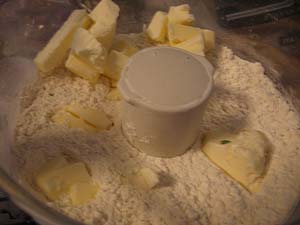 Pulse mixture until pea-size pieces form. Through the feeding tube, add chives and milk; pulse just until combined. With my processor, I had to do this in two batches. I pulsed 2 cups flour with half the salt, baking powder and butter and then transferred to a large bowl. Then did the second batch and added that to the bowl. I mixed the milk and herbs with a spatula.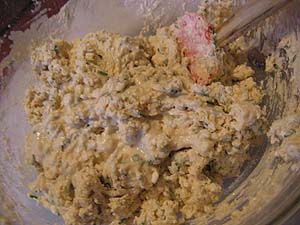 The consistency of my dough with the called for 2 cups of milk … try it with about 1 1/2 cups, I think.
Transfer mixture to a floured surface; with floured hands, pat to a 3/4 inch thickness. Using a 2 1/2 inch round cuter, cut dough into 16 rounds dipping cutter in flour to prevent sticking. Sprinkle tops lightly with flour.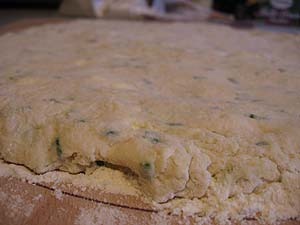 Place biscuits on a baking sheet, 1 inch apart; bake until golden, about 15 minutes. Serve warm.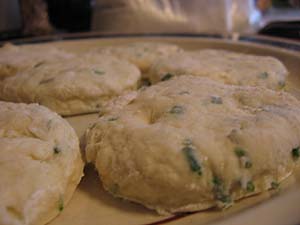 (If freezing — freeze single layer on a plate for 2 hours, then transfer to freezer bags. To reheat, use frozen. Bake at 400 degrees for about 20 minutes).