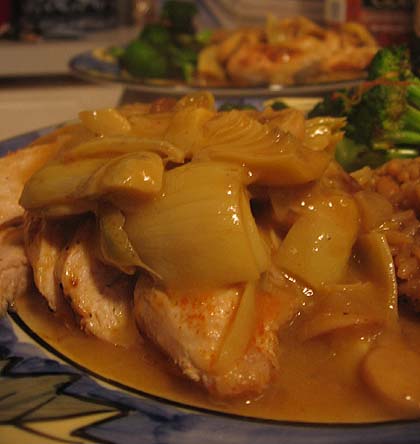 I am really glad I came across this cooking event — Retro recipe Challenge (what a great idea for a monthly event, by the way), as I have in my collection, the perfect cookbook for an occasion such as this one. It's the culinary classic, Saucepans & the Single Girl by Jinx Kragen and Judy Perry, 1965 (written before I was born — whee)! I purchased it used (duh), while going through an ironic housewife phase while in college, while being neither a housewife nor probably very ironic, as I liked to make casseroles in the dorm room kitchen during midterms (but that's bedsides the point, I guess).
The inside cover proclaims, "A bright and bouncy new cookbook for the gal on the go — and on her own." Huh. You can almost hear some sort of uplifting, Mary Tyler Moore-esque theme song in the background. Because you know Mary had this book. At least until Rhoda borrowed it and never gave it back. The bitch.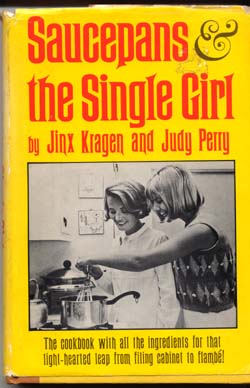 Further down the same inside cover, we are told:
…this swinging cookbook includes dishes that will dazzle the men in a gal's life, recipes that will convince visiting relatives that she's leading a safe and sensible existence, and hearty meals that will fill those inevitable empty evenings when she curls up with a head full of rollers and a good book…here is the ideal kitchen guide for the gal who wants to make the leap from filing cabinet to flambe…"
So, it's for the girl who wants to join the circus?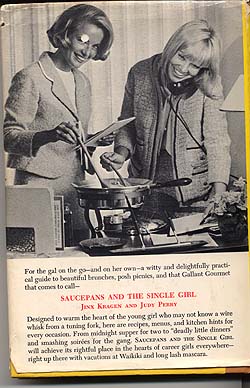 The theme for this month's Retro Recipe Challenge is Fall Foods. That is, "to cook up a recipe associated with fall and first published between 1920 and 1980." When I think of Fall, some of the food items I think of are poultry, sticks of butter, heavy sauces and wild rice from a can. So, this Opulent Chicken sounded like a good match!
I did modify it slightly — the original did indeed call for a whole stick of butter which I just couldn't in good conscience follow. I mean, the cookbook may be from 1965 but it is 2006 here. Instead I changed it to 2 tablespoons of butter and 1 tablespoon of olive oil. I also added onion and garlic just because, why wouldn't a person add onion and garlic to this? The book also directed of the accompanying Wild Rice — "open a can, drain off excess juice, heat and toss with lots of butter."
Uh, you could buy wild rice in a can? That's a little bit scary and not at all appetizing. But, in keeping with the recipe's sentiment, I used a boxed mix of wild rice pilaf. Near East brand, as we usually keep some on hand to use in a pinch and it certainly worked well here.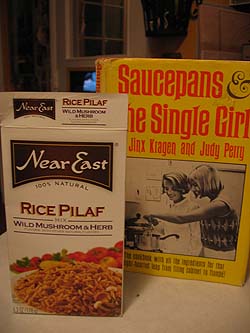 The verdict: well, it wasn't half bad. The chicken turned out moist and the sauce had an overall tasty flavor. I think thyme would have been a better choice than tarragon but it was quite edible. I'd give it a solid 6.5 (on a scale of 10). I'm not sure it's the meal I'd make to land a millionaire (what the book suggests it can do) or anything but one could certainly give it a try. jwa thought it was just "okay" — but then, he's not a millionaire.
Opulent Chicken from Saucepans & the Single Girl
4 chicken breasts (I used skinless and boneless)
paprika (sweet, I assumed, not smoked)
salt pepper
1 stick of butter –that's 1/4 pound (or you could use the previously mentioned 1 tbsp olive oil + 2 tbsp butter)
1 15-oz can artichoke hearts, drained
1 small onion, diced
2 cloves garlic, minced
1/2 pound fresh mushrooms, sliced (I used half white button and half shitake)
1 pinch tarragon (I guessed dried as the book didn't specify)
3 tbsp flour
1/3 cup sherry
1 1/2 cups chicken bouillon (I assumed this meant chicken broth)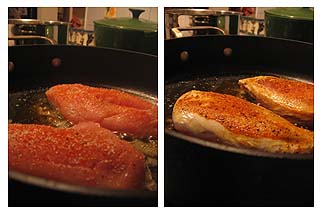 Preheat the oven to 375 degrees. Slather (that's what it said, although I imagine "dredge" or "sprinkle with liberated abandon" would be a more apt description), the chicken breasts with the paprika, salt and pepper. Saute in 1 tablespoon olive oil and 1 tablespoon butter (rather than a half a stick) until golden brown. If your skillet is oven-proof, remove the chicken to a plate and keep warm. If not, place the chicken in a casserole dish and cover with the artichokes.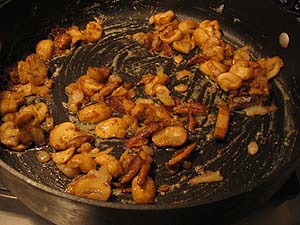 Put the remaining butter (1 tablespoon or…the other half a stick) in the skillet and add the mushrooms, onion and garlic. Season with the tarragon and saute for about 5 minutes. Sprinkle in the flour and add the sherry and broth. Simmer for 5 minutes and add the chicken back in, as well as the artichokes. Alternatively, if using a casserole dish, pour the mushroom sauce over the chicken and artichokes. In either case, you should end up with everything in one container, ready to go in the oven.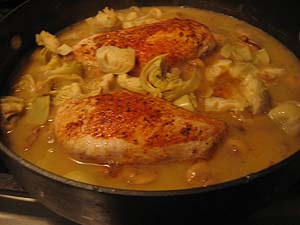 Cover and bake for about 20 minutes, until done (165 degrees). Now, the original recipe said to bake for 45 minutes — I can't quite figure that out. They perhaps meant for the cook to use breasts with the bone in?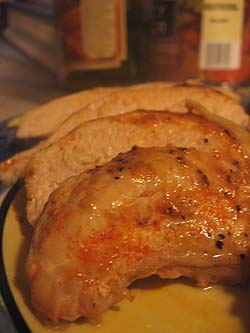 For a nice presentation, I sliced each chicken breast on an angle, then spread out on the plate and covered with some sauce. We had this with the wild rice pilaf and some pan roasted broccoli with lemon zest. So grab your saucepan and go get yourself a husband. Or something.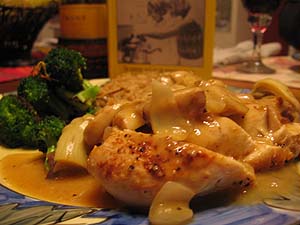 Thanks again to Retro Recipe Challenge –this is such a fun event!
Tagged with: RRC4.