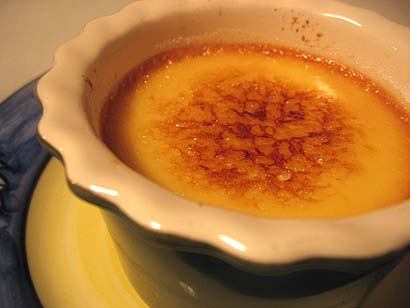 A Salute to Honey, Part II
My first attempt at creme brulee came from a trip to Bath and Body Works in Pioneer Place. Right. See, they carry products from the Savannah Bee Company and I found some orange foot scrub that I liked. I went to their Web site to learn more about the company and found a recipe section.
From there, I discovered a lavender and honey creme brulee recipe that I changed to Rosemary and Honey. This was mainly due to having a HUGE rosemary plant in the front yard that I like to find uses for and because, well, I like rosemary. Especially sneaky uses for it like drinks and desserts.
The flavor was mild and a little sweet. You could taste the rosemary just a little and it blended very well with the honey. I used vanilla sugar in my creme brulee (for the top too) but plain sugar will work fine.
Honey and Rosemary Creme Brulee
(This will make 4 creme brulees. For 2, just halve the ingredients — that's what I did).
7 egg yolks
2 oz. sugar
2 oz. honey
2 cups half and half (or, for a richer, devil may care version, 1 1/2 cups heavy cream and 1/2 cup milk — I did the half and half and thought it was good. Heavy cream would probably even be that much more so.)
3-4 sprigs rosemary
3-t tbsp vanilla sugar (or plain sugar)
Preheat oven to 350 degrees.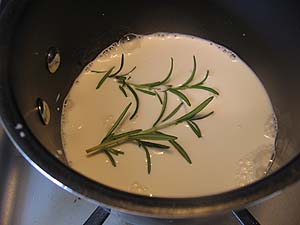 Put cream and milk into a saucepan with the rosemary sprigs. Bring to a boil and turn off. Let stems steep for about 15 minutes.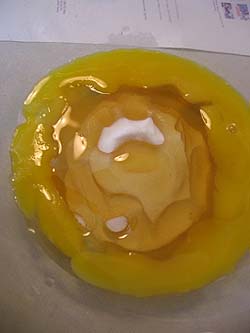 Meanwhile, beat the egg yolks, sugar and honey until smooth. Pull sprigs out of the cream and milk mixture and whisk into eggs. Strain through a fine mesh sieve.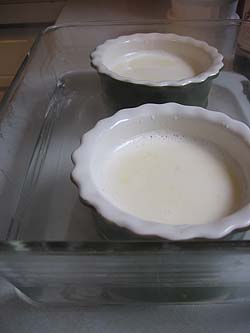 Pour into four one cup ramekins or brulee dishes. Use a spoon to skim off any foam from the top of the dishes. Set into a baking pan, add enough hot water to reach halfway up the sides. Place in oven and bake 25 – 30 minutes or until they are set. Test by jiggling the dish. You can also test it with a thermometer. A custard is set at 165 degrees — thank you, Alton Brown!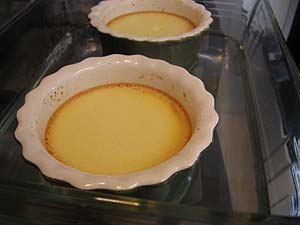 Cool in the water bath. Refrigerate for a few hours or overnight.
The Brulee-ing
Before serving, sprinkle tops with a thin layer of granulated sugar and caramelize with a small torch or under a high temperature broiler. If you use a broiler (like I did) you may want to take out a little protection for your creme brulee container. I used ceramic ramekins and I was 90% sure that they were broiler-proof. Just in case, I cut out little aluminum foil protectors for the tops.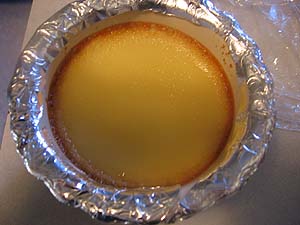 My broiling took maybe 60-90 seconds. I took them out of the oven and let them sit for about five minutes before eating. The real test? The crack. I saw Alton Brown do this on the Creme Brulee (or was it custard?) Good Eats. Crack your spoon down on the top. You should hear the sugar crack. I was so excited — ours cracked!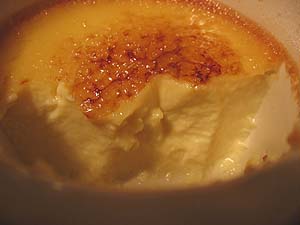 So, I guess the lesson is, if you don't have a little torch, you can still make creme brulee. Just use the broiler and it should work fine! Also, shopping can help you find interesting recipes.
Vanilla Sugar
2 cups granulated sugar
1 split vanilla bean, scraped clean
This is a great use for used vanilla beans. After using a bean for something else, take the scraped pod halves and through in a zip lock bag with a couple of cups of sugar. Keep sealed air tight in a dark place (like your cabinet). Use in place of plain sugar whenever it strikes your fancy.