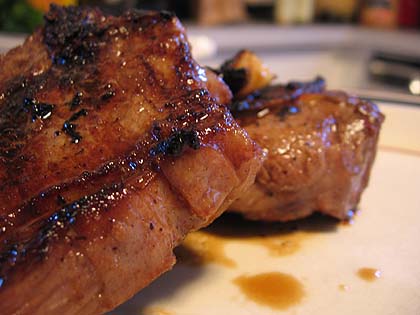 I love lamb. During my years as a vegetarian (and I think I've mentioned this before), the only meat that I really missed was tasty, succulent lamb. It just has such a distinctive flavor. Add some grill marks and some olive oil, garlic and salt and you really can't go wrong.
These lamb chops have a few more ingredients and they were delicious. I made them last weekend and jwa and I both thought they were so good. I highly recommend them. Instead of mincing the garlic, I just chopped each clove into two pieces and stuck that in my grill pan too, after the marinating time. Then, there was crispy, grilled garlic to top the lamb chops. Excellent.
Red Wine, Garlic & Honey Grilled Lamb Chops
From Bon Appétit magazine.
3/4 cup dry red wine
1/4 cup olive oil
3-4 sprigs fresh oregano
4-5 garlic cloves, chopped in half
2 tsp red wine vinegar
1/2 tsp salt
1/2 tsp ground black pepper
8 1- to 1 1/4-inch-thick loin lamb chops (serve 2 per person)
2 tbsp honey
Mix the red wine, olive oil, oregano, vinegar and garlic in large glass baking dish or large zip lock bag. Pour yourself a glass of the leftover wine. Okay, continue. Add lamb chops and coat. Cover and refrigerate at least 2 hours to overnight, turning and basting often.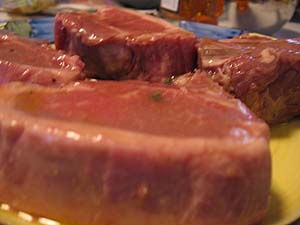 Transfer lamb to plate and whisk the honey into marinade. Grill lamb to desired doneness, turning once and basting with marinade often, about 10 minutes for medium-rare (145 degrees internally). You can either do this outside on the grill or inside on a grill pan. Discard the leftover marinade.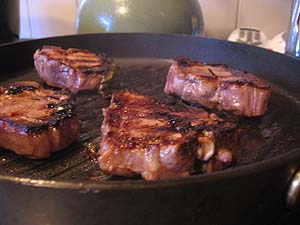 Pile on a plate and let rest (covered with foil) for about 5-10 minutes. When you put two lamb chops on each plate, divide the leftover lamb juices between the lamb chops.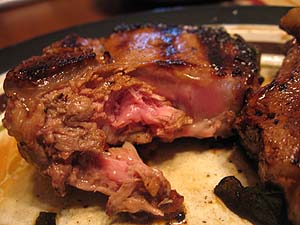 We had these lamb chops with some Parmesan flatbread and a bunch of healthy, tasty side dishes. I chopped some tomatoes and tossed them with kalamata olives, fresh basil, salt, feta and garlic. I also peeled and diced a hothouse cucumber and tossed that with a little red wine vinegar, sugar, salt, pepper and fresh, chopped dill. That was great — I can't believe just a little while ago I didn't like cucumber.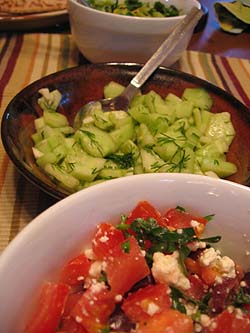 The last side was a Greek lima bean dish, from Gourmet magazine. I added the lemon and a bit of dried oregano to make it extra Greeky.
Greek Lima Beans
1 (10-oz) package frozen baby lima beans
1 cup water
1/2 tsp dried oregano
3 tablespoons extra-virgin olive oil
2 tablespoons chopped fresh flat-leaf parsley
2 garlic cloves, minced
1/2 lemon juiced and zested
1/2 teaspoon salt
Cook lima beans, water, oil, garlic, lemon juice and salt in a 2-quart heavy saucepan, tightly covered, over moderate heat, stirring occasionally, until beans are tender, 17 to 20 minutes. Season with salt and pepper and transfer to a bowl. Serve sprinkled with the parsley and lemon zest.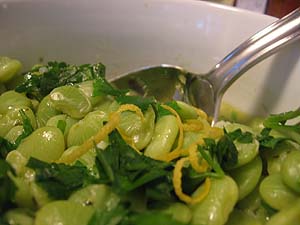 Tomorrow: Happy Birthday to Je Mange la Ville. Grab a plate and let's celebrate with both lemon and chocolate stout cupcakes!