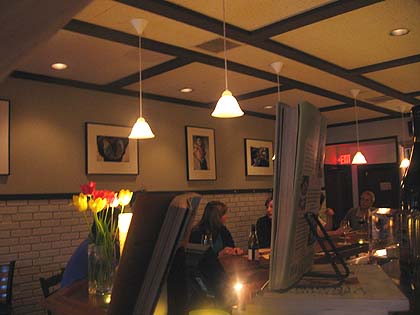 Flea Street Cafe
3607 Alameda de las Pulgas
Menlo Park, CA 94025
650-854-1226
I have very fond memories of Flea Street Cafe in Menlo Park. You see, I used to live in an apartment above the restaurant. I would walk up the backstairs and smell all the amazing smells from the open kitchen door. In the summer, there was even a mini-farmer's market in the parking lot. As if that all wasn't enough — my studio apartment also had hardwood floors. All in all, it was a pretty great place to live.
When jwa & I ate dinner there, if we didn't finish our wine — no problem, they would let us take it upstairs. Awesome. (This happened once — I think when we had 2 bottles, it's not like jwa and I can't drink a bottle of wine with dinner. Oh — we can).
This last trip to California, we scheduled it so that we could spend a night in Menlo Park (this actually turned into two nights, as he wanted to go to the Maker Faire — another post, perhaps). As we were there for a couple of nights, we couldn't stay in Menlo Park without having dinner at Flea Street!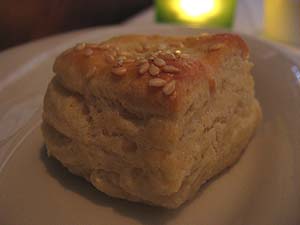 The meal started with a a basket of bread and buttery biscuits. Oh, how I remember the biscuits. I love the little biscuits. What a nice way to begin the evening.
We struggled and went back and forth a bit — first course choices included a lemon and vegetable friso misto, grilled diver scallops with escarole and green garlic and Thai curry mussels and clams with ginger shrimp toast. All tempting but ultimately I got a trout and crab cake and jwa decided on an Heirloom Farms sweet lettuces salad. Mine came with micro greens and roasted red pepper sauce and the salad was accompanied by Point Reyes Blue Cheese. They were both very good and left us looking forward to more.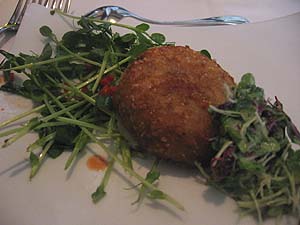 Oh, there's more…
Main course decisions were very difficult to make as well. There were a number of things that caught my eye — the asparagus, chevre, olives, spring garlic and whole wheat pasta, the portobella mushroom, spinach, and goat cheese Wellington and the Niman Ranch pork osso bucco all sounded wonderful. Eventually, I couldn't pass up the "Which Came First?" pan roasted organic chicken.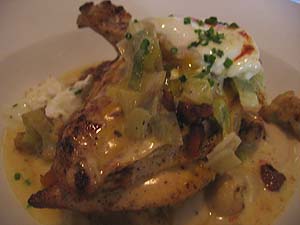 The which came first-ness of it was because it was a roasted chicken with a poached egg (wacky!), caramelized leeks, roasted cauliflower, apricot mustarda and toasted pine nuts and it was delicious! I wouldn't have thought to put a poached egg on chicken, but the yolk kind of blended with the mustard sauce and made it extra creamy!
jwa's choice was the "Niman Ranch Lamb Two Ways" — a grilled loin chop and braised riblets. He seemed very pleased with his entree. It came with tomato pear chutney, wild rice pilaf with chanterelle mushrooms and spring vegetables. I snapped a quick picture before he devoured it all.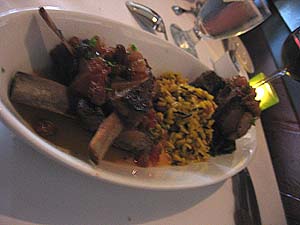 We also split an order of the braised brussel sprouts with shaved Sonoma Mezzo Secco cheese. These were amazingly tasty as well and disappeared quickly.
As we finished our wine and ate the last morsels from our plates, we contemplated desserts. It didn't take long because we both agreed that, yes, dessert was a great idea! A few minutes after our plates were removed, dessert menus made their way into our hands. How convenient!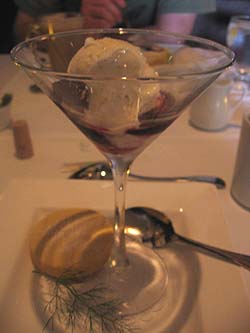 I briefly contemplated the vanilla custard tart with blood orange compote. Oh! And then there was the double chocolate pecan pie. Ultimately, however, I ended up with the sour cherries poached in port with olive oil and sea salt over vanilla gelato. I liked this so much, I recently attempted something similar at home.
jwa, liking lemons like he does, got the lemon semifreddo, consisting of sponge cake, lemon mousse and pomegranate reduction sauce. All of this and then Jesse Ziff Cool, the owner, stopped by our table to see how our meal was. Okay, I think she was stopping by everyone's table but still…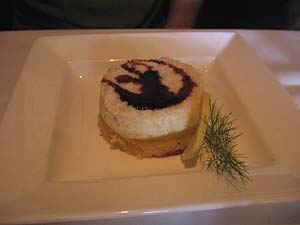 We finished off the evening by taking a long walk, across Las Alameda las Pulgas up by all the Sharon Heights condos, by the Safeway and back down to Flea Street. It was a walk we would do almost every Sunday night when I was living in Menlo Park, usually right after the X-Files — (insert X-files reference here).
It seemed a bit longer this time.
Flea Street Cafe gets four cherry bunches out of four.