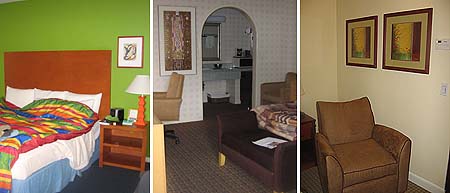 Hotel del Sol
3100 Webster
San Francisco
We liked this place a lot. And, more importantly, the price was right and it smelled of cookies while we were checking in. Try finding a reasonably priced hotel within walking distance of Fisherman's Wharf that smells like freshly-baked chocolate chip cookies! Then, try to find one with some character and free parking. It takes a while and an excel spreadsheet for all the comparison and calculations, I tell you.
Our second choice was the Cornell Hotel de France mainly because of the price, the cuteness and the free restaurant meal the price included (which is supposed to be amazing). Alas, the restaurant was going to be closed while we were there so we decided against it. As this is, at heart, a food blog, I felt compelled to mention the Jeanne d'Arc restaurant and what would have probably been a delicious and memorable meal.
But…back to where we did stay. The Hotel del Sol is a remodeled 1950's motor lodge type place with all neon, beachy, bright colors and mosaic designs all about. It's touted as a "family-friendly" hotel so it's not overly luxurious or romantic but it was a little funky and completely comfortable and nice.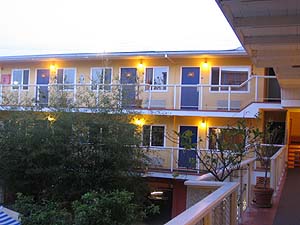 The king room we had overlooked Webster street and had screened windows that opened up for a nice breeze. The good-sized room was uncluttered with a table and chairs, sitting chair, bed, tv, walk-in closet and a small bathroom stocked with Aveda products .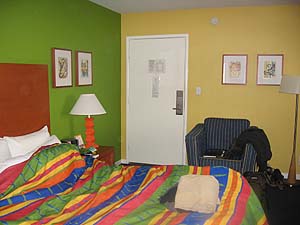 The area is called Cow Hollow and it's a few blocks just north (downhill) of Pacific Heights. It was a 25-30 minute (flat) walk to the Wharf, through Fort Mason and past Ghirardelli Square.
We stayed here two nights and would be happy to stay there again. We paid $129/night (with free parking), booking directly through the hotel, about 2 months before our trip. They also had a pool, courtyard bistro tables, a free continental breakfast in the morning and cookies in the evening.
Menlo Park Inn
1315 El Camino Real
Menlo Park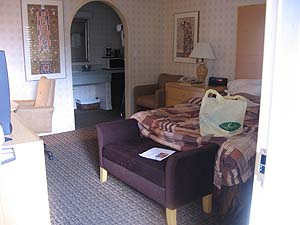 Moving on. Sigh. This place had really good reviews on tripadvisor so I booked it even though it turned out that we would need to stay in Menlo Park an additional night when this place was full. In hindsight, this was a good thing. The Menlo Park Inn wasn't horrible by any means but it really wasn't as nice as all the reviews made it out to be, nor, was it as nice as the pictures on their Web site make it appear.
From the outside, it looks like a Motel 6 or something (sitting right on El Camino Real) and the rooms (at least ours) seemed a bit cramped. It was decorated interestingly though, with Klimt prints and a vase with fresh flowers, but it really didn't seem worth the $114/night price.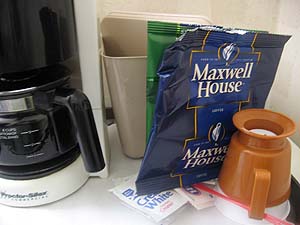 One of my issues was the coffee and cups. Yes, that's what I said. Perhaps silly, but a $100+ a night hotel, imho, should have good coffee and mugs –just a pet peeve of mine, I guess. But seriously. If you're going to have an in-room coffee maker, for god's sake, have coffee packets of something I either haven't heard of before or coffee that I know is good. The Menlo Park Inn had packets of Maxwell House and weird 70's plastic mugs — not ironically, mind you. That's just plain wrong.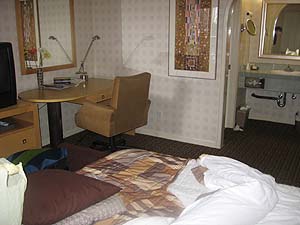 For around $85 a night, this place would have been a good deal but it just seemed over-priced for the amenities and environment offered. The service was very nice and they made an effort with decorating the room and all, but really, I was just expecting more and ended up being way underwhelmed.
The MP Inn staff had booked us into a Best Western that they also managed farther down on El Camino, past Redwood City for the second night. We did a drive by after checking out. It looked a little sketchy and was right next to a liquor store, so I canceled that reservation, hoping to find something better (which I did).
I spent a few minutes with a phone book at Ann's Coffeehouse and over a very diner-esque ham and cheese omelet, I got the very last room at the Red Cottage Inn for our last night before heading back to Portland. Whew!
Red Cottage Inn
1704 El Camino Real
Menlo Park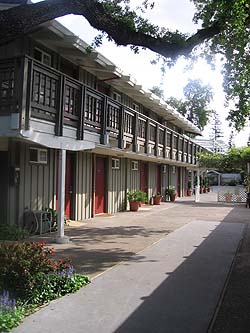 When I was first making reservations for this trip, I was torn between the Menlo Park Inn and the Red Cottage Inn. Tripadvisor had more positive reviews of MP Inn, with some posters saying that the Red Cottage Inn was a little rundown. Wow — was my impression of these two places ever the opposite!
Red Cottage Inn sits a ways back off of El Camino, surrounded by flowers, landscaping and assorted greenery. The staff was very nice and with our AAA discount, our room (with 4 hours advance reservation of check-in) was $104 a night. Cheaper than the Menlo Park Inn and so much nicer.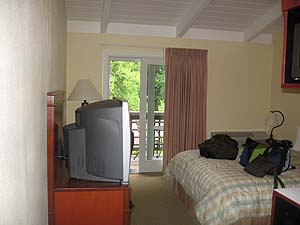 We had a queen room, with a private balcony over looking the pool and good coffee for the in room coffee maker, as well as glass mugs. The ceiling was high, white and slanted and gave the room a lot of character.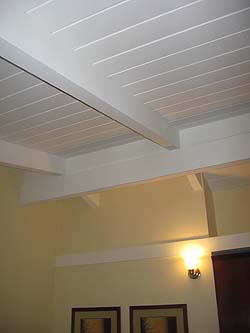 Although I appreciated the darker colors and patterns of the previous room, there's something to be said for light, airy colors. The hotel is about 5 blocks from downtown Menlo Park, so it's certainly still walkable. I'd also add that nothing I saw looked rundown and that everything was very clean.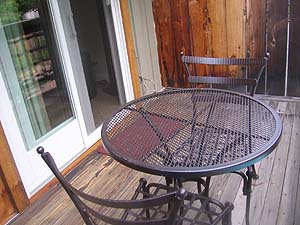 It was very nice and quiet and we would definitely stay here again!
So, to recap:
Hotel del Sol: Smells like cookies, is bright and funky and a very affordable place to stay in San Francisco.
Menlo Park Inn: Not as nice as it should be for the price, bad in-room coffee but friendly staff.
Red Cottage Inn: Very pleasant looking, balconies, relaxing and nice landscaping.