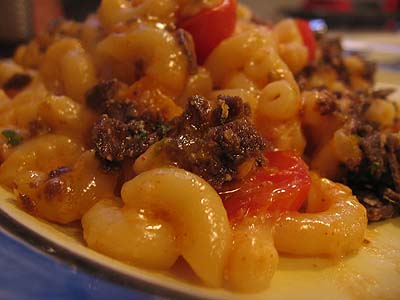 I made this meal last week when it was all cold — around 45 degrees — and rainy here. Ah, April in Oregon! This week we are near 70 and sunny — go figure. Oh right, this is a food blog and not a crazy weather blog. Okay.
Originally, I saw this recipe on Good Deal with Dave Lieberman, while lazily flipping through channels a little while ago. I haven't really seen much of his show but this dish looked pretty interesting, so I thought I'd give it a try. Who can resist the lure of macaroni and cheese topped with tortilla chips? No one, I tell you. No one.
While dl's original version is fine and dandy, I'm sure, I just had to make some changes. In my version, I added onion, bell pepper, roasted jalapeno and tomato and used black bean chips instead of regular corn tortilla chips. I also replaced one tablespoon of the butter with olive oil, just for experimental fun (and to sauté some veggies). Another difference is that I used fat free milk, which I thought worked just fine and saved a few calories and a little fat. I did, however, keep the 1/2 cup of half and half, as directed in the original recipe.
Mexican Mac & Cheese
1 pound elbow macaroni or other pasta of choice
Salt for the water
1 tbsp olive oil
2 tbsp butter
3 tbsp all-purpose flour
1 small onion, diced
1 yellow bell pepper, cored and diced
2 cups fat-free milk (you can also use 2% or whole)
1/2 cup half-and-half
8 ounces shredded sharp cheddar
8 ounces shredded mozzarella
4 ounces grated Romano or Parmesan cheese
Freshly ground black pepper
1 tsp salt
1 tbsp chili powder
1 jalapeno, roasted peeled and diced
1/2 cup crushed tortilla chips (I used black bean-jalapeno chips)
1 tablespoon vegetable oil
zest of 1 lime
12 or so cherry tomatoes, halved
Preheat oven to 400 degrees. Cook pasta until al dente in a large pot of boiling, salted water. Drain and set aside. Next, add the oil to a large saucepan over medium heat. Sauté the onion and bell pepper until soft. Then, melt in the butter.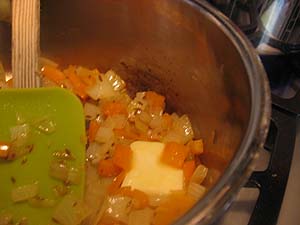 Add the flour and stir to form a paste. Cook for about 2 minutes, being careful not to let it get too brown. Gradually add the milk and the half-and-half and simmer until thickened slightly, stirring. Remove from the heat. Stir in the cheeses and season with black pepper, the chili powder and the chili flakes. Add your diced, roasted jalapeno* at this time as well.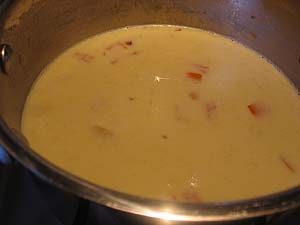 Add the cooked pasta and mix into the cheese sauce thoroughly. Taste and add salt as needed. I probably added about 1 teaspoon of salt to mine. Pour mac and cheese into an 8 by 8 by 2-inch baking dish. In a mixing bowl combine the crushed corn chips together with the oil and the lime zest.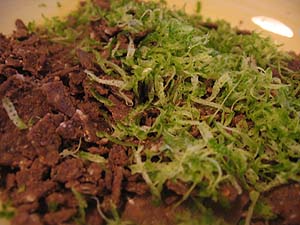 Top the mac and cheese with the corn chip mixture and arrange tomato halves around the top.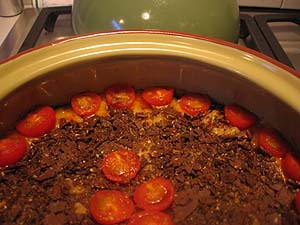 Bake 15 minutes or until the topping has nicely golden and pasta is bubbly and creamy. Serve with a side of steamed broccoli, chipotle tabasco sauce and enjoy!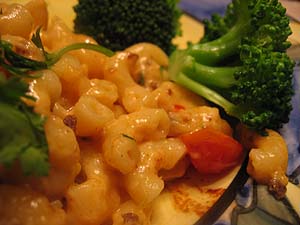 The verdict
Both jwa and I thought it was pretty good. The texture was good — nice and creamy and very cheesy! I also found that my favorite chili powder blend worked quite well in this dish.
* To easily roast a jalapeno: blacken all sides of the pepper under the broiler. Place it in a plastic bag and let steam 10-15 minutes. Peel off the skin, slice in half, remove most of the seeds and dice. Wash your hands and don't touch your eyes or be very, very sorry…