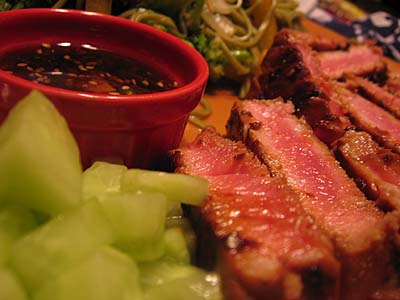 Really, it's just an excuse to post these tuna photos. jwa and I had a wonderful dinner of seared tuna, cucumber slaw and (this time) sesame noodles with bell pepper and shitake mushrooms not too long ago. The original tuna and cucumber recipes are here, which is exactly what I did for this dinner. We try to have seared tuna about once a month or so because it is so tasty.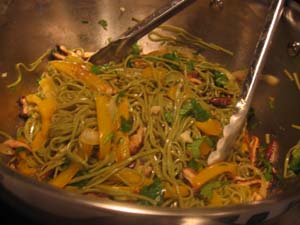 Noodles
They are very easy. So easy, I'm just going to list everything out in paragraph form and not even like a recipe. Anarchy! Find yourself some udon or soba noodles — even spaghetti would work in a pinch. Cook them in boiling water, add a few broccoli florets about 4 minutes before the noodles are done.
Meanwhile, sauté bell pepper strips and sliced shitake mushrooms in a little vegetable or peanut oil. Add the noodles and broccoli when done and toss with a bit of sesame oil. Add some soy sauce, fresh, minced ginger and some sesame seeds. Garnish with cilantro leaves. Taste and adjust soy, oil and possibly add a little salt if needed.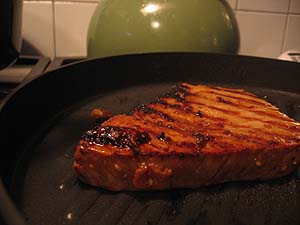 This is also an excuse to rave about my new grill pan — an All-Clad LTD 12-Inch Round one. I've had it for about 4 months and love it. My other pan, which I also loved, finally gave up the ghost a little while ago.
Dinner
Serve the noodles with the seared tuna, dipping sauce and cucumber slaw. This is just so good and I can't believe I love the cucumber as much as I do here. I think the secret is using an English cucumber.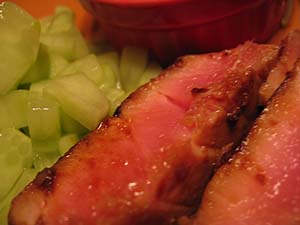 Tomorrow, pasta with Gorgonzola, asparagus and chicken!