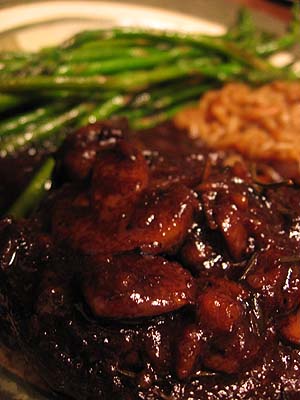 Holy hell in a humongous handbag this was good. And it really started as an accident. See, I went to New Seasons to pick up some tuna for dinner. They had none. As I perused the meat/poultry/seafood area in search of something tasty, my eye caught the word "rosemary".
Now, I love rosemary, so I continued reading — Maple Rosemary Skirt Steak the sign said. Whaaaaaaa? Maple and rosemary? Together? Well, okay then.
I made my purchase and brought two of the skirt steaks home.
They were rolled up and secured with a skewer, drizzlets of marinade clinging to the meat. I stored them in the fridge and then tried to find out what in the world to do with skirt steak, ie: how to cook it. After some Internet sleuthing, I discovered that grilling and braising are the best ways to cook skirt steak. Of the two methods, the braising seemed the most appealing, as the steaks were already rolled up in these cute ittle rounds, I hadn't done a lot of braising before and it just seemed….well…fun.
My next decision was what to braise in. Wine or beer seemed to be the most popular choices by far. Works for me. Because of the maple in the marinade, which seemed like it might clash with the wine, I chose beer. And one of the best things about cooking with beer? The leftovers.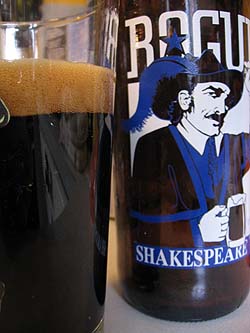 If you are lucky to live near a New Seasons or some other market that sells maple and rosemary marinated skirt steak rounds, there you go. If not, I found this marinade recipe online that sounded kind of interesting.
Marinade:
4 tbsp maple syrup
2 tbsp extra-virgin olive oil
2 tbsp soy sauce
2 tbsp chopped fresh rosemary
2 cloves garlic, crushed
Combine all ingredients in a zip lock bag. Add rolled up and secured skirt steak and marinade overnight. Remove steaks from bag and discard remaining marinade. Now we can all start on the same page.
Stout Braised Maple & Rosemary Skirt Steak
2 maple-rosemary marinated skirt steaks
1 tbsp olive oil
1 bottle of stout
1/4 cup beef stock
8-10 button mushrooms, sliced
4 cloves of garlic
salt and pepper
Preheat oven to 350 degrees. Start by heating an oven proof pan over high heat. Add a little olive oil, salt and pepper the steaks lightly (there's soy in the marinade which is pretty salty, remember) and sear the steaks 2 minutes or so on one side. Flip over and add the mushrooms and garlic cloves to the pot. Let steaks sear on second side for about 2 minutes as well. Remove pan from heat.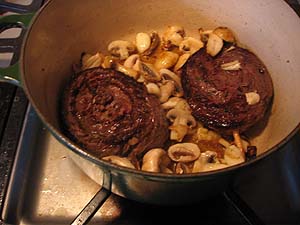 Pour stout in the pan until almost halfway up the steaks. Drink leftover beer. Add the stock next and then place the rosemary sprig on top. Cover and bake for 45 minutes. At this point, I took the pot out, turned the steaks over, recovered and baked for 45 more minutes. Now, I'm not sure if I was supposed to uncover and flip, but it seemed like a good idea. Perhaps, that just let heat escape and hurt my braise. I don't know but in the end, it worked out just fine.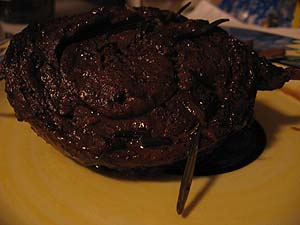 After a total of about 1 1/2 hours cooking time, remove the meat to a plate and cover with foil to keep warm. Discard rosemary twig. Place pot of stout on the stove top and bring to a boil. Let it reduce and make a sauce, until it thickens enough to leave a nice trail from whatever you are stirring with.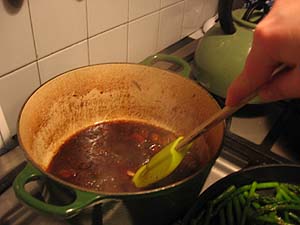 Serve each steak topped with the mushroom-stout sauce and perhaps some rice pilaf and asparagus. This bears repeating — it was so good. I'm especially pleased as I completely just winged that whole thing. I know hardly nothing about cooking red meat and I had never really braised anything before. This could easily have been a complete disaster. So, I'm considering this a happy, delicious accident. The meat was all tender and moist inside and the sauce was just amazing. I think the garlic cloves actually melted into the sauce.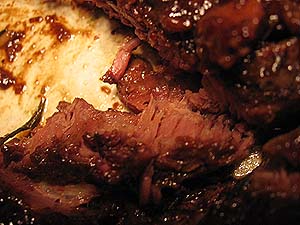 Stout. Is there anything it can't do?