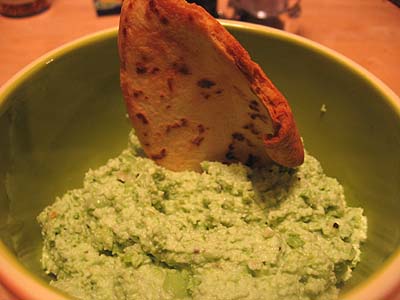 This recipe wasn't so much an accident in the "oh, hey, edamame dip — how did that happen?" But in the, "okay now I do this and then this and…oops. I was supposed to do what? When?" She then makes a face and hits the button anyway.
But first, a little introduction. This is a great recipe out of the latest issue of Everyday Food. I love dips and hummus and foods of that nature, so I was very anxious to try this. I'm going to give you the actual recipe as written in the magazine first, then I'll tell you how I messed it up — or perhaps made it better…or maybe made no difference at all.
Edamame Dip
Coarse salt and ground pepper
2 cups frozen shelled edamame (fresh, shelled edamame works well too)
3 large garlic cloves, peeled
1 tsp grated lemon zest
1 to 2 tbsp fresh lemon juice
1 tsp olive oil
In a medium saucepan of boiling salted water, cook the edamame and garlic until beans are tender, about 5 minutes. Drain. In a food processor, purée edamame, garlic, lemon zest and juice, oil, and 1/2 cup water until very smooth, about 2 minutes, scraping down sides of bowl. If needed, thin by adding water one tablespoon at a time. Season with 1/2 teaspoon salt and 1/4 teaspoon pepper. Refrigerate for at least 30 minutes or up to 1 day. (If needed, add additional water.) Serve with radishes and crackers, or perhaps some toasted flatbread or pita. Another idea, use it in a wrap just like you would hummus.

Ooops
Sometimes, when I see a recipe, I read it once, then I just kind of assume I can remember it. This was one of those times. You see, I skipped the whole, "In a medium saucepan of boiling salted water, cook the edamame and garlic until edamame are tender, about 5 minutes. Drain."
I went right to the food processor with my soy beans, garlic, a little water and everything else. I hit pulse. Then I read through the next part and realized what I did — or didn't do.
The verdict? Well, we both really liked it the way I did it. The dip had a very fresh taste (and I didn't dirty an extra pan). Now, these were not frozen edamame, (I had found fresh ones at Trader Joes), so I'm not sure what difference that makes, if any. If you defrost the frozen ones first, it's probably fine. My advice: try making the dip both ways — cooking the beans briefly and also using them as is, and see which is better.
Oh, I also added about one tablespoon of fat free yogurt to make it a bit creamer in my version. I love the creamy.