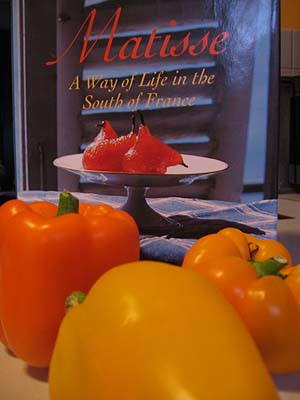 I am really liking these Weeekend Cookbook Challenges a lot, as I have many, many cookbooks and I use them all too rarely. This book is Matisse: A Way of Life in the South of France and it's half cookbook and half Matisse biography with lots and lots of photos of…well, Southern France. And food and images of Matisse's artwork. It is also a book that I have never made anything out of…until now!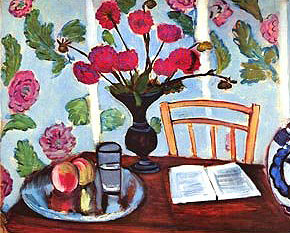 Dahlias by Henri Matisse.
As southern France seems very sunny and orange to me, it's no wonder I found a perfect recipe in this book. It's simple, it's tasty and well, it's orange in color.
Grilled & Marinated Peppers:
Full Disclosure: I made a half recipe of this, as there are only 2 of us.
6 yellow or orange peppers
12 salted anchovy fillets (or, I used 1 tsp anchovy paste)
4 tbsp olive oil
2 cloves garlic
salt & freshly ground pepper
Preheat oven to 450 degrees. Wipe peppers and set whole on a lightly oiled baking sheet. Place in the center of oven for 25-30 minutes. Watch them closely and turn to cook all sides.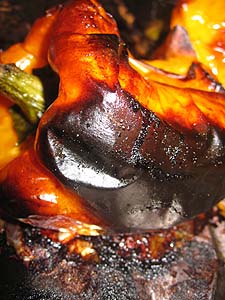 Place the peppers in a plastic bag and seal. Steam for 15 minutes. Remove stems and peel off the skin.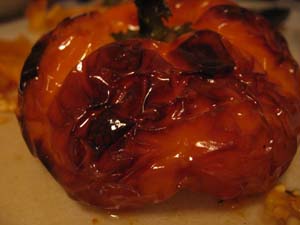 Cut the peppers in half and reserve any juice. If using anchovies, rinse them in cold water then soak in fresh water for 2 hours. Afterwards, dry anchovies on paper towels.
Sprinkle the bottom of a serving bowl with olive oil and arrange anchovy fillets along the bottom of the dish. If using anchovy paste, add to the dish and mix in with the oil. Spread the roasted peppers out on top.
Mince the garlic and whisk into the four tablespoons olive oil and reserved pepper juice. Whisk and pour on top of peppers. Season with ground black pepper. At this point, for fun, I sprinkled about 2 tablespoons of red wine vinegar on the peppers as well.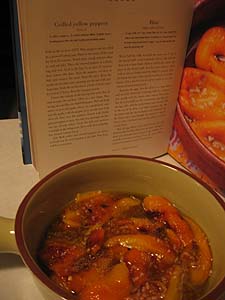 Cover the dish and marinate overnight. Serve with crusty French bread and perhaps a bit of goat cheese the next day.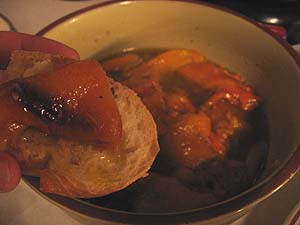 Tagged with: Weekend Cookbook Challenge