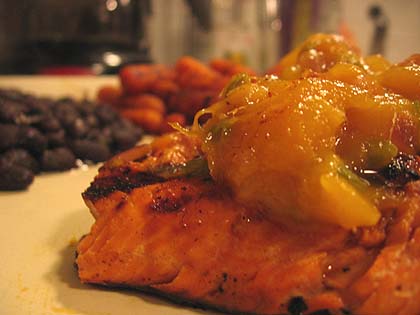 Now this was an amazingly tasty and healthy dinner with kind of a Caribbean flair. I grilled some salmon in my trusty grill pan and topped it with a warm, mango salsa that I saw on Barefoot Contessa (she used the salsa on seared tuna). I like the idea of warm salsa in the winter and fresh, cool salsa in the Spring and Summer. I know that Christy has a great mango salsa recipe that I want to try when it gets warmer out but for this winter meal, this version sounded really good. We had it with some chili and cumin roasted carrots and citrus-y black beans.
The beans were easy, simply from a can, drained and heated with orange zest, jalapeno and epazote (cilantro would work too). I let them simmer while I grilled the salmon and made the salsa.
Warm Mango Salsa
2 tbsp good olive oil
1 1/2 cups diced yellow onion (2 onions)
2 tsp peeled, minced fresh ginger
1 1/2 tsp minced garlic (2-3 cloves)
2 ripe mangoes, peeled, seeded, and small diced (or, about 1 1/2 cups frozen, defrosted mango chunks)
1/3 cup freshly squeezed orange juice
2 tsp light brown sugar (I omitted the brown sugar because the mango was very sweet)
1 tsp kosher salt
1/2 tsp freshly ground black pepper
1 to 2 tsp minced fresh jalapeno pepper, to taste (1 pepper)
2 tsp minced fresh mint leaves (or cilantro works well too)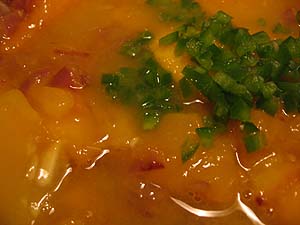 Sauté the olive oil, onions, and ginger in a large saute pan over medium-low heat for 10 minutes, or until the onions are translucent. Add the garlic and cook for 1 more minute. Add the mangoes, reduce the heat to low and cook for 10 more minutes. Add the orange juice, brown sugar, salt, black pepper, and jalapeno; cook for 10 more minutes, until orange juice is reduced, stirring occasionally. Remove from the heat and add the mint. Serve warm, at room temperature, or chilled.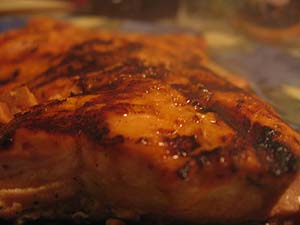 Grill salmon fillets and serve salsa on top. This would also be very, very good on top of grilled chicken or perhaps even pork chops.
For the carrots, I simply tossed about half of a bag of baby carrots with a tablespoon or so of olive oil, 1 teaspoon cumin, 1 tsp chili powder and about 1/2 tsp of salt and some fresh pepper.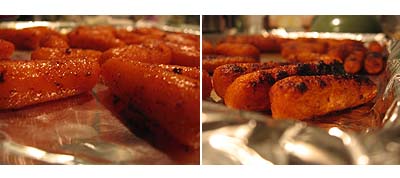 Roast in a 425 degree oven for 10-15 minutes or until crusty and tender. Serve with the salmon and black beans and garnish the whole plate with chopped, fresh cilantro. Put it all together and you have a great dinner!