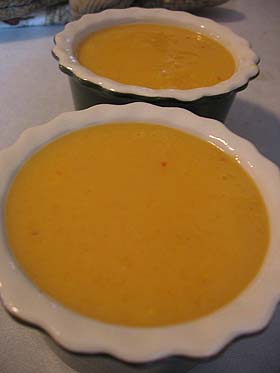 I was actually pretty happy to learn for SHF15, we would be challenged to come up with a tasty sweet thing that had little actual sugar. Because we did so much eating out and over-indulging last month, I'm not sure that I'd have been able to come up with some decadent type of dessert for this one.
This concoction was inspired by a recipe I came across at Epicurious. It's not sugar-free but it is fruit-laden. It has a little sugar but also some low fat buttermilk, a creamy texture and a very refreshing, satisfying taste. One thing I did do, is substitute half of the sugar with honey, which seemed to work fine. It's not really a flan, as it's not baked and it's not a custard but it is served upside-down. So there you go.
Mango Faux Flan:
Nonstick vegetable oil spray
2 tbsp water
2 tsp unflavored gelatin
2 cups chopped peeled pitted mangoes (about 2 medium)
1 cup low-fat (1%) buttermilk
1/4 cup sugar
3 tbsp honey
1 tsp vanilla
Pinch of salt
Spray six 2/3- to 3/4-cup soufflé dishes with vegetable oil spray. Pour 2 tablespoons water into small saucepan. Sprinkle gelatin over; let stand 10 minutes. Stir over low heat just until gelatin dissolves. Remove from heat.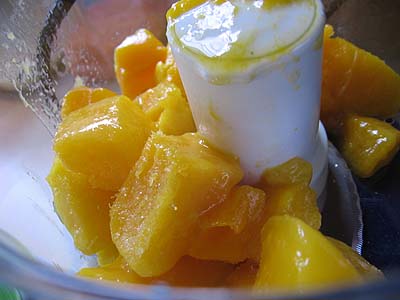 Puree chopped mangoes in processor. Transfer puree to a medium saucepan and stir over low heat until warm. Mix in gelatin, then buttermilk, sugar, honey, vanilla and salt. Strain mango mixture into bowl. Divide among prepared dishes. Chill until set.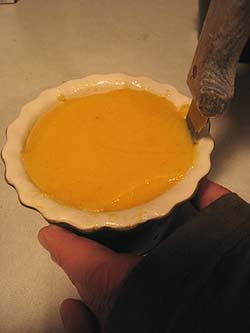 To serve: Run small knife around mango flans; invert onto plates. If desired, drizzle with more honey. Garnish with mint leaves if available and enjoy.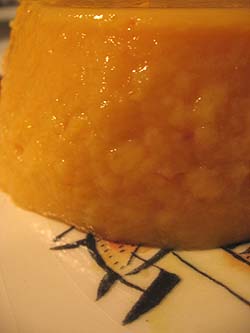 One thing I was thinking of trying next time, is to serve these in wine glasses as more of a mango pudding, rather than a flan. Additionally, this dessert should be wonderful in the spring and summer I can hardly wait to make it again! Thanks, Becks and Posh, for picking a great theme!
Oh! Another idea that I just had is to use this as a mango tart filling. I will be trying this very soon. Stay tuned…