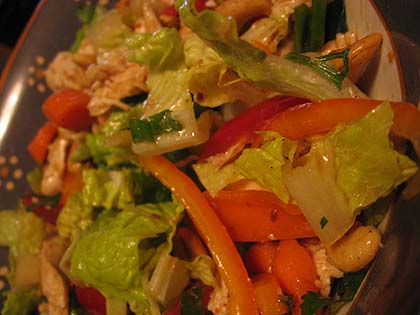 This came about through a search for lighter and healthier dinners to balance out meals like artichoke pesto! I like to have salads for dinner occasionally but it has to have some substance, otherwise, I'm just hungry an hour later. This salad has substance. And although, I love little crispy, fried wonton skin pieces, cashews are crunchy too (and better for you). This is modified from a recipe I saw on Food Network but my version has more veggies, a different lettuce and some sesame oil, rice wine vinegar and garlic in the dressing.
So, it's really quite different…
Light & Tasty Asian Chicken Salad:
4 slices fresh ginger
3 sprigs cilantro
6 green onions, roots trimmed
3 small carrots
1 pound skinless chicken breasts
4 cups chicken broth
1 hothouse cucumbers, diced
1 red or yellow bell pepper, julienned
1/2 cup cilantro leaves, roughly chopped
1 cup grape or cherry tomatoes, halved (or 2 diced Roma tomatoes)
1/4 cup toasted cashews, chopped
1 head Romaine lettuce leaves, washed and chopped
Put the ginger, cilantro, 3 of the green onions, 1 carrot and chicken breasts in a medium saucepan.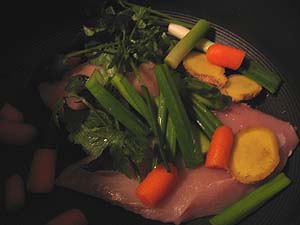 Cover with the broth, and bring just to a boil. Lower the heat to very low and cover. Poach the chicken for 20 minutes or until firm to the touch. Remove the pan from the heat, uncover, and cool the chicken in the liquid, about 30 minutes. Pull the chicken into bite-size pieces. Save the broth.
Slice the remaining 3 green onions on the diagonal, into 1/4 inch pieces. Chop the 2 remaining carrots into bite-sized pieces (or you can get all fancy and julliane theem. Toss in a large bowl with the bell pepper, cilantro, cucumber, tomatoes, lettuce and chicken. Add enough dressing to coat. (Left-over dressing can be refrigerated and used with noodles or another salad). Top with cashews and dig in.
Ginger-Sesame Dressing:
juice of 1 lime
1/2-inch piece of ginger, peeled and grated
1 tbsp soy sauce
1 tsp chili garlic sauce
1-2 tsp rice wine vinegar
1 clove garlic, minced
1 tbsp broth from poaching chicken
1 tbsp extra-virgin olive oil + 1 tbsp sesame oil
1/2 tsp toasted sesame seeds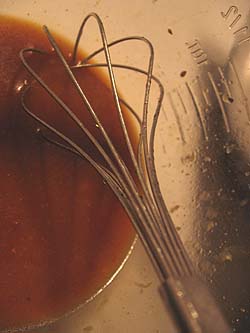 Whisk the lime juice, ginger, soy, chili, vinegar, garlic, sesame seeds and broth in a small bowl. Gradually whisk in the oils, starting with a few drops and then adding the rest in a steady stream, to make a dressing.