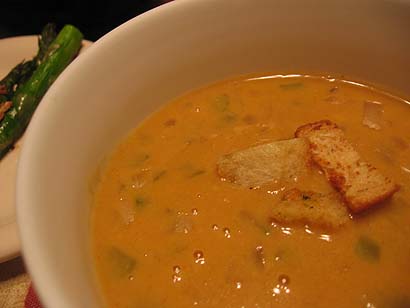 While doing research for my upcoming post for the Weekend Cookbook Challenge next Monday, I pulled out a cookbook I got a couple of years ago but have never made anything out of before — Prairie Home Cooking by Judith M. Fertig. I got this book by accident, through the Good Cook Club, when I didn't return the response card in time. This is a problem that has been plaguing me ever since the Music Club fiasco of '86 when I ended up with that Whitney Houston record.
But this accident was actually a useful one. I pulled down Prairie Home Cooking the other day and there were quite a few recipes that looked good to me. This one especially caught my eye. Being a Chicago native, I have had Cheese Beer soup before (mmmmmm…cheese and beer….mmmmmm) and I was perfectly happy to recreate the experience here in Portland.
Wisconsin Cheddar Beer Soup:
2 tbsp unsalted butter
2 tbsp AP flour
1/4 cup chopped yellow onion (I used white)
1/2 cup thinly-sliced celery
1/4 tsp cayenne pepper (I would actually reduce this to a dash, taste, and add more if needed)
1/4 tsp dry mustard
1 cup milk
1 1/2 cups full-bodied beer (1 bottle)
2-3 cups shredded cheddar cheese
1 tsp paprika
salt and pepper to taste
Garnish: garlic croutons
What justifies the Oregon in the title you ask?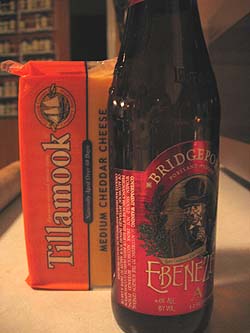 Tillamook and Bridgeport, of course!
Okay, so, melt the butter in a soup pot over medium heat. Add the onion and celery and sauté until soft, about 6-8 minutes.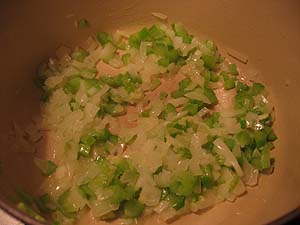 Stir in the flour and cook, stirring, for 2 more minutes. Add the cayenne and mustard and stir to combine. As I mentioned above, I would add a bit less of the cayenne and add more later if needed.
Next, whisk in the milk and beer. Bring the soup to a boil while continuing to whisk over medium high heat. For the beer, I would recommend a good amber ale. Darker beer seems to overpower the soup and a very light beer would be too under-whelming. The Ebenezeer Ale seemed okay, as that's what I had on hand, but next time, just a plain ol' amber will do.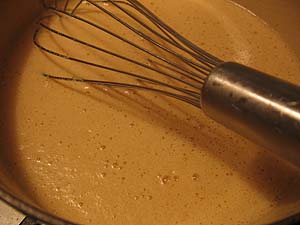 Reduce the heat and simmer, uncovered, until the soup has thickened — about 15 minutes. Remove from heat and stir in the cheddar and paprika, until the cheese has melted and incorporated into the soup. Taste and adjust seasonings. Serve while hot with garlic croutons if you have some on hand.