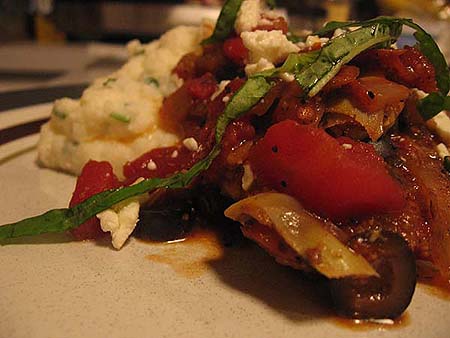 For Slash Food's Spirited Cooking Day!
Here's a recipe that I saw on the Food Network on the show, Calling All Cooks (do they even still make that show?) a few years ago. Since I've been making it, I've modified the amount and type of pepper used quite a bit and it's still pretty spicy. Originally, the amount of pepper (cayenne, black pepper, lemon pepper white pepper, & red pepper flakes) was insane. This version is still moderately crazy but in a good, it's-still-spicy-but-my-face-is-not-on-fire way.
Funny story: I made this on Sunday night and all I had was vanilla vodka. I forgot that liquor stores in Portland (all of Oregon?) are not open on Sunday. In fact, I got into a discussion at the Wild Oats on Division with an employee and a guy who was looking for somewhere to buy vodka for a bloody mary party. She was telling him there was supposedly a liquor store at 52nd and Powell that was open on Sunday. Ha! I had just driven by there before going to Wild Oats. Not open. I shared my news and we all stood around trying to think of a place to buy vodka on a Sunday afternoon in Portland. The people behind me in line thought maybe some place in Gresham. I said maybe the one on Hawthorne and 12th was open Sundays but I hadn't checked yet.
After briefly contemplating making Peppery Gin Chicken, and not feeling like driving down Hawthorne, I went ahead and used the vanilla vodka. It seemed to work fine but if you have plain vodka, you'll probably want to use that.
Peppery Vodka Chicken:
1 tbsp black pepper
1 tbsp lemon pepper
1 tbsp garlic pepper
1 tsp red pepper flakes
1 tbsp shallot pepper
Zest of one orange or 1 tsp dried orange peel
4 boneless, skinless chicken breasts
1 tbsp olive oil
1 small onion, diced
2 cloves garlic, minced
1/2 cup vodka
1 (16-ounce can) diced tomatoes with juice
1 small can sliced black olives, drained
1 can artichoke hearts in water, drained and quartered
1 tsp Worcestershire sauce
1 tsp dried oregano
1/4 cup feta cheese
handful of basil leaves, cut into thin strips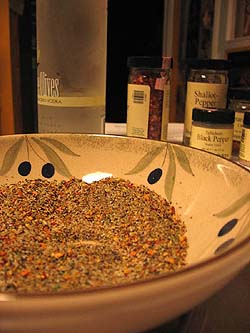 Mix peppers and orange zest in a shallow bowl. I'll also add that you can use whatever pepper blends that you have. I've found it works well with some fresh, ground pepper and then 2-3 pepper blends (lemon pepper, garlic pepper, etc.) that you may have on hand. Rinse chicken with water and while still slightly wet, coat in the pepper mixture.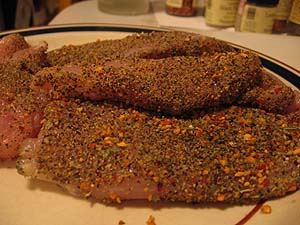 Heat oil in a large skillet and add garlic, onions and chicken. Brown the chicken on both sides. Some of the pepper will stick to the pan or fall off the chicken — that's fine. It will just blend into the sauce! Turn off the flame. Add the vodka. Scrape down anything stuck to bottom of pan and turn flame back on. Cover and cook about six minutes over medium heat.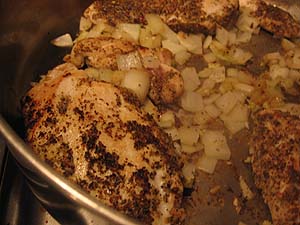 Add tomatoes, olives, artichoke hearts, Worcestershire, and oregano to the pan and let simmer, with the lid on, for about 20 minutes, until chicken is cooked through. Stir and flip chicken over periodically during this cooking time.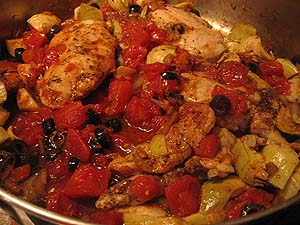 Serve with extra-creamy mashed potatoes — this seems to go well with the spicy heat of the chicken dish!
Extra-Creamy Mashed Potatoes:
3 large Russet potatoes, peeled and cut into 3-inch chunks
1/3 cup sour cream or yogurt
1/4 cup ricotta cheese
4 tbsp fresh chopped chives
4 cloves garlic, minced
Milk for desired creaminess
Salt & pepper to taste
Place the cut potatoes in a large stockpot, cover with cold water, and add some salt. Bring to a boil, then simmer until tender when pierced with a fork, approximately 20 minutes.
Drain well in a colander; return to hot pan and set over low heat for a minute or two to dry out potatoes. Mash the potatoes with a potato masher and add sour cream or yogurt, ricotta cheese, chives, and garlic; mix well. Add as much (or as little) milk to achieve the level of creaminess that you want.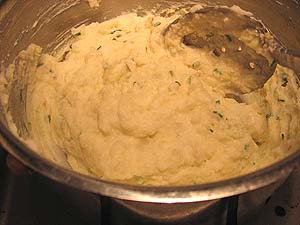 To assemble:
Place a heap of mashed potatoes on a plate. Arrange a chicken breast and sauce on top of the potatoes. Sprinkle artfully with fresh basil strips and feta cheese crumbles.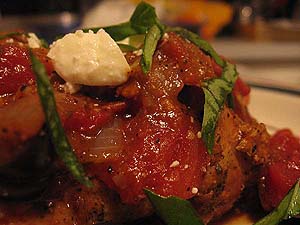 This works well with sweet wine like a Riesling or a Gewürztraminer — or a big glass of milk is good too!