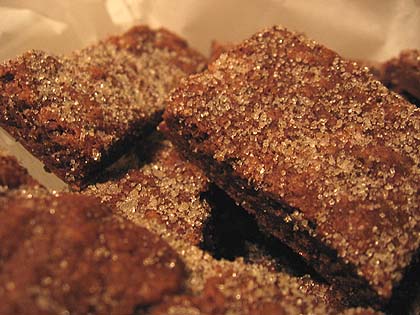 This is from what is quickly becoming my favorite baking book, Martha Stewart's Baking Handbook. It's the one batch of cookies I'll have time to make before leaving for California on Friday. Oh, they are good! I decided to bring them into work today. I followed the recipe exactly, except (and of course there's an except), I added 1/2 teaspoon of instant espresso to the granulated sugar — making these Cinnamon Chocolate Espresso Shortbread!
Cinnamon Chocolate Espresso Shortbread:
3 sticks butter, room temperature
2 1/3 cups + 2 tbsp AP flour
4 1/2 tbsp Dutch process cocoa powder
1/2 heaping tsp ground cinnamon
1/2 tsp salt
1/4 tsp baking powder
1 cup superfine (baking) sugar
For sprinkling:
2 tbsp granulated sugar
1/2 tsp instant espresso
Preheat oven to 325 degrees. Spray a baking sheet with non-stick cooking spray and line with parchment paper. Leave a 1-inch overhang on the long sides — set aside. Ina medium bol, whisk together flour, cocoa, cinnamon, salt and baking soda.
Beat the butter and sugar in an electric mixer (or hand-held) until light and fluffy (3-4 minutes). Scrape down the sides of the bowl a couple of times. Add flour and beat on low speed until combined. The mixture will be crumbly, like a pastry crust dough.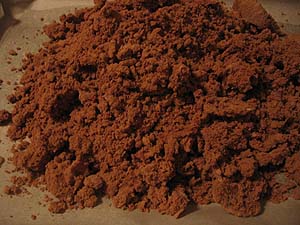 Evenly spread and press dough onto baking sheet. My batch didn't go all the way to the ends. I just pressed it into a rectangular shape on the sheet. Chill in the refrigerator for 15 minutes. Prick the surface all over with a fork. Bake until just firm to touch, about 20 minutes.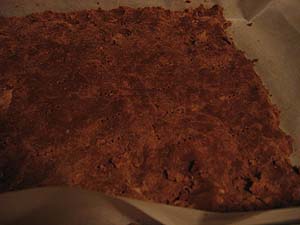 Transfer to a wire rack and cut into 4-inch x 1-inch rectangles while still hot.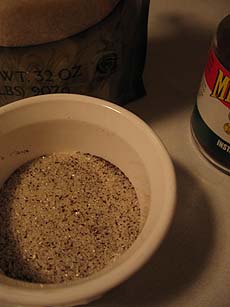 Mix instant espresso and granulated sugar in a small bowl. Sprinkle on warm cookies — use as much as you want. I ended up having a little leftover. I'm thinking it'll go in my coffee this morning! Shortbread can be kept in an airtight container at room temperature for up to one week.