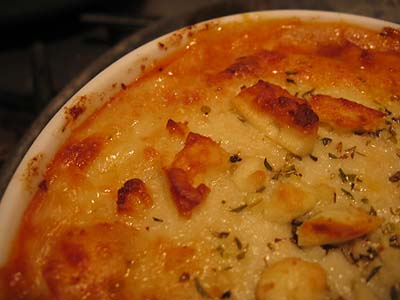 Oh, look, it's more bubbling, baked things! Isn't that what Winter is for? Why yes, yes it is. I really love moussaka. This, too, I would get at Greek Islands. I don't know, there's just something about lamb, red wine and cinnamon…
While I was a vegetarian, the one meat I think I thought back fondly about the most was probably lamb. Not that I ate it that often, because I didn't, but because it was so interesting tasting. Nowadays, I probably have lamb a few times a year and moussaka is a great way to do that.
For these — instead of making a big lasagne-sized casserole — I made individual moussakas in oven-safe bowls. So cute!
If you had one cup or a bit bigger ramekins, you could easily make four moussakas with this recipe. If you had bigger soup bowls and were starving, you could make two big moussakas (and possibly have leftovers).
Eggplant Component:
2 small eggplants
Kosher salt
Freshly ground black pepper
1 tbsp olive oil
Lamb Component:
1 tsp olive oil
3 cloves garlic, minced
1/2 onion, chopped
1 pound ground lamb
1/4 cup red wine
3 tbsp tomato paste
1 tomato, chopped
2 tbsp water
2 tbsp fresh parsley, chopped
Salt and freshly ground black pepper
Sprinkle of cinnamon
Béchamel Sauce:
2 tbsp butter
2 tbsp flour
1 cup milk
Pinch nutmeg
Kosher salt
Freshly ground black pepper
3 tbsp grated parmesan + 1 more tbsp (or so)
Incidentals:
1 more tomato, sliced
1/4 cup crumbled feta
1/2 tsp dried oregano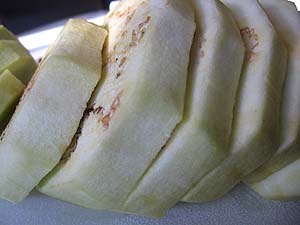 For the Eggplant:
Wash eggplant and cut off both ends. Peel the purple skin off (I used a knife, but a potato peeler might work too) and slice it across into about 1/2 inch thick circles. Salt both sides of eggplant pieces and let stand for 30 minutes in a colander. Rinse and pat dry. Heat the oil in a large sauté pan, and fry the eggplant on both sides, until golden brown. Drain well on paper towels.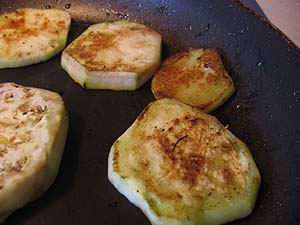 Preheat oven to 350 degrees.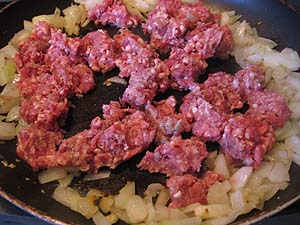 For the Meat Filling:
Heat the teaspoon of oil in a large skillet. Add the onions and garlic and cook until onions are tender, 3 to 4 minutes. Add the lamb and cook until brown, about 6 more minutes. Drain out excess grease, then add the wine to the lamb mixture and cook for for about 5 minutes. Add in tomato paste, tomato, water, parsley, salt, pepper, and cinnamon. Simmer for 30 minutes more, then remove from heat and cool.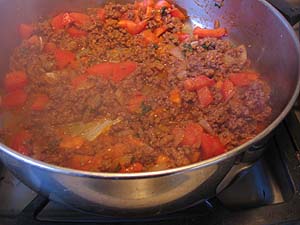 For the Béchamel:
In a medium saucepan, melt the butter. Blend in the flour, and gradually stir in the milk. Cook, stirring, until thick and smooth. Add in the nutmeg, salt and pepper. Cool. Add 2-3 tablespoons of parmesan and blend well.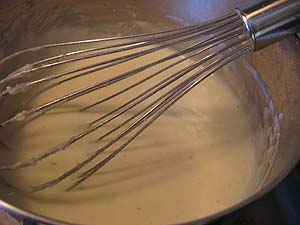 For the Assembly:
Here, I used individual, oven-safe bowls. As mentioned earlier, you can certainly also do this in a casserole dish. Start off by layering tomato slices in the bottom of each bowl.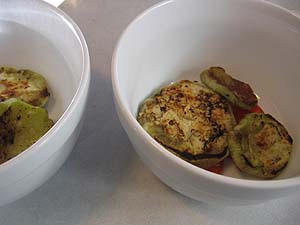 Then, place some eggplant circles, followed by lamb mixture. Repeat eggplant and lamb mixture layers until both are used up. Top with the Béchamel and sprinkle with the extra one tablespoon of parmesan, then a little feta cheese (just a few crumbles on top to make it look pretty). Complete the masterpieces with a sprinkle of dried oregano on top of each.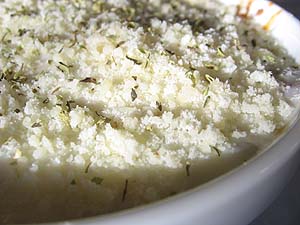 Place in the oven and bake for 30-40 minutes, until bubbly and golden on top. Remove to a rack and let cool for 10 minutes.
For the Eating:
Serve with a salad of spinach leaves, kalamata olives, tomato and feta. Oh, and red wine. There must be red wine.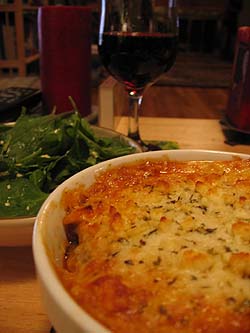 Then, open the box of Baklava you might have gotten for a holiday present. How convenient! Mmm!
Tomorrow: Spirited Cooking.
***
On a different, non-lamb casserole note, congratulations to Christy & Dave. Yay!