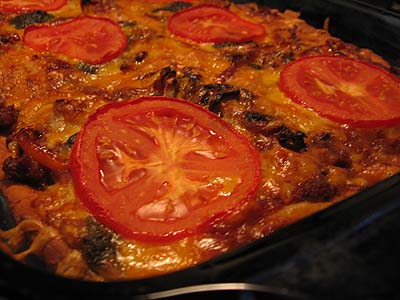 Yeah, I've been out of school since 1995 — so? I used to make this both as an undergrad and a grad student. It's cheap, it's quick, it's easy and it's Mexican food and yet it's a pizza. It's awesome. And really, you can fancy-pants it up as much as you want. You could make your own pizza dough, make your own enchilada-type sauce, roast peppers, shred chicken, etc., or you could use the 99 cent Jiffy Pizza dough mix, buy jarred sauce and eat dinner for two+ days for around $10.
For old times sake, I usually go the pizza dough in a box, sauce in a jar, veggies-only route but that's just me — for I am both sentimental and lazy.
Cheap & Tasty Deep Dish Mexican Pizza:
2 boxes pizza dough mix
water
1 tsp cumin
1 tsp chili powder
1 can refried beans
1 jar/can enchilada sauce (you can freeze the remaining sauce in 1/2 cup servings for future use)
1 – 2 cups grated cheddar cheese (I'll say one cup, but we all know it's more like 2 cups)
1 small can chopped black olives, drained
1 tsp vegetable oil
1 tbsp olive oil
1 small onion, sliced
2 bell peppers (any colors will work), cleaned and sliced into strips
1 tomato, sliced thinly
Optional Garnishes:
fresh cilantro, chopped
1 jalapeno, diced
Sour cream
Salsa
chopped green onion
Heat one teaspoon of vegetable oil in a pan. Sauté the onions and bell peppers (sprinkled with a little salt) until caramelized and a bit darkened in color. Set aside.
Make the pizza dough but add the cumin and chile powder. Press it into a lightly olive oiled, lasgane-sized baking dish (the 15-inch by 12-inch or so variety). I usually go up the sides about a 1/2 inch. Brush top of dough with about 1/2 tablespoon of olive oil.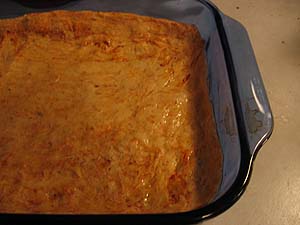 Bake crust at 425 degrees (or the temperature the box says) for about 10 minutes. Remove from the oven.
Spread refried beans on top. Cover with a layer of enchilada sauce. Add the sautéed veggies. Next comes the shredded cheese, followed by a sprinkle of black olives and the tomato slices.
Return to the oven and bake until all bubbly and the cheese starts to get golden — about 20 minutes. Remove and let sit for at least five minutes so it's easier to cut into pieces.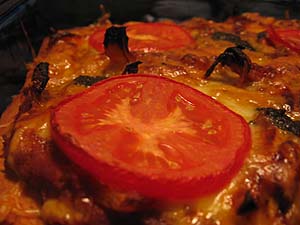 Serve with the garnishes on the side and be happy you don't have to study for anything.