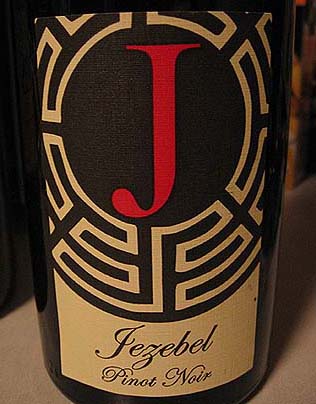 Judging a Bottle by it's Cover: 2004 Jezebel Pinot Noir
This is my first ever Wine Blogging Wednesday event. Yay! I'm actually pretty excited also because I normally pick out wine by the label! Derrick at Obsession with Food picked the perfect topic, as far as I am concerned.
Though I considered many, my final choice for WBW16 was a 2004 Jezebel Pinot Noir from the Willamette Valley. It was bottled by Daedalus Cellars in Dundee, Oregon and is a second label project between Peter Rosback of Sineann and Aron Hess of Daedalus. The wine can be purchased online at AvalonWine.com — a really good resource for Northwest wines (if you don't live in this area).
Why I picked it:
I think the thing that first drew me to the bottle was the giant, red "J" against the black backdrop. There's a very graphic type feel to the label that I just love. It's very eye-catching. Plus, "Jezebel" — a great name. It's slightly evil sounding, yet quite stylish — intriguing! Who wouldn't want to drink it? I sure would. Oh wait, I did!
What we thought:
The wine itself was very good. A little heavy and spicy for a pinot (does that sound too hoity-toity?), but we both liked it. We ate it with some goat cheese and arugula stuffed chicken breasts (yet another big dinner practice meal), wild rice pilaf and some sautéed green beans.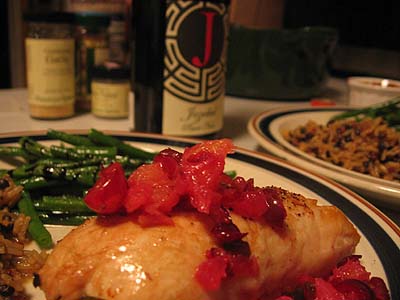 The fine print:
Here is the back of the bottle for anyone curious about that kind of stuff.
The Wall of Wine or Good Drinks:
I wasn't kidding when I said that I pick wine by the label. You can buy label savers from The Wine Enthusiast (plus, I've seen them in Linens 'N' Things too). You just tape it down over the label, rub a wooden spoon or something like it over the tape, to make sure it's all stuck down and then pull it off. It works cleanly about 70 percent of the time. Not all labels come off well, but, as you can see, I've had a pretty good track record.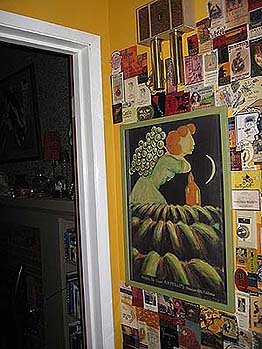 I have been doing this for the last few years.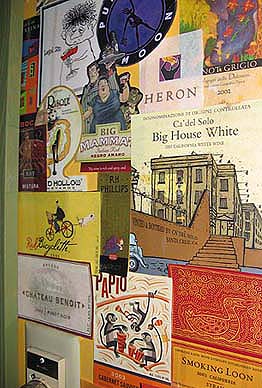 We've drunk a lot of wine over the last couple of years that has had interesting labels. Oh! Here's one — I liked the Papio a lot. Monkeys! I found that at the Fred Meyer by our house for about $6 a bottle. I loved the label so much, I just had to take it home. It was pretty good too. I think we got the Merlot and the Cabernet.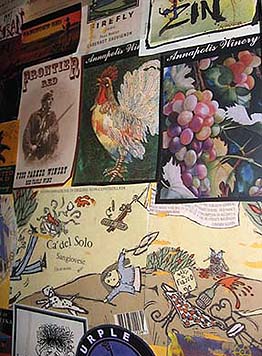 The Annapolis Winery is a cute place up on the Sonoma Coast by the town of Gualala, where I hope to pick up some more wine in a couple of weeks, when we're up that way for Christmas. hint, hint. Their Zinfandel is all peppery and spicy — both jwa and I really like it.
Wrapping it up…:
So, that sums up my WBW16 post. We liked the Jezebel Pinot label, as well as the wine. It was a little in your face for a pinot but not in a bad way. So, really, I'll probably continue to pick out wine by the label — it works for me! Thanks again, Derrick, for hosting such a fun topic for WBW16.
Technorati tags: wine blogging wednesday |wbw | wine