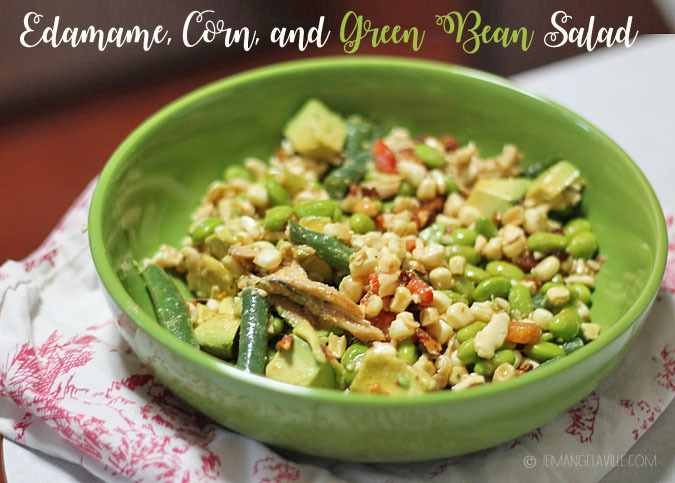 Ah, summer! Full of hot weather and the desire to eat cool foods for dinner.
Here's a dish that will definitely win you over with healthy edamame, crunchy bell pepper, avocado and even roasted nuts. Okay, yeah, and some cheese. The dressing is especially flavorful–a mix of fresh ginger, soy sauce, maple syrup, olive oil, and rosemary.
This can be kept vegetarian or you can add some shredded, cooked chicken breast. Also, raw corn is so delicious in salads. Try it, you'll thank me.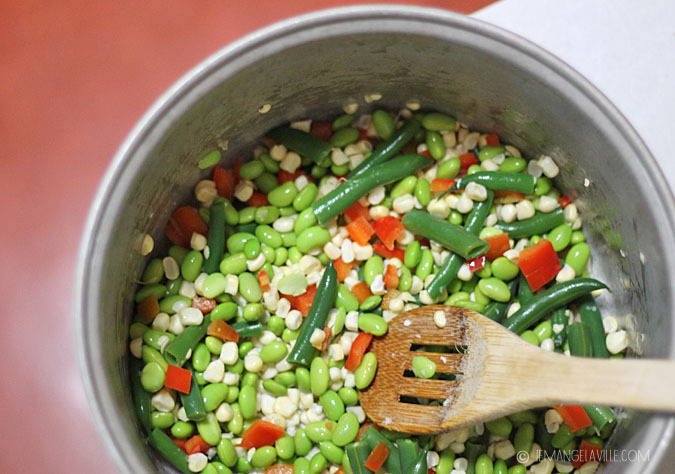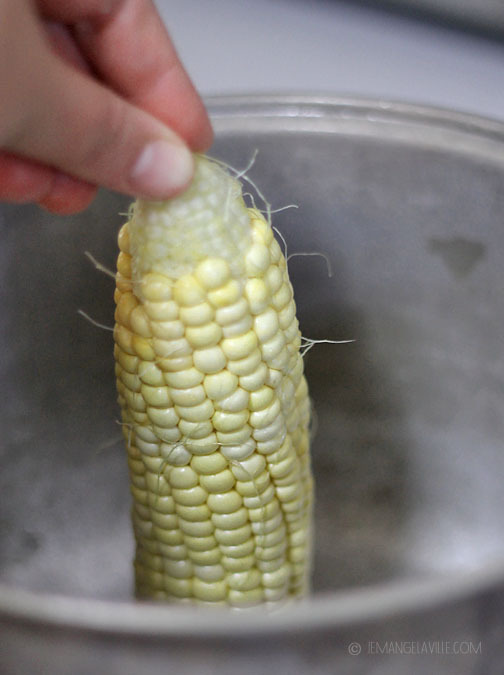 Edamame, Corn, and Green Bean Salad
Adapted by a recipe for BLD's fresh vegetable salad in the LA Times; serves 3-4
2 cups frozen, shelled edamame
1 cup (about a big handful or so) green beans, trimmed and chopped into about 2-inch pieces
1 cup raw fresh yellow corn (about two ears), husked
1 red bell pepper, diced
1/2 cup crumbled feta
1 avocado, peeled and diced
1/2 cup toasted cashews or almonds *
Optional: 1 cooked chicken breast, shredded
Dressing:
1-inch piece of ginger, grated
1/4 of a small shallot (I usually peel the shallot, then slice a small piece off) – you can always add more, so start small
the leaves from 1 medium spring of rosemary
2 tbsp soy sauce
2 tbsp honey
3 tbsp seasoned rice vinegar
1 1/2 tbsp fresh lemon juice
1/2 cup olive oil
Directions
Cook the edamame and green beans in salted, boiling water for about 3 minutes. Shock in an ice bath.
In a large bowl, stand one ear of corn up and slice a knife down the edges to remove all the kernels. Repeat with the other ear. Add the edamame, green beans, bell pepper and feta to the bowl and toss. Add the chicken if using.
To make the dressing, add all ingredients except the olive oil and blend. If you have a blender lid where you can remove the top portion (while keeping the lid on), do that and slowly add in the olive oil while blending (otherwise, add the oil at once and then blend).
Toss some dressing with the salad, add salt and pepper to taste, and serve topped with the diced avocado and roasted nuts. (Sometimes I use all of the dressing, sometimes I have a little leftover for another salad–start with half and then add to your taste.)
* If you really want to take this to the next level, make some spiced, smoked nuts a la the Thug Kitchen cookbook instead of using plain toasted cashews or almonds.
Mix 1 tsp liquid smoke, 1/2 tsp maple syrup, and 1 tsp olive oil. Mix your 1/2 cup of nuts in that and then add to a bowl with 1/2 tsp smoked paprika and 1/2 tsp garlic powder. Toss to distribute the paprika and garlic powder. Spread out on a foil-covered baking sheet and roast for 10 minutes at 350 degrees F. Sure, you have to turn on your oven but it's worth it!