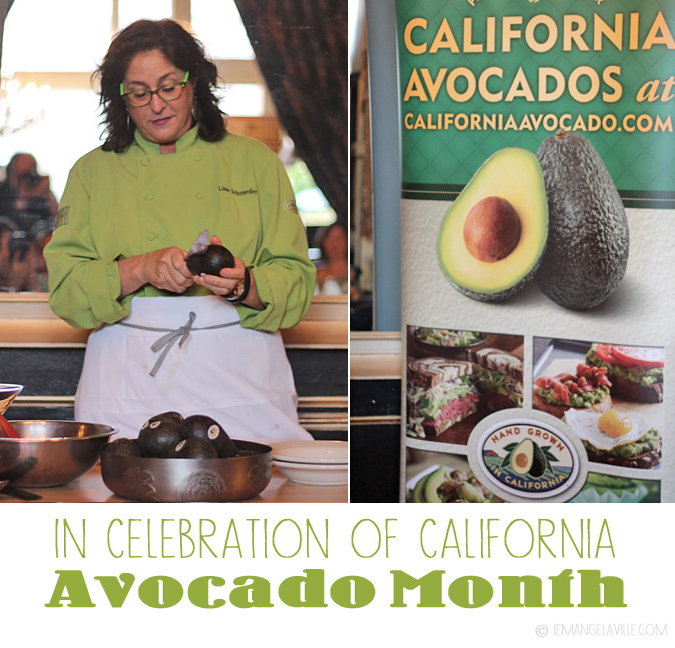 Last Thursday evening, I was invited to a California Avocado Dinner hosted by the California Avocado Commission at Mother's Bistro & Bar (212 SW Stark Street, Portland, Oregon 97204). Relatively-speaking, I am a bit of a new fan of avocados, having really just started liking them about 10 years ago.
Gateway avocado delivery system: guacamole, of course. But jwa is an avid lover of avocados from way back, so I brought him to the dinner with me!
After some avocado daiquiris, socializing, and delicious hors d'oeuvres, Chef Lisa Schroeder gave a demo for an Avocado, Pink Grapefruit, and Dungeness Crab Salad (See recipe below). We also got an amazing swag bag filled with all sorts of goodies to take home, including avocados and a signed copy of the Mother's Best cookbook at the end of the evening! Such a great time.
Thank you again California Avocado Commission and Mother's Bistro & Bar!
California Avocado Dinner, June 19, 2014
Lucy Brennan's Avocado Daiquiri
Avocado, Pink Grapefruit, a Dungeness Crab Cocktail
Guacamole-filled Cherry Tomatoes
Butter Lettuce, Avocado, & Green Onion Salad with Lemon Vinaigrette
Grilled Chicken Breast with Sauteed Onions, and Peppers, Topped with Avocado, and Salsa, served with Macaroni & Cheese with Bacon, Avocado, Tomatoes, Cheddar, & Cotija Cheeses and Green Onions
Avocado-Lime Pie in a Graham Cracker Crust with fresh Oregon Strawberries and Whipped Cream (this was amazing!)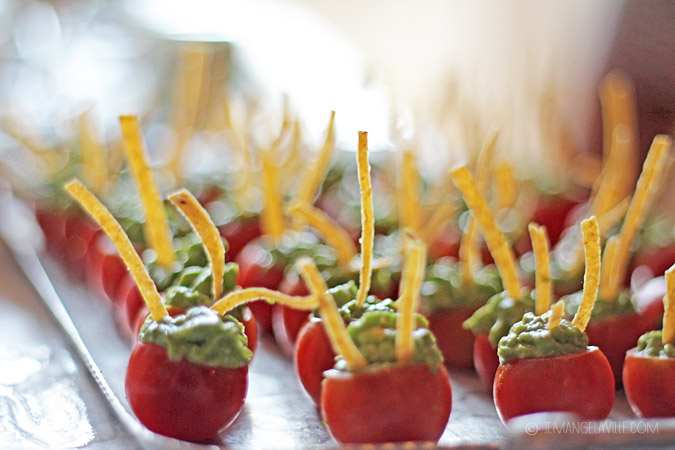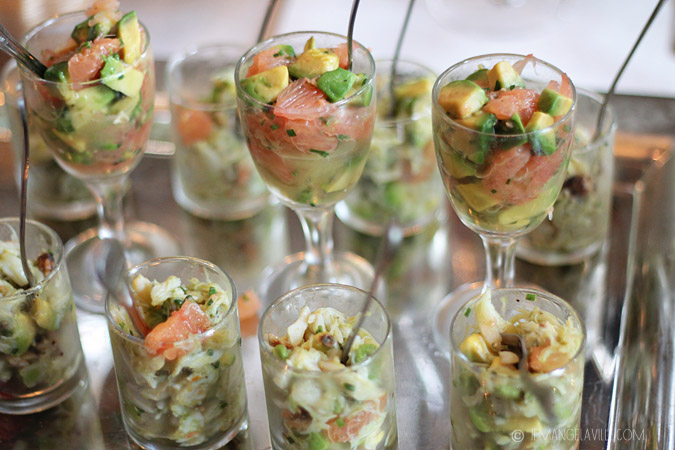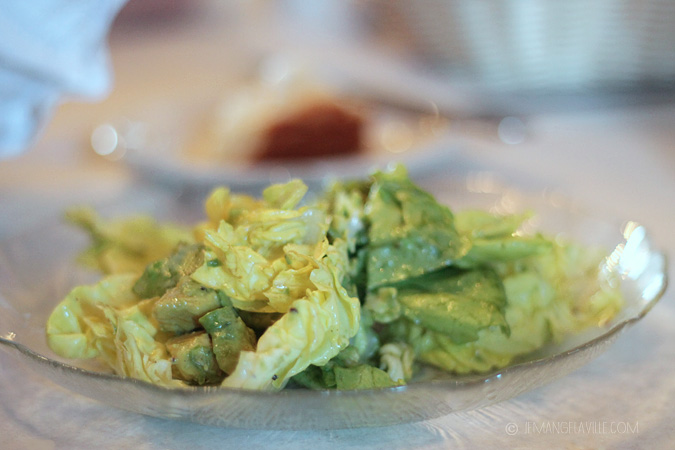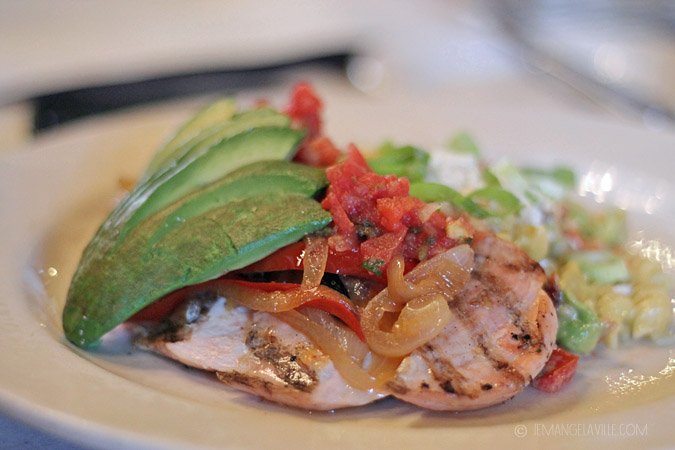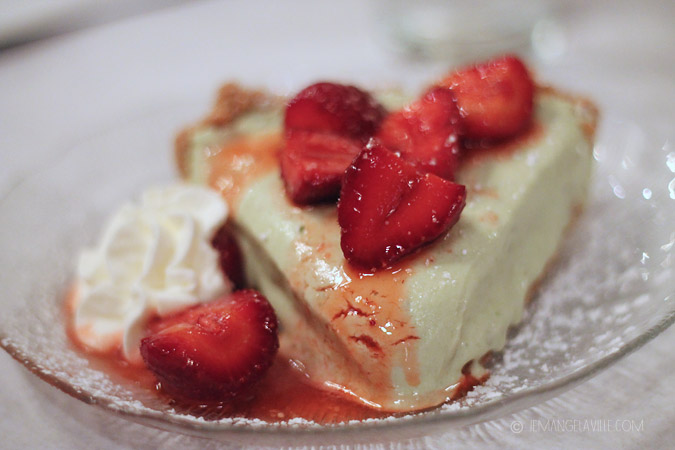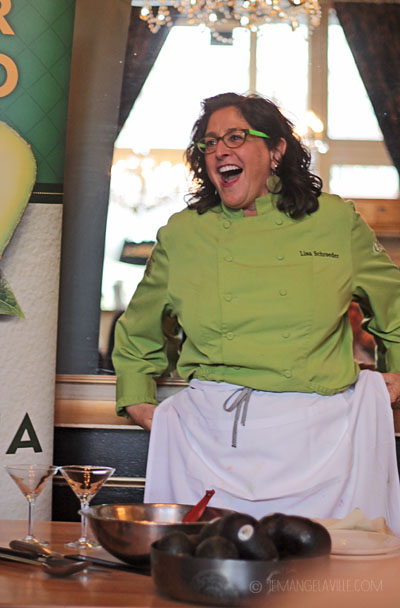 Crab, California Avocado and Pink Grapefruit Cocktail
Recipe by Chef Lisa Schroeder of Mother's Bistro & Bar and provided By the California Avocado Commission; serves four.
1 large pink grapefruit
2 Tbsp reserved grapefruit juice
1 lb lump Dungeness crabmeat, drained
2 ripe Fresh California Avocados, peeled, seeded and diced
2 Tbsp finely chopped chives
2 Tbsp olive oil
1 lime, juiced
Salt, to taste
Freshly ground black pepper, to taste
Cut off the top and bottom of the grapefruit, exposing the fruit. Place flat side on a cutting board, and using a sharp knife, cut the peel away from the grapefruit, removing all the white pith. Discard peel.
Segment the grapefruits: holding the grapefruit over a bowl, use a paring knife and cut next to the membrane on each side of each segment leaving membrane behind. Let segments fall into the bowl. Once the grapefruit has been segmented, squeeze the leftover membranes into the bowl to extract as much juice as possible. Strain juice into another bowl and set aside. Discard membranes.
Cut the grapefruit segments in half, set aside.
In a separate medium-sized bowl, add the crabmeat, grapefruit, avocado, chives, olive oil, lime juice, salt and pepper. Gently mix well with a two prong fork, so as not to break up or mash the ingredients.
Taste for seasoning. Adjust with more salt and pepper, if necessary. Spoon into a large martini glasses and serve.
Note: This appetizer can be made a couple hours ahead and chilled until serving.
* Large avocados are recommended for this recipe. A large avocado averages about 8 ounces. If using smaller or larger size avocados adjust the quantity accordingly.