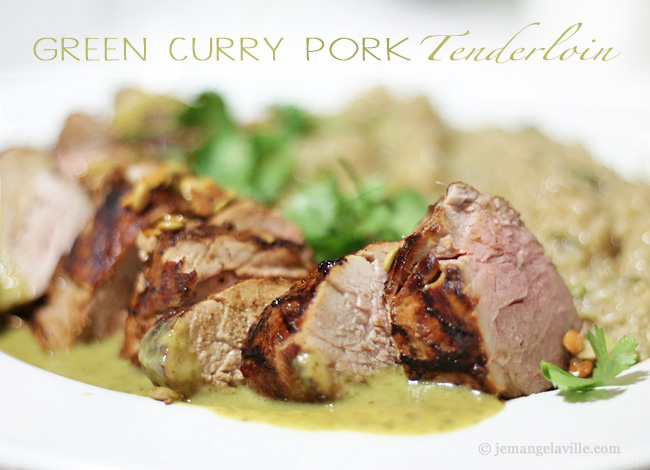 This is the pork tenderloin recipe to beat all pork tenderloin recipes. At one time, I thought this honor went to Roasted Pork Tenderloin with Apple Cider Jus and while that is still a pretty tasty recipe, this one for Green Curry Pork Tenderloin has won. Won everything.
Oh my god. This is seriously the best pork I have ever made. And yes, it seems like there are a lot of steps (there are) and yes, you'll have to do some planning, but you will be rewarded with tender, spicy, moist pork, crunchy pumpkin seed brittle-like crunchies, and a pretty good (albeit not overly spicy) green curry sauce.
Now, if you look up the original Green Curry Pork tenderloin recipe on epicurious.com, you'll notice that I didn't change all that much. Except for halving the pork and marinade and keeping the sauce and pumpkin seeds the same. Stay with me here — for two people, 3-4 servings are just fine, dinner and lunch. Perfect. Extra pumpkin seeds are great on salads and even ice cream. And double sauce? How is that not an awesome idea? But, if you want eight servings, just use two tenderloins and double the marinating ingredients.
I find it's easy enough to get the marinade together the night before, let the pork go all the next day in the fridge, and then make the seeds and the sauce and hour or so before eating. Than all you need to do is grill the pork and everything else is ready and waiting. We've had brown rice on the side but also just flat bread. As long as you have a little something for soaking up extra sauce you will be good to go.
Ingredient note: For the green curry paste, I just used the fairly ubiquitous Thai Kitchen brand and I used Trader Joe's low-fat coconut milk.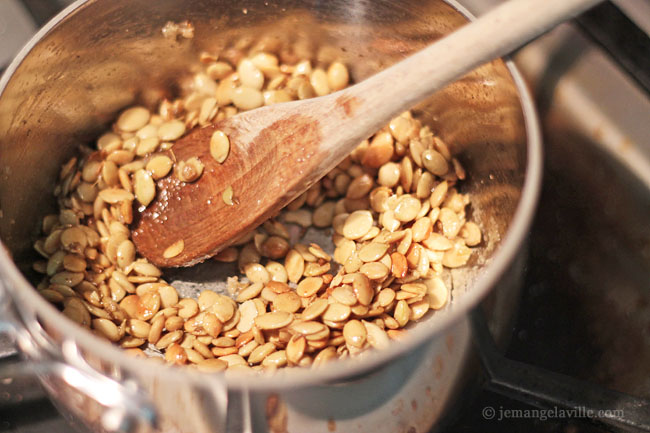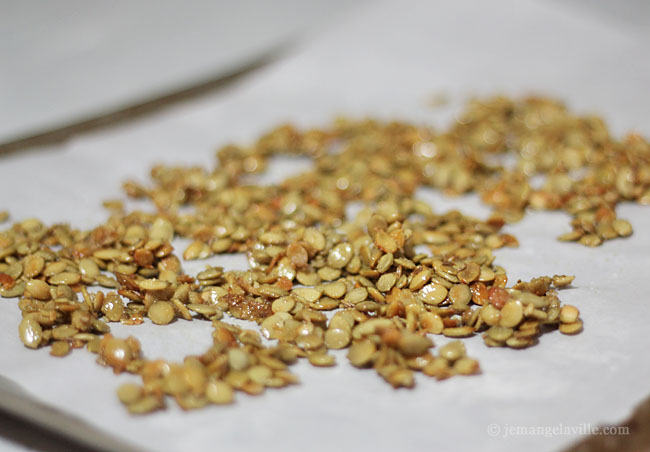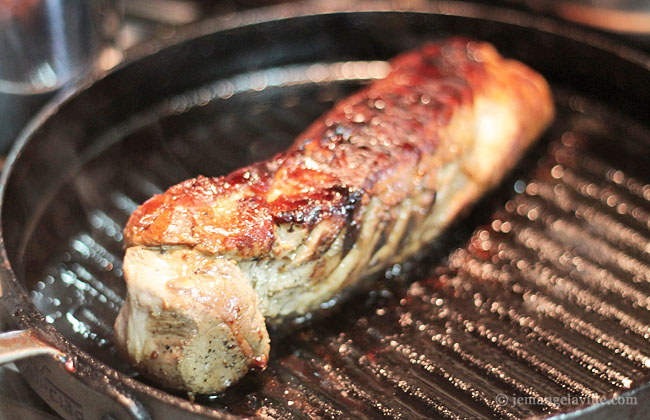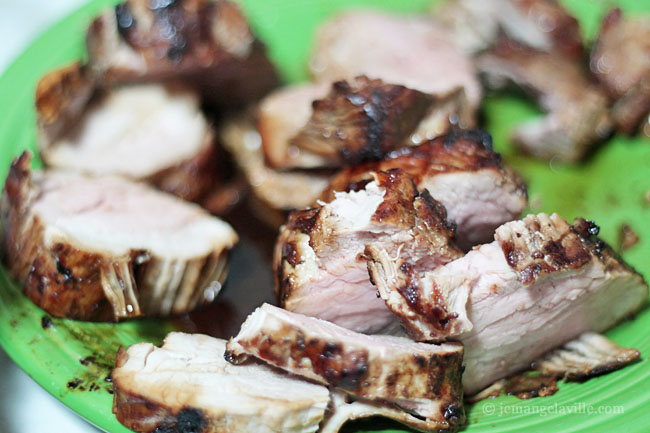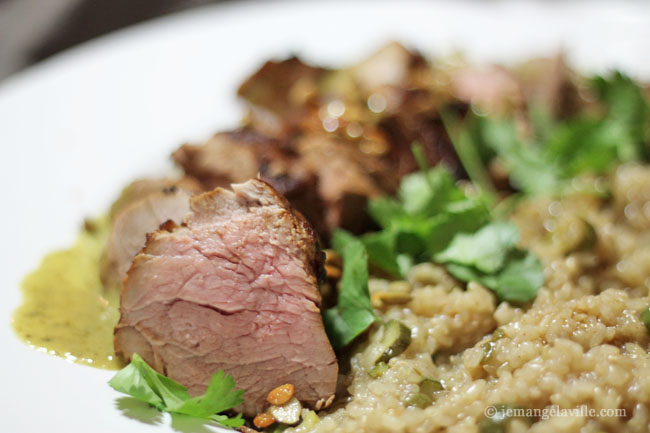 Pork and Marinade
Recipe from Root Down in Denver, CO, via Bon Appétit magazine; serves 3-4.
1/4 cup reduced-sodium soy sauce
2 tbsp fresh orange juice
1 tbsp pure maple syrup
1 tbsp toasted sesame oil
1 pork tenderloin
Cumin-Spiced Pumpkin Seeds
1 tbsp vegetable oil
3/4 cup shelled pumpkin seeds (pepitas)
1/2 tsp cumin seeds
1 tbsp sugar
1 tbsp fresh lime juice
Kosher salt
Curry Sauce/Pork
2 tbsp vegetable oil, divided
1 small shallot, chopped
2 cloves garlic, minced
1/4 cup green Thai curry paste
1 tsp finely grated lime zest
1 14-ounce can unsweetened coconut milk (low-fat is fine)
1/4 cup fresh cilantro leaves
1 tbsp fresh lime juice
1 tbsp brown sugar
Kosher salt, freshly ground pepper
Garnish: cilantro leaves
24 hours before eating: Combine soy sauce, orange juice, maple syrup, and sesame oil in a large resealable plastic bag. Add pork and seal bag. Chill, turning occasionally, about 24 hours.
To make the Cumin-Spiced Pumpkin Seeds: Heat oil in a large skillet over medium-high heat. Add pumpkin seeds and toast, shaking pan often, until seeds are brown, about 4 minutes. Add cumin seeds, then gradually add sugar, then lime juice, tossing constantly to coat seeds with melted sugar and juice. Transfer pumpkin seed mixture to a parchment-lined baking sheet; spread out and let cool. Season with salt. Can make 1 day ahead.
Curry Sauce, Pork, etc…: Heat 1 tablespoon oil in a medium saucepan over medium heat. Add shallot and garlic and cook, stirring often, until softened, about 3 minutes. Add curry paste and lime zest and cook, stirring constantly, until fragrant, about 1 minute. Add coconut milk and bring just to a boil, stirring and scraping up any browned bits from bottom of pan; reduce heat and simmer, stirring occasionally, until mixture is reduced by half, 10-15 minutes. Remove from heat and let cool.
Transfer coconut milk mixture to a blender. Add cilantro, lime juice, brown sugar, and 2 tablespoons water and blend until smooth. With motor running, drizzle in remaining 1 tablespoon oil and blend until creamy. Season curry sauce with salt and pepper, return to pan, and cover to keep warm.
Prepare grill (or grill pan) for medium-high heat. Remove pork from marinade; pat dry. Grill pork, turning often, until an instant-read thermometer inserted into the center registers about 145 degrees F, 15-20 minutes. Let rest 10 minutes. Slice pork and serve with curry sauce (some drizzled on top and the rest on the side) and some of the cumin-spiced pumpkin seeds and cilantro leaves. Extra pumpkin seeds can also be served on the side, or saved for salads or even an ice cream topping.