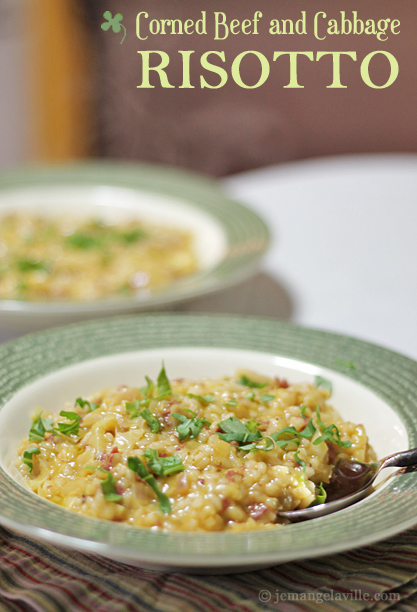 As promised, here's another St. Patrick's Day recipe (although it's about a day later than I was hoping to post it). Luckily, there's still plenty of time to plan on making a risotto like this for Friday's (or Saturday's, Sunday's) dinner. If you are really smart, you will get a little extra corned beef and make yourself a sandwich at a later date — I was not smart. Learn from my mistake.
This is the second time I've used cabbage in risotto and I think it works very well — especially if you let it get a little color before you start adding broth.
On the side, we had a large arugula salad and, although we didn't have any, some crusty bread or even Irish Soda Bread would be great too. Erin Go Bragh.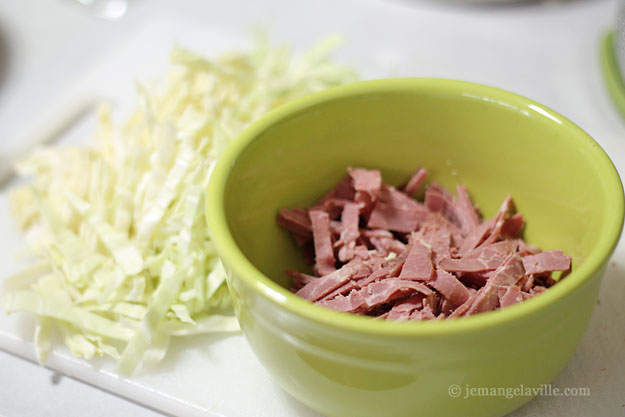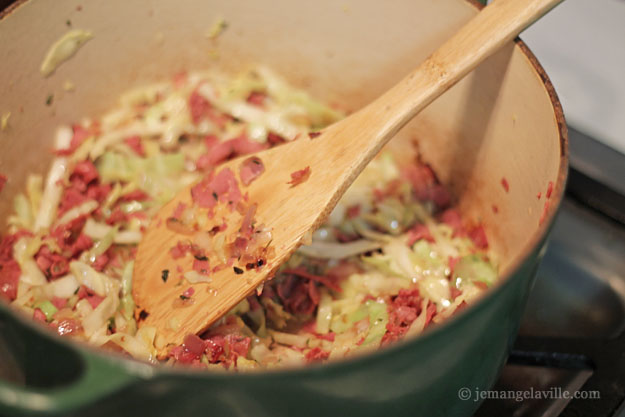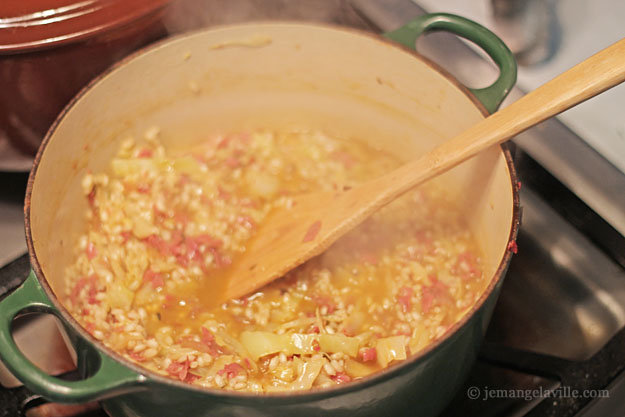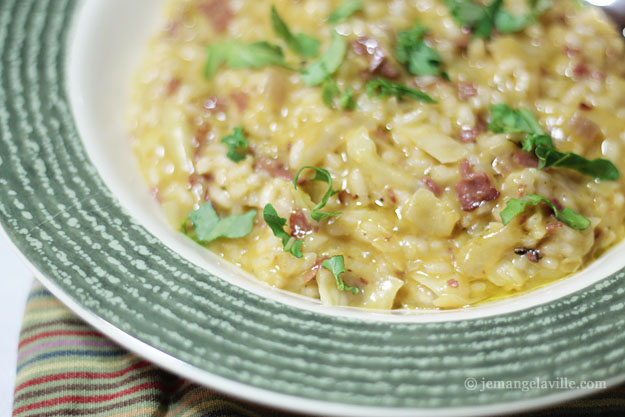 Corned Beef and Cabbage Risotto
Serves 3-4
4 cups vegetable broth
2 tbsp olive oil
1/2 Red Onion, diced
2 cloves Garlic, minced
1/4 lb thin slices of Corned Beef, halved, then cut into thin strips
2 cups thinly sliced Savoy Cabbage (about 1/2 a small head)
1/4 tsp Celery Seed
1 cup Arborio rice
1/2 cup dry white wine
1/2 cup (or maybe a tiny, tiny bit more) grated Swiss cheese
1 tsp Dijon mustard
salt & pepper to taste
Chopped parsley leaves for garnish
Add the broth to a small pot and bring to a simmer.
In a heavy-bottomed pot, heat the olive oil and add the red onion and garlic over medium heat. Cook until soft and just starting to color. Add the corned beef and cabbage and cook until the cabbage starts to get a little color, about 5-7 minutes.
Add the rice and celery seed and stir to coat in oil. Cook for about a minute. Add the wine and stir until absorbed. Start adding the broth by 1/2 cupfuls and stir occasionally. Adjust heat as needed to keep risotto at a strong simmer/weak boil.
With the last addition of broth, add the grated Swiss cheese and mustard. After it absorbs a bit more of the broth, stir and taste, add salt and pepper as needed. Garnish with chopped parsley leaves. Serve with either the rest of the white wine or Guinness.