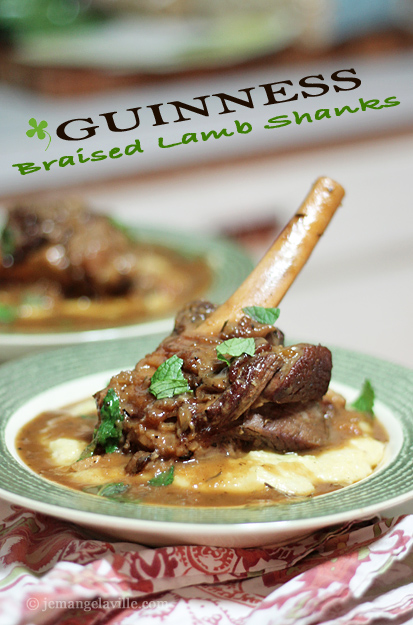 Over the next couple of days I'm going to be posting two ideas for St. Patrick's Day meals and this first one uses two very Irish ingredients — Guinness stout and lamb. It does take awhile to cook but the reward is worth it.
Of course, there's also the challenge of finding a pot big enough to fit the lamb shanks in (usually my downfall), which is definitely tricky, but again, very much worth it in the end. If you have leftover braising sauce (and you probably will), it's great used in lentil soup. Just thin with a little more chicken broth and cook your lentils in it. Mmmmm….lamb-y.
On the side — Polenta & Cabbage: This is sort of a colcannon-type dish but with polenta instead of potatoes. Just cook up a batch of polenta like usual (one part polenta whisked into four parts boiling liquid), and when it's almost done, saute some sliced cabbage in separate pan, using about a tablespoon of butter. Add salt and pepper and let it get a little golden in places. Add the cooked cabbage and butter to the polenta and stir in along with a little Parmesan cheese, salt and pepper and you'll have a delicious side for the Guinness braised lamb shanks.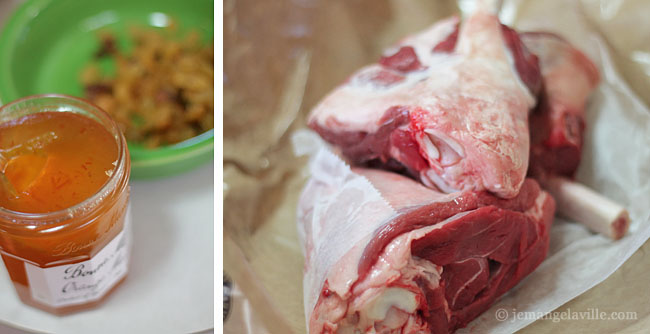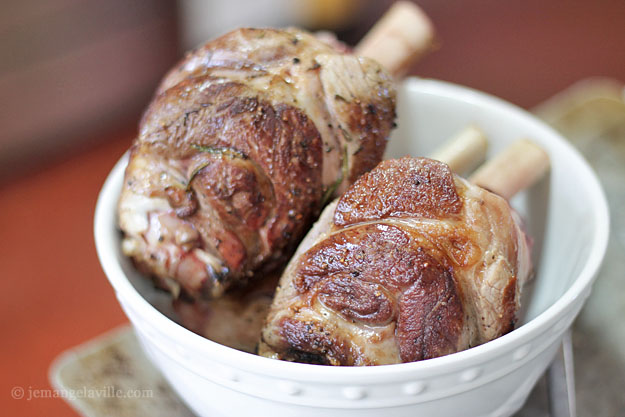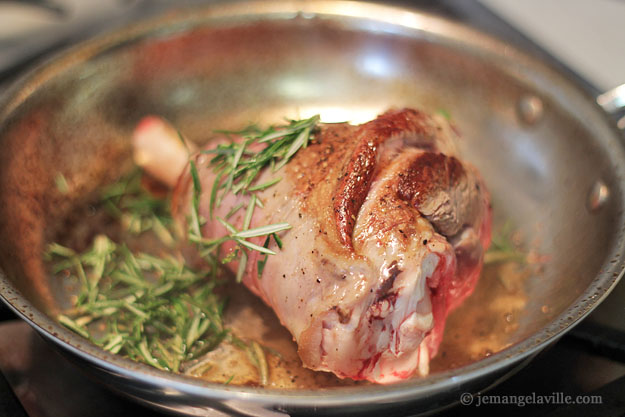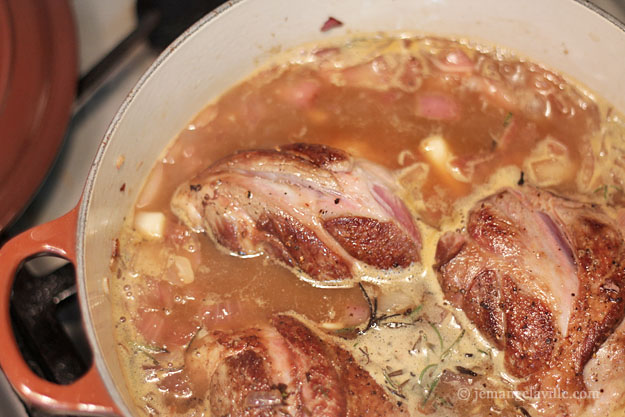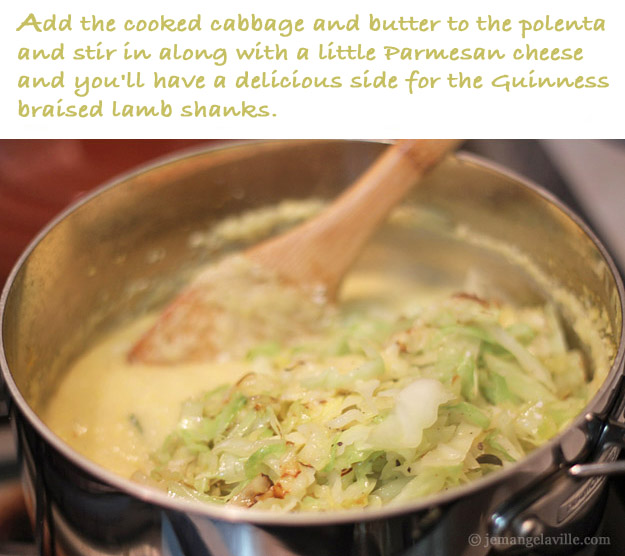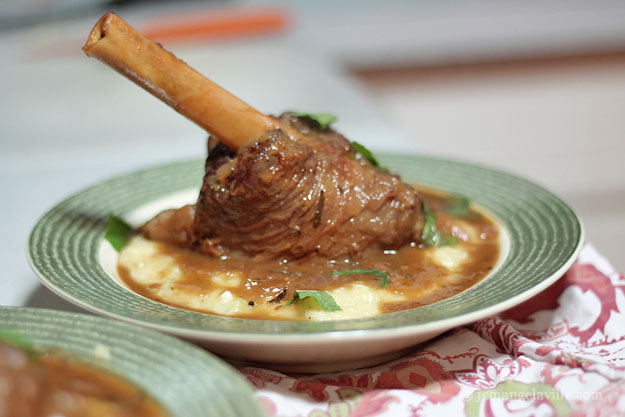 Guinness Braised Lamb Shanks
Recipe adapted from Jamie Oliver
2 red onions, diced
2+ tbsp olive oil
Kosher salt & freshly ground black pepper
1/4 cup golden raisins
1/4 cup orange marmalade
1 tbsp ketchup
2+ tbsp Worcestershire sauce
1-1/4 cup Guinness (you can drink the rest! Yay!)
3-4 lamb shanks
6 sprigs fresh rosemary, leaves removed and roughly chopped
3-1/2 cup chicken broth
1 small bunch fresh mint leaves
1 tbsp apple cider vinegar
Add a tablespoon of olive to a large Dutch oven (that you know will fit all of the shanks), warm over medium heat and add the onions, sprinkle with some salt and pepper. Cook, stirring occasionally, until the onions start to caramelize. Add the raisins and marmalade, ketchup, Worcestershire sauce and Guinness. Stir and then let simmer while you brown the shanks.
Heat another tablespoon of olive oil in a large, heavy frying pan over medium-high heat. Season the lamb with salt and pepper and brown (in batches if necessary), about 3 minutes per side. When the lamb is about half done browning, add the rosemary leaves to the pan and let them get a little color. If they start to get too dark, pull them from the lamb pan and add directly to the onions and Guinness.
Set shanks aside in a bowl while you add the broth and any accumulated crispy land juices and rosemary from the lamb pan. Bring to a simmer and add the lamb shanks. Turn down to low, cover and let braise for about 3 hours, turning shanks over once halfway through.
When the lamb shanks are ready, carefully move them to a plate, making sure the meat stays intact. Cover with foil. Use a handheld blender to blend the braising sauce until smooth, then reduce for about 10-15 minutes. Before serving, taste and adjust salt and pepper, and add the cider vinegar to the sauce.
To Serve: Polenta or celery root puree is a great bed for the lamb shanks. On a platter or individual plates, add some polenta (or whatever you are serving the shanks with), the shanks, some sauce, and sprinkle with mint leaves. Serve the remaining sauce on the side.