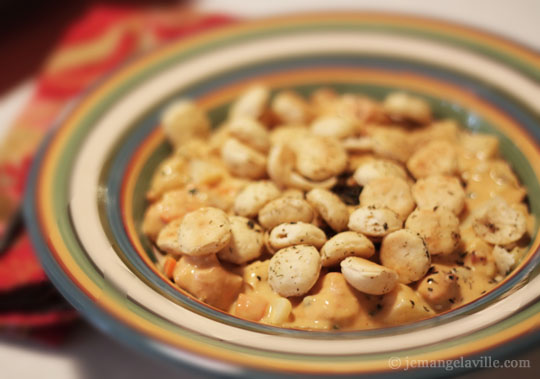 Seeing that Summer is now officially over, here is one of my last Copper River Salmon posts. The latest shipment was fall Coho Salmon and I really made it count and used it for 3 (THREE) recipes!
This first one was something a bit different for me. It seems like most of my salmon experiments have been basically searing the fish in olive oil, with just a sprinkle of salt and pepper (because it's so good just like that), but when my Coho arrived, it had a little informational card that said Coho was especially good for soups and stews.
"Hmmmm", I thought, "I like soups and stews." And it is fall…totally soups and stews weather. After a little searching I found a Fish Chowder recipe in Gourmet magazine that I monkeyed with a bit and ended up with a really delicious bowl of chow-dah.
Notes: You could easily substitute white wine for the ale, I just had ale — Fort George Quick Wit and no white wine and decided to experiment a bit. It worked. Also: the chowder is even better the next day.
Coho Salmon Chowder
Adapted from Gourmet Magazine; serves 2-3
2 tbsp diced pancetta, (you could also use 2 slices of bacon, diced)
1 small onion, diced
1 carrot, diced
2 celery ribs, diced
2 cloves garlic, minced
1 tbsp unsalted butter
2 tsp all-purpose flour
1/2 tsp smoked paprika
1/4 tsp powdered ginger
1/4 pale ale (or other light beer)
1 cup vegetable broth (for a fishier chowder, use the traditional clam broth)
3/4 cup water
1/2 cup heavy cream
1 russet potato, scrubbed and diced
1 ear of corn
1/2 lb Coho salmon fillet, skin discarded and flesh cut into 1/2-inch pieces
2 tbsp minced chives
Herbed Oyster Crackers
1 tbsp unsalted butter
1/4 tsp dried dill
1/4 tsp dried basil
2-inch piece of rosemary, leaves stripped and chopped fine
1 1/2 cups oyster crackers
In a soup pot cook the bacon over medium heat, stirring, until crisp. Transfer to a paper towel lined plate and reserve until chowder is finished.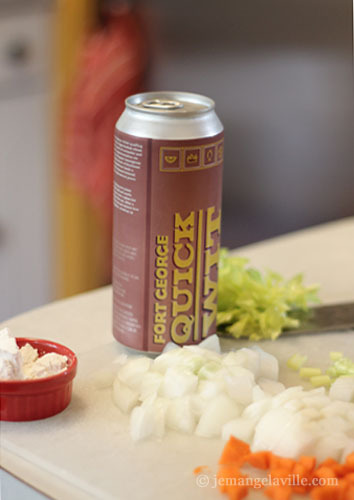 Pour off any pancetta/bacon fat that's in the pan and saute the onion, carrot, garlic and celery in butter over moderately low heat, stirring occasionally, until softened.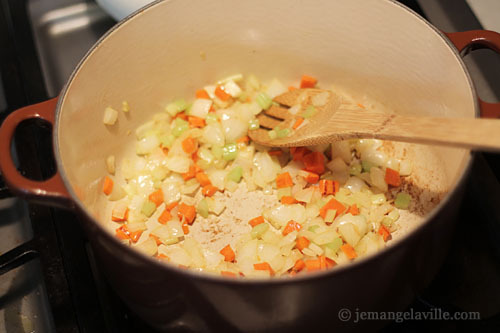 Sprinkle flour over mixture and cook, stirring, 3 minutes. Stir in paprika and ginger and cook, stirring, for about 1 minute. Add the ale, vegetable broth, water and cream and bring to a boil.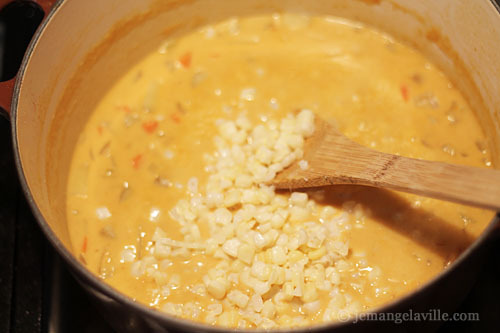 While mixture is coming to a boil, husk the corn and slice off the kernels. Add diced potato and corn kernels to the chowder and simmer uncovered for about 12-15 minutes.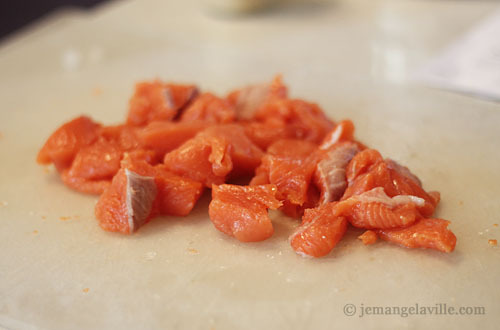 Stir in salmon and continue to simmer until the fish is just cooked through, about 5 minutes. Stir in chives, reserved bacon, and add salt and pepper to taste. Serve chowder with herbed oyster crackers.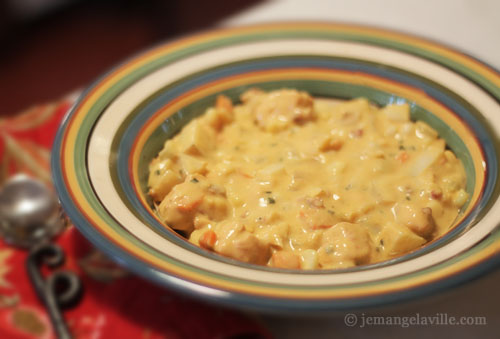 To make the crackers:
Preheat oven to 350°F. In a small saucepan melt butter with the dried herbs and rosemary, over moderate heat. Add crackers and toss to coat with the herb butter.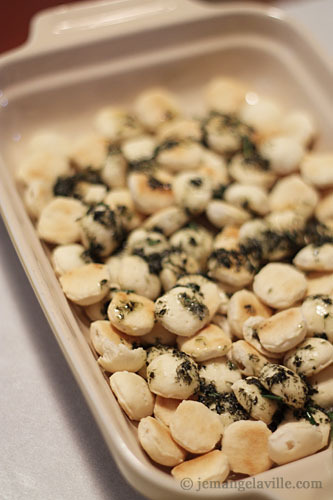 Arrange the crackers in a shallow baking dish or on a baking sheet in one layer and then bake in middle of oven 10 minutes, or until deep golden.
Check out the rest of the Fresh Catch Crew for more Copper River Salmon recipes:
Plate Fodder | lisa is cooking | Rooftop Gourmet | What's Cooking, Chicago | Heather's Dish | The Salted Spoon | a nutritionist eats | Cookin and Kickin | Justin Davis | Fritos and Foie Gras | Girl Meets Fork | Cafe Johnsonia | Spices and Aroma | Country Cleaver | The Hungry Muse