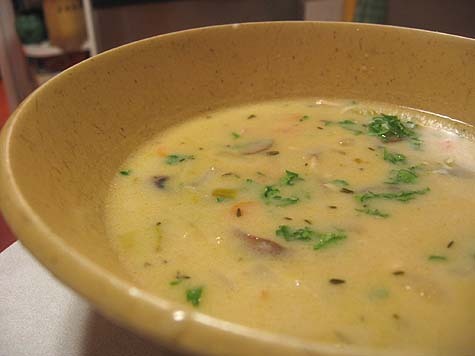 While growing up Cream of ____ soups were always just something to make casseroles with — but not anymore! Wow, this was tasty! I tweaked it a little from the original by adding garlic, thyme, hot sauce and mushrooms and I was so pleased with the results. This is definitely what is going to happen to some of our leftover turkey and turkey stock next weekend. In fact, it's a great recipe for that as I'll probably have leftover cream, veggies and everything else. So will you, so you should definitely make this soup.
I cooked the mushrooms in a separate pan because I didn't want them to soak up all the butter and I didn't want to add more butter. I'm not sure you have to do that, but that's the way I did it.
Cream of Chicken Soup
Adapted from a recipe by Food Network Kitchens
6 tbsp unsalted butter
1 white Spanish onion, chopped
3 cloves garlic, minced
2 leeks, cleaned well, white part chopped
3 medium carrots, chopped
1 tbsp olive oil
12 cremini mushrooms, chopped
1/2 cup AP flour
7 cups chicken broth, homemade or low-sodium canned
4 sprigs parsley
1/2 tsp dried thyme
1 bay leaf
2 3/4 cups cooked, diced chicken
1/2 cup heavy cream
2 tbsp dry sherry
1/2 tbsp kosher salt
Freshly ground black pepper to taste
2 tbsp chopped flat-leaf parsley
A few dashes of hot sauce
Parmesan Cheese
Optional: 1 cup cooked brown rice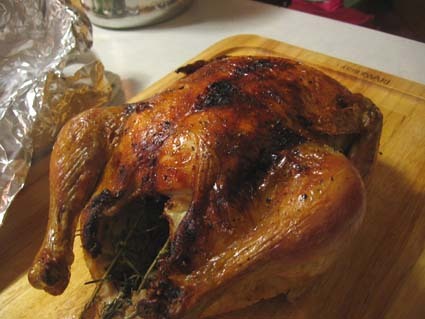 Roasted Chicken with Rosemary-Orange Butter — leftovers of which, became this soup! I highly recommend the roast chicken recipe too.)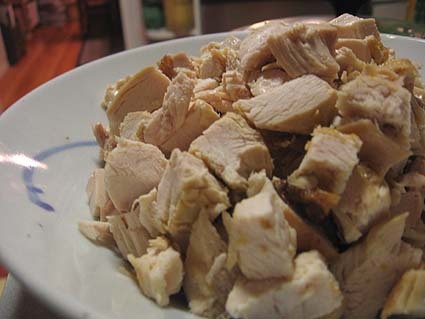 Melt the butter in a large soup pot over medium heat. Add the onion, leeks, garlic, dried thyme and carrots. Cook, covered, stirring occasionally, until soft, about 12 minutes.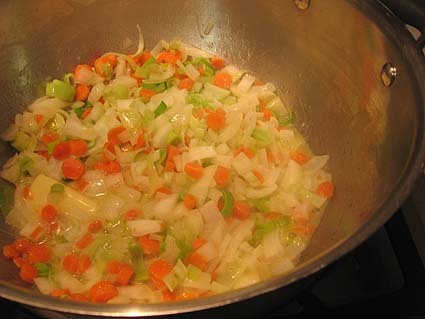 While those veggies cook, in a separate pan, heat the olive oil. Saute the mushrooms with a pinch of kosher salt for 10 minutes or so, over medium heat, until they give off some liquid. Set aside.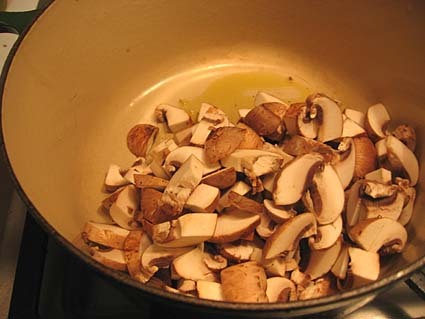 Add the flour to the larger pot of veggies and cook, stirring with a wooden spoon, for 2 minutes more.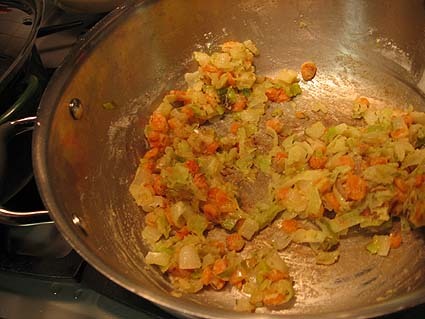 Pour in the broth and bring to a boil while whisking.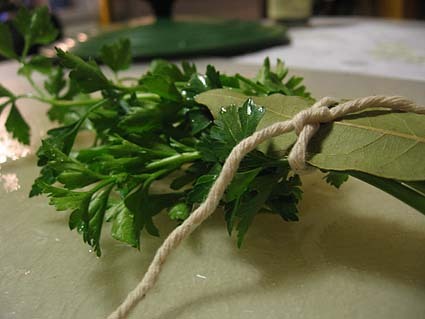 Tie the parsley sprigs and bay leaf together with a piece of kitchen twine and add to the soup.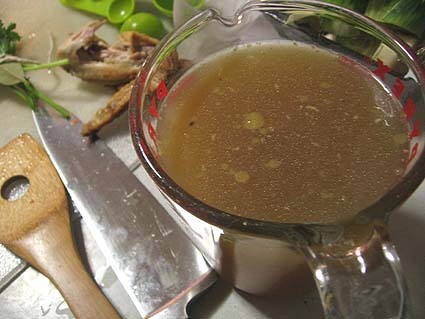 Add the mushrooms. Lower the heat and simmer for 15 minutes.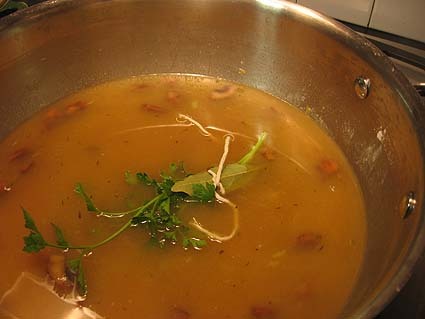 Stir in the chicken and bring to a boil. Remove from the heat.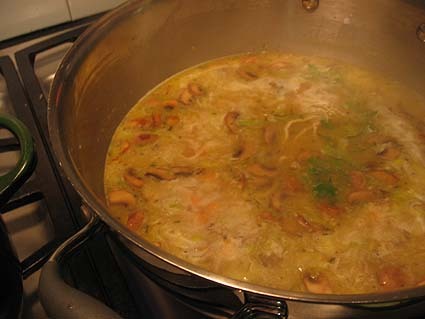 Whisk the heavy cream, sherry, and salt into the soup. Taste and adjust salt and season with pepper and hot sauce to taste. Remove and discard the herb bundle.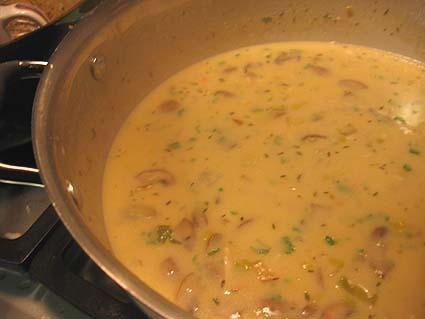 Add the cooked, brown rice if desired. Divide among soup bowls, sprinkle the top of each soup with the chopped parsley, Parmesan cheese and serve immediately.