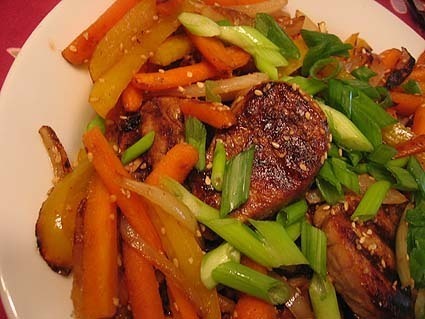 First off, this recipe had a lot of pressure on it. I was opening a package of pork tenderloin so that I could slice it up and marinate it all day while I was at work. Note to self — do not use knives at 7 AM. I sliced the hell out of my finger. So much so that I had to call work and leave the following message:
Hi this is Michelle. I cut my finger and right now I'm walking around the house with it wrapped up in paper towels and packing tape. I'm going to wait until it stops bleeding and probably be in around 9:00 AM. Okay, bye.
All day I was thinking, damn, that pork had better be really freakin'* good. Grrrrrr.
In case you were wondering, my finger is fine and I was actually able to just use a band-aid on it by 8:30 or so and I did make it in to work by 9 AM. So, that ended well.
Originally, I saw this recipe on Bobby Flay's new show, which, meh, but he has a guest(s) on each week that grill with him. The guest griller that week was Judiaann Woo, who made awesome looking beef ribs. I don't know why FN just doesn't give her a show and stop airing all this Next Food Network Star crap. (Although, I must admit, I like Lisa). Anyway, I got to wondering how the marinade would work with the pork tenderloin I had in the fridge. Now, I no longer have to wonder…it's great.
Korean-Style Grilled Pork Tenderloin
Marinade recipe adapted from Judiaann Woo
1/2 cup brown sugar, packed
1/2 cup soy sauce
1/4 cup water
3 tbsp mirin (rice wine)
2 shallots, peeled and minced
pinch red pepper flakes
1/2 small green apple, peeled and finely grated (or use an Asian pear if you can find one)
3 tbsp minced garlic
1 tbsp dark sesame oil
pinch black pepper
1 green onion, thinly sliced (optional)
1 pork tenderloin (1-2 pounds), sliced into 1 inch thick rounds
(lack of pictures due to irritation over wounded finger).
Combine the brown sugar through the black pepper. Whisk until sugar is mostly dissolved. Divide in half. Add tenderloin medallions to a large bowl or ziplock bag. Add half the marinade. Refrigerate two hours to overnight (overnight!) Add the other half of the marinade to the container of your choice and also park it in the fridge.
When ready to cook, get a large plate and cover with a couple of layers of paper towels. Place the pork slices down on it. Use some more paper towels to press down on the pork and dry it off. Discard the marinade that the pork was in.
Now, pour the other half of the reserved sauce in a small pot and add about 1/4 – 1/2 cup of chicken stock, bring to a boil and reduce for about 10 or so minutes.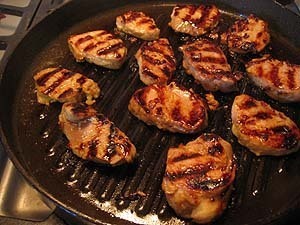 Meanwhile, heat up a skillet and add a little canola oil. Cook the pork about 2-3 minutes per side until done. Remove to a plate and cover with foil for a few minutes.
We had this with some cooked brown rice and pan sauteed carrots and yellow bell pepper. I used toasted sesame oil to cook the veggies.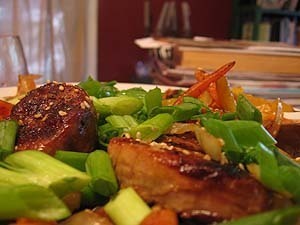 To serve, put the rice in a big bowl. Place the veggies around the edges of the bowl and the pork in the middle. Top with the green onions, maybe some toasted sesame seeds and serve the sauce on the side.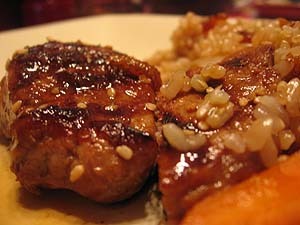 Leftovers are just as tasty. In fact, the next day at work, L. stopped by my cube and commented on how good my lunch smelled. Ha! Take that finger!
* In my head, it was not freakin'…that is just family blog-speak.
Edited to add —
How much do I love Dr. Horrible? Oh, so, so much. jwa and I have both been singing Freeze Ray all weekend and changing the lyrics to suit our own needs:
With my freeze ray I will stop…the world
with my freezeray
I will take
take the laundry
up the stairs
spread it on
on the bed
and put it all away?