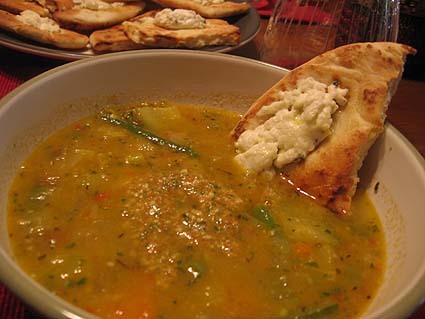 Ah, May's Weekend Cookbook Challenge. I almost missed it too, as we just got back from the honeymoon on Tuesday night. I actually kind of doubted I was going to make this and get the post together by the due date. I surprised myself. And quickly, speaking of the honeymoon, we had a fabulous time. Vancouver Island is awesome. Especially Tofino. We love Tofino. I will start planning an anniversary trip back there soon — I'm not even kidding.
Anyway, WCC. The theme was TV Cooks and rather than picking a recipe based on TV Cook, I picked a recipe based on what I grabbed up at the grocery store (mostly vegetables). And the winner is….Wolfgang Puck! This recipe was on the show, "Wolfgang Puck's Cooking Class" on the Food Network. This show is probably no longer on, as it's actually about cooking.
So, I changed a few things (used less stock, omitted the yellow squash, added cheese to the pistou) but that is just my way. This is a really great, easy to make, vegetable soup. So, you know, go make some.
Provencal Vegetable Soup
4 tbsp olive oil
3 medium leeks, dark green parts trimmed and discarded, light green and white parts thoroughly washed and cut into 1/2-inch dice
6 garlic cloves, minced
2 medium carrots, peeled and cut into 1/2-inch dice
2 stalks celery, cut into 1/2-inch dice
5 cups chicken broth or stock (you can use vegetable broth too)
Salt and Pepper
1/2 tsp dried thyme
1/2 tsp Herbes de Provence
12 green beans, trimmed and cut into 1/2-inch pieces
1 medium zucchini, cut into 1/2-inch dice
1 ripe tomato, seeded, and cut into 1/2-inch dice
Pistou:
6 medium garlic cloves, peeled
3 ripe tomatoes, seeded, and chopped
5 to 6 tbsp extra-virgin olive oil
1/4 cup grated Parmesan cheese
30 fresh basil leaves, washed and dried
Goat Cheese Croutons:
6 to 8 slices French bread, about 1/4-inch thick (I used some leftover naan that we brought back from Victoria)
Olive oil
4-6 ounces fresh creamy goat cheese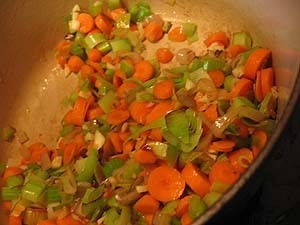 In a large saucepan, heat the olive oil over medium-high heat. Add the leeks and saute just until they start to turn translucent, about 3 minutes. Add the garlic and saute about 1 minute more. Add the carrots, celery, thyme and marjoram and continue sauteing until the vegetables deepen in color, 3 to 4 minutes more. Pour the stock into the pan, bring it to a boil, and reduce the heat to maintain a simmer. Sprinkle in a generous pinch of salt.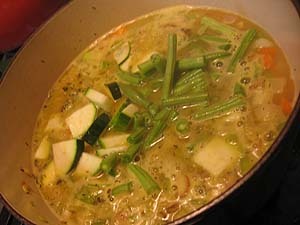 Stir in the beans, zucchini, and tomato. Continue simmering until the vegetables are tender, about 15-20 minutes.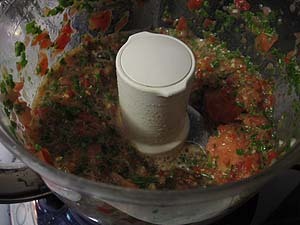 Meanwhile, make the Pistou: Put the garlic, parmesan cheese and tomatoes in a blender or food processor with about 3 tablespoons of the olive oil. Begin processing. With the machine running, add the basil leaves, and then pour in enough extra-virgin olive oil to make a smooth, fluid paste. Transfer about 1/2 of the paste into a serving bowl to pass alongside the soup.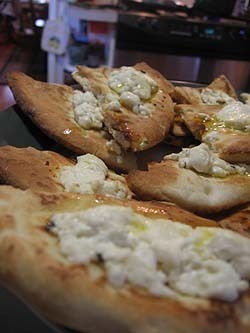 Make the Goat Cheese Croutons:
Preheat the oven to 375 degrees F. Brush the bread slices with olive oil and arrange them on a baking sheet. Bake until golden, 12 to 15 minutes. Remove them from the oven and turn on the broiler. Spread 1 side of each crouton with goat cheese and put it back on the baking sheet. Broil until the cheese is warm and slightly bubbly, about 3 minutes. Set aside.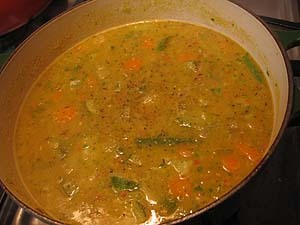 When the soup is ready, stir the remaining pistou into the saucepan, ladling some of the hot broth into the blender or processor bowl to swirl and rinse any pesto clinging inside into the pan. Taste the soup and adjust the seasoning with a little more salt, if needed.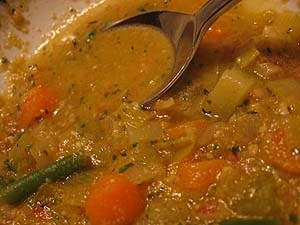 Ladle the soup into individual serving bowls. Float a crouton in the center of each bowl or just dunk it in. With a spoon, drizzle a little more pistou over the crouton and soup in each bowl. Serve immediately, passing more pistou alongside for each person to add, to taste.
Thanks as always to Sara, for the super fun event that is Weekend Cookbook Challenge!