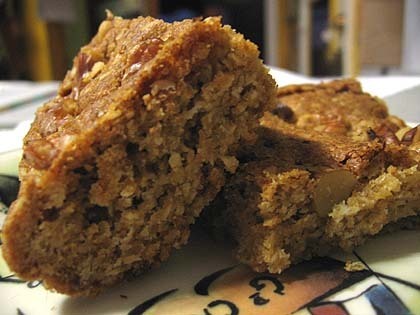 The other day I was tempted at the checkout by the latest issue of "Everyday Food." I used to have a subscription but then I forgot to renew and now I only get the magazine, well, when I'm tempted at the checkout.
This month, there's a big tostada on the cover. Okay, you are coming home with me! But inside, there was an article on baking mix (recipe below) and all the wonderful things you can bake with it. One of these things is Oatmeal Blondies, which I made. They turned out really good. The whole pan was gone in a day and a half.
The only challenging part was that I got halfway through making the recipe and realized that I didn't have enough oatmeal. I had about a 1/2 cup and I needed 3/4 cup (well, the recipe says 1 cup, with a 1/4 of that for the top. I was going to use walnuts, so really, I was only short about 1/4 cup).
After sighing, and looking around and not wanting to go out I…..I…..used a packet of Trader Joe's Blueberry Instant Oatmeal for the missing 1/4 cup.
::ducks::
Yeah, that's what I said! And it turned out fine. Now, I'm not recommending you do the same, but in an emergency, we do what we have to do. I'll make these again the right way but I think I'll add some dried blueberries because, uh, the blueberry flavor was really tasty!
Baking Mix
I halved this from the original
3 cups all-purpose flour, spooned and leveled
1 1/2 cups sugar
1 tbsp baking powder
1/2 tbsp salt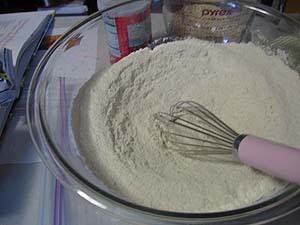 Mix it all together. Done. Store what you don't use in an airtight container.
Oatmeal Blondies
1/2 cup (1 stick) unsalted butter, room temperature, plus more for pan
1/2 cup packed light-brown sugar
1 large egg
1 1/2 cups baking mix
3/4 cup old-fashioned rolled oats (not quick-cooking)
1/4 cup walnuts, chopped roughly
Preheat oven to 350 degrees. Spray a little non-stick spray in an 8-inch square baking pan (you can also butter the dish as in the original recipe (OR). Line bottom and sides with a strip of parchment paper, leaving a 2-inch overhang. Now, you can butter the paper as the OR says or you can use non-stick spray or you can forget to do either like I did. For me, it was fine with just the paper, as I was all about not following the OR too much.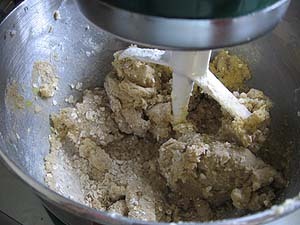 Using an electric mixer, beat butter and brown sugar until light and fluffy. Add the egg, and beat until combined. With mixer on low, gradually add Baking Mix; mix just until combined. Mix in 3/4 cup oats. Pour batter into prepared pan.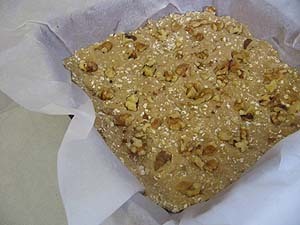 Press batter down into pan. The OR said to spread. My mix was all crumbly — perhaps it was the blueberry flavoring? It didn't spread — it pressed. Sprinkle with walnuts, pressing gently to adhere. Bake until a toothpick inserted in center comes out with only a few moist crumbs attached, 30 to 35 minutes. Let cool in pan 30 minutes.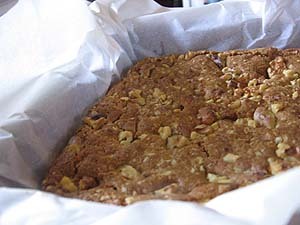 Using overhang, transfer blondies (still on paper) to a wire rack to cool completely. Place on a cutting board (peel off paper); using a serrated knife, cut into 9 (OR says 16 — ha!) squares. Store blondies in an airtight container at room temperature for up to 2 days, or freeze for up to 2 months. You will eat them all within 2 days, don't worry.