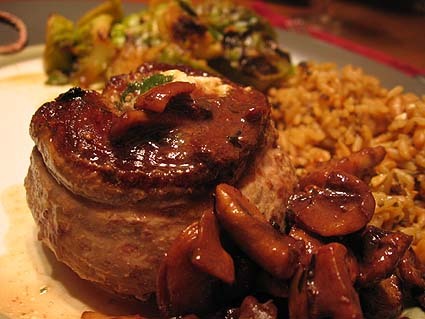 Hmmm…we used to (every so often) get these pre-made at Trader Joe's. They don't seem to have them anymore which is just fine — they are very easy to make yourself! Give it a try! Plus, nothing says "I love you" like red meat and a bottle of wine! Grrrr!!!
Besides, this was jwa's request for Valentine's dinner!
Flank Steak Pinwheels with Boursin, Spinach and Sun-Dried Tomatoes
Based on a recipe from Eating Well magazine
2/3 cup sun-dried tomatoes (not packed in oil)
2 cups boiling water
1 pound flank steak, trimmed of fat
1 clove garlic, minced
3 oz herbed cheese spread, such as Boursin
1 cup baby spinach leaves
2 tbsp olive oil
kosher salt & freshly ground pepper
15 or so button mushrooms, sliced
1/4 cup Cabernet Sauvignon wine (plus the rest of the bottle for drinkin'!)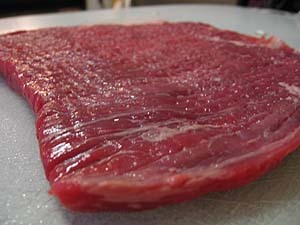 Place sun-dried tomatoes in a bowl; pour boiling water over them and let steep until softened, about 10 minutes. Drain and chop. Meanwhile, place steak between 2 large pieces of plastic wrap. Pound each side of the steak thoroughly with the pointed side of a meat mallet until the steak is an even 1/4-inch thickness. Salt and pepper it good.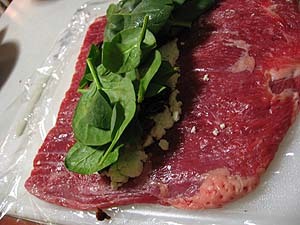 Align steak so the the grain is running horizontally. Rub garlic all over one side of the steak. Spread cheese lengthwise in a 3-inch-wide strip down the middle of the steak.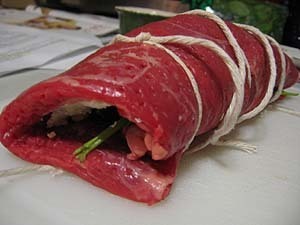 Top with the sun-dried tomatoes and spinach. Starting at one edge of a long side, roll the steak up tightly, tucking in the filling as you go.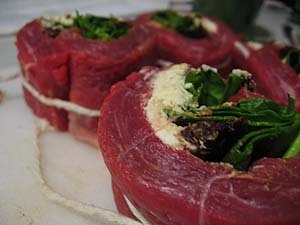 Carefully rub a bit more salt and pepper all over the outside of the steak roll. Turn the roll so the overlapping edge is on top. Use 4 pieces of kitchen twine and secure steak roll in four places. Slice between the twine to make 4 pinwheels. Trim the edge pieces if necessary to keep it all nice looking. .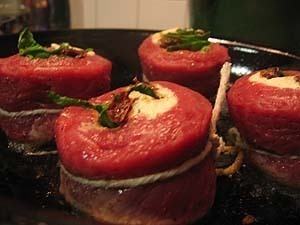 Oil your skillet and cook the the pinwheels 5-7 minutes per side for medium-rare. After you flip them, add the mushrooms to the pan and let them start to golden up.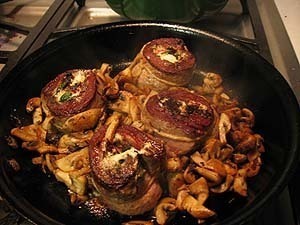 Use a spatula when turning them to prevent too much filling from falling out. Let the pinwheels rest for 5 minutes before serving. Remove the twine from each piece.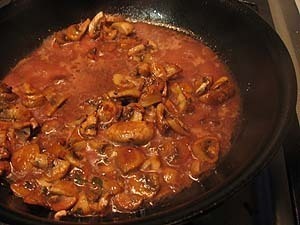 While the beef is resting, continue to cook the mushrooms in the tasty, tasty beef drippings. Mmm….beef drippings. Saute for about 3-4 more minutes and at the end pour in the wine and let it reduce about a minute or two. Serve the steaks with the mushrooms. Now, if this doesn't get you some love, I don't know what will…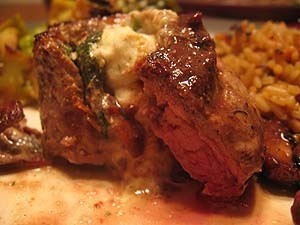 Oh, and besides being delicious, deglazing the mushrooms with some wine should get up any cheese that is stuck to your pan. Awesome!