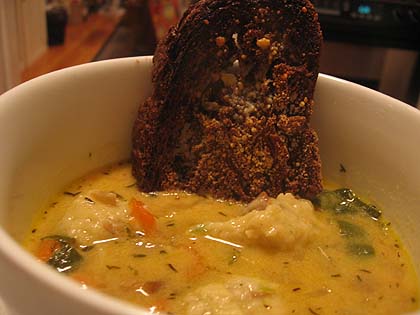 The inspiration for this soup was the cookbook, Twelve Months of Monastery Soups and a container of leftover mashed potatoes. Actually, I'm not sure how this happened as leftover-any-kind-of potaoes are not something we generally have to deal with at this house.
But back to the recipe which is potato dumpling soup. But here's the thing — I took the cookbook to work, planning on reading through it over lunch but then I left it at work. So, no cookbook that night at home. I totally had to wing it. I think this turned out pretty well as I couldn't really remember what was in the original recipe and sort of had to come up with my own version of potato dumpling soup.
I was planning on changing it a bit anyway (using broth for the water used in the book and well, adding the porcinis) so it probably wasn't that big of a deal that I did not have the original recipe to consult.
The recipe uses leftover mashed potatoes, so it's a great use for those. If you don't have any leftover, well, just make some, I suppose. I was lucky in that the potatoes I had in the fridge, had some caramelized mushrooms in them, so they went just perfectly in the porcini-flavored soup.
Quite honestly, I was a little concerned that my dumplings would fall apart in the soup but worse case scenario, I figured I would just have potato soup. Not a problem though, as the dumplings cooked perfectly.
Porcini & Potato Dumpling Soup
1 medium onion, diced
2 medium (or 1 large) carrot diced
3 cloves garlic, minced
2 tbsp olive oil
1/2 tsp dried thyme
1 bay leaf
salt & pepper
1 oz dried porcini mushrooms
1 1/2 cups boiling water
1/2 cup white wine (I used pinot grigio)
2 cups chicken broth
1 big handful baby spinach
1 1/2 cups leftover mashed potatoes (firm, chilled mashed potatoes will work best here)
1 egg
1/2 cup of flour
1/2 tsp chili oil (Just a mild chili-infused oil (mine was from Trader Joes), not a super-hot chili paste or anything — you could also add just a tiny sprinkle of red pepper flakes in place of the oil)
Optional: 1/4 cup half and half or cream < < I only included this because we had some half and half in the fridge -- uh, I liked it a lot, why does cream have to be bad for you? Optional: 1 tbsp fresh chopped parsley for the potato dumplings << original recipe called for this, I didn't have any parsley, plus my mashed potatoes already had mushrooms in them, so I figured I was good without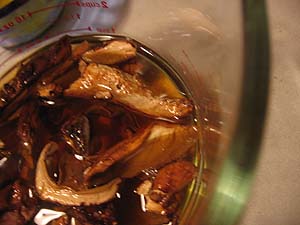 Start by covering the dried porcinis with the boiling water, let sit about 15 minutes or until the mushrooms are soft and the water is dark and flavorful.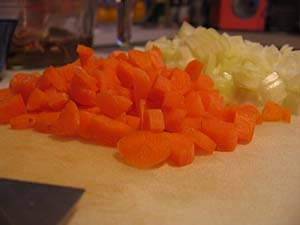 Add the olive oil to a soup pot over medium heat. Next add the onion, carrots, thyme, garlic, and bay leaf. Saute until soft and just slightly golden. Add a little salt and pepper.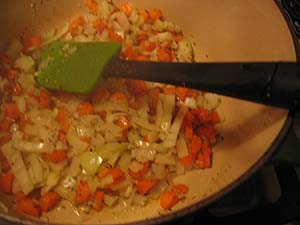 Add the wine and scrape up any tasty things form the bottom of the pot. Then add the chicken broth. Drain the mushroom and add the porcini broth to the pot. Chop up the porcinis and add those as well. Stir and simmer about 15 minutes.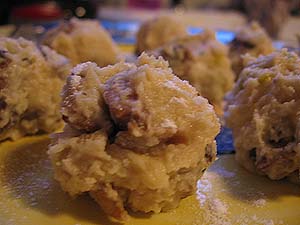 Meanwhile, make the dumplings. Combine the mashed potatoes, egg and flour (as well as parsley if you have some) in a bowl. It'll probably be a little sticky so get a little flour on your hands to help roll out the dumplings. You can also take a gnocchi-making approach and roll the dough out in longer cylinders, then slice into little pieces. Leave as is or roll the pieces into balls — your choice.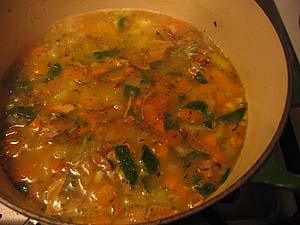 Add the chili oil to the soup and then the cream or half and half, if using. Stir in the spinach and let it wilt while you bring the soup back up to a low boil. Then, add the potato dumplings. Simmer, without stirring or moving the dumplings around too much, for about 10 more minutes. The dumplings should be pretty firm at this point and ready to go.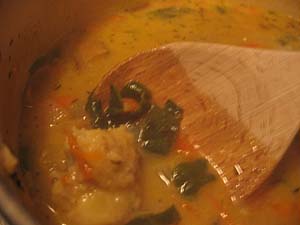 Taste and adjust any seasonings.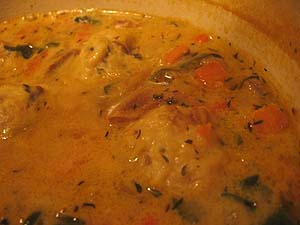 Ladle into bowls and serve with bread — we had some toasted pumpernickel that I drizzled with olive oil, then sprinkled with Parmesan cheese before placing under the broiler.