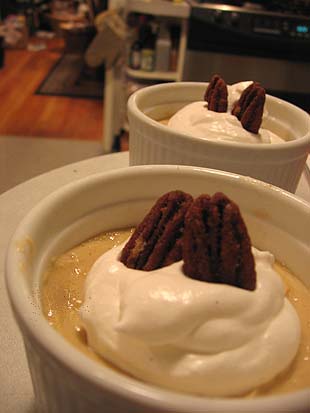 This is part two of my post for Sara's spotlight on the cookbook, Baking: From My Home to Yours by Dorie Greenspan. Except, it's not baking at all! Ha! It's cooking and chilling. That's right, I cook and then I chill.
Okay, then. When I saw this recipe (in fact, I spotted this recipe before yesterday's Swedish Visiting Cake, while browsing the book), I just knew I would be making it. Even better, we already had a bottle of scotch in the house, so there was no extra trip to the liquor store necessary. The resulting flavor has a bit of a bite but it is definitely delicious and butterscotchy. Butter + scotch = great flavor.
The only issue I had, and it was minor, is that the directions are really geared towards someone with a full-sized food processor. I have the medium sized one and I had to do my processing in two batches. And my final mixing, I just did with a whisk to avoid doubling up on the food processor. So, if you have a smaller processor, I would just whisk it all, or resign yourself to mixing in multiple batches.
But, it's completely worth all the juggling around as, I'm sure Barry & Levon would agree, this is seriously some good puddin'…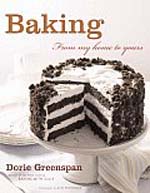 ($240 Worth of) Real Butterscotch Pudding
1/2 cup packed light brown sugar
3 tbsp water
1 3/4 cup whole milk
1/2 cup heavy cream
1/4 cup cornstarch
3 tbsp sugar
3 large egg yolks
3 tbsp unsalted butter, cut into 4 pieces, at room temperature
2 tsp vanilla extract
2 tbsp Scotch Whiskey (preferably a strong, single malt)
Whipped cream
Buttered or candied pecans
Put the brown sugar and water in a saucepan over medium heat and bring to a boil, stirring to dissolve the sugar. Boil for 2 minutes — lower temperature if necessary.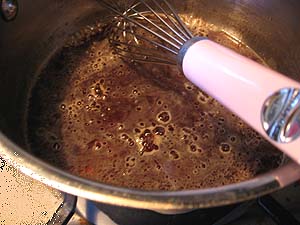 Add 1 1/2 cups of the milk and all of the cream and bring back to a boil. Don't worry if it curdles while it's heating. While the milk/sugar mixture is heating, put the cornstarch and salt into a food processor and whir to blend. Stand back when you open the lid — lots of cornstarch dust. I learned that the hard way. Turn the cornstarch/salt out onto a piece of parchment or put in a small bowl.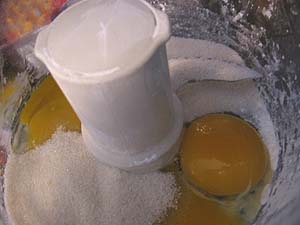 Add the sugar and egg to the processor and blend for 1 minute. Scrape down the sides and add the remaining 1/4 cup of milk and pulse to mix. Add the cornstarch/salt back and pulse to combine.
With the machine running, slowly pour in the hot liquid. Or, carefully pour in half the hot liquid if you have a smaller machine. When that is combined, pour about 3/4 of it in another bowl and blend the rest of the hot mixture into the processor's remaining liquid. Pour everything back into the pan. If you do have a big food processor, simply (slowly!) pour the hot milk all in one batch.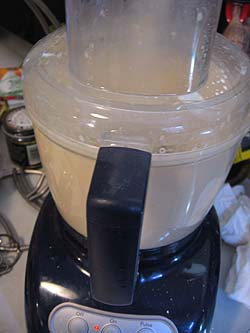 Whisk the mixture in the pan without stopping over medium heat. The pudding will thicken and a couple of bubbles will bubble up to the surface. Lower the heat as necessary to prevent it from actually boiling.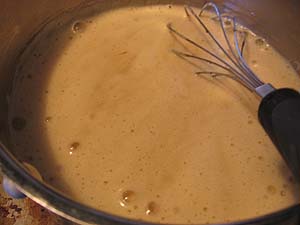 Now this is where I deviated from the recipe. It said to pour all of the pudding back into the processor and pulse, adding the vanilla, butter and scotch. I just didn't feel like trying to go through the two batches thing again with my processor, so I just whisked the butter, vanilla and scotch into the pan off the heat. If you do it that way, just be careful that you don't have any burnt spots on the bottom of your pan.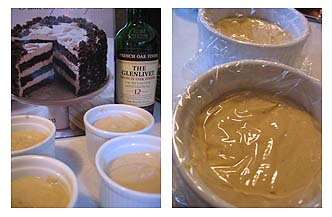 Pour the pudding into 4-6 ramekins. Four ramekins will be generous, puddin'-loving servings, six will be completely respectable-sized servings. It just depends on how many matching ramekins you have and how much you love pudding, I guess.
Cover with plastic wrap on the surface of the pudding to avoid a skin forming. Refrigerate for at least 4 hours. Serve with whipped cream and the pecan topping of your choice. I had some cinnamon-glazed pecans from Trader Joe's that were just perfect on top!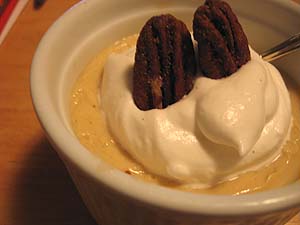 Thanks again to Sara for hosting and inviting me to participate!