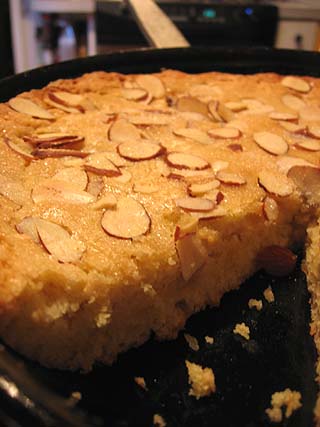 Today's recipe is for Sara's (of Weekend Cookbook Challenge fame) collection of posts about Baking: From My Home to Yours by Dorie Greenspan. The recaps of everyone's contribution to this event will be posted at the Weekend Cookbook Challenge site soon. So check them all out when they are up!
First off, this is a H-U-G-E book. No problem finding a couple of recipes. Nope. Not a problem at all. One of the first recipes that caught my eye was the Swedish Visiting Cake, which, in my head, I have been calling Swedish Traveling Cake for some reason — I feel like I should pop it in the passenger seat of my car now and drive around a bit. Maybe tomorrow. If there's any left, that is…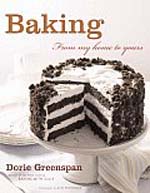 Regardless, this was so good. So easy and so good. When I first read through the recipe I was sort of surprised that there was no baking powder or soda. But not being a big baking person, I decided to just trust the cookbook and not question things I don't know much about. I'm glad I did because it turned out perfectly.
The outer edges get a little crispy and the whole cake has a soft and chewy texture. The lemon and the almonds are a wonderful combination. This is a nice cake to have during the Fall and Winter, I think, as a lighter dessert. (Yeah, I know, a whole stick of butter and a cup of sugar does not equal light — who asked you anyway?!)
Make this cake now — that is my advice to you.
Swedish Visiting Cake
8 tbsp (1 stick) unsalted butter, melted and cooled, plus more for preparing pan
1 cup sugar, plus extra for sprinkling
Grated zest of 1 lemon
2 eggs
1/4 tsp salt
1 tsp vanilla extract
1/2 tsp almond extract
1 cup flour
1/4 cup sliced almonds (blanched or not)
Center a rack in oven and preheat to 350 degrees. Butter a seasoned 9-inch cast-iron skillet or other heavy oven-proof skillet, a 9-inch round cake pan or even a pie pan. I used a my favorite pan in the whole world — a 9-inch oven proof, heavy skillet.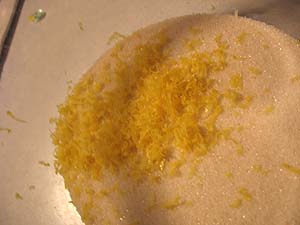 Pour sugar into a medium bowl. Add lemon zest and blend zest into sugar with your fingers until sugar is moist and aromatic. Whisk in eggs, one at a time, until well blended. Whisk in salt and vanilla and almond extracts.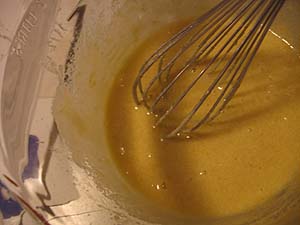 Switch to a rubber spatula and stir in flour. Finally, fold in melted butter. Scrape batter into prepared skillet or pan and smooth top with rubber spatula.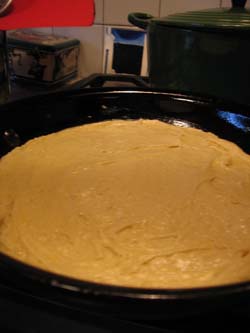 Scatter sliced almonds over top and sprinkle with sugar. If using a cake or pie pan, place pan on baking sheet. Bake for 25 to 30 minutes, or until golden and a little crisp on outside; the inside will remain moist.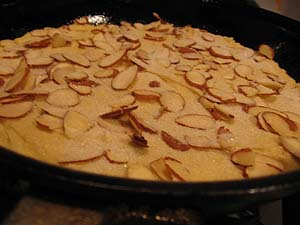 Tomorrow: Part Deux of the recipes I made from Baking: From My Home to Yours. It has butter and booze. Hooray!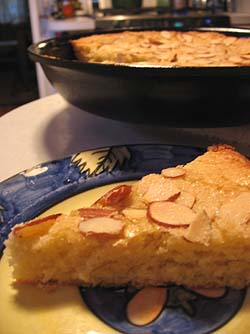 Thank you again to Sara for including me in this event and for hosting the whole thing. I really appreciate it and I have got a great new cake recipe.