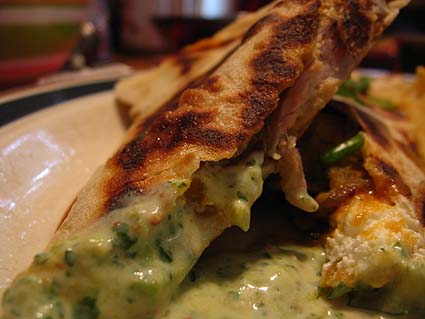 Here we are at the last post of June. What better way to end the month but with a wonderful cilantro and jalapeno rubbed pork tenderloin, sweet potato and goat cheese quesadilla? You see, we were in a pork rut. Pork loin, pork chops, pork tenderloin — I wanted something different to do with pork.
This original recipe is from Emeril and while reading through it, it really appealed to me. It spoke to me, if you will. And the flavors? Wow. They were excellent. The pork and the sweet potato tasted so good together with the goat cheese and all of the accompaniments and what-nots. I also made an apple-chipolte dipping sauce that I made for an earlier pork dish. The recipe can be found at the link above and it went wonderfully with this dish.
What I did, was I used one pork tenderloin (the original recipe called for two) but made the same amount of the cilantro paste. I used half for the roast pork and the other half I mixed with some plain yogurt to make a dipping sauce.
Mojo Roasted Pork Tenderloin and Sweet Potato Quesadillas
1 jalapeno, stemmed, seeded, and coarsely chopped
1/4 cup coarsely chopped onions
1/4 cup chopped green onions
1/4 cup chopped fresh cilantro leaves
1/4 cup vegetable oil
1 1/2 tbsp canned chipotle peppers in adobo sauce
1 1/2 tsp salt
1 pork tenderloin, around 1 pound total
2 sweet potatoes, cooked until tender and peeled
2 (12-inch) flour tortillas
1/2 cup goat cheese
Preheat the oven to 350 degrees, and line a baking pan with aluminum foil.
Start by combining the first six ingredients in a food processor and pulse several times to make a smooth paste. Add 1/2 teaspoon salt and pulse to combine. Set paste aside.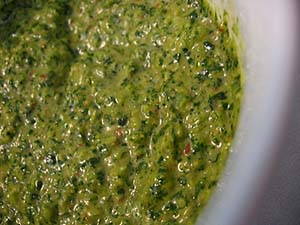 Place the tenderloin in a baking pan and season evenly with 1/2 teaspoon of salt. Spread the cilantro mojo paste mixture on each side of the tenderloin (reserving the extra paste).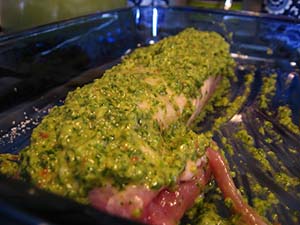 Bake uncovered 30 to 40 minutes, or until and instant-read thermometer inserted into the thickest part reads 145-150 degrees. I actually let mine go to 155, because at 150, the juices weren't quite clear yet. I let it sit for about 15-20 minutes and it was very moist and juicy so it seemed to work out well. So, start checking after 30 minutes and just shoot for 145-155, removing it when you feel comfortable about its doneness. Let it rest covered with aluminum foil for at least 10 minutes.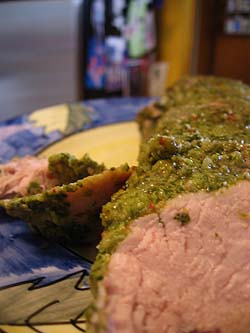 Reserve the pan juices, including any of the paste mixture that ran off the tenderloins. After the pork has rested, slice into 1/4-inch thick, diagonal pieces.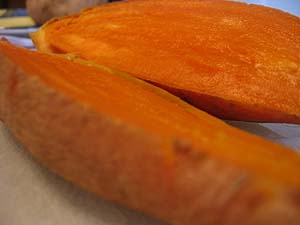 Place the warm sweet potatoes in a medium bowl and mash until smooth. Season with the pan juices and about a tablespoon of the reserved cilantro paste. Stir well to combine.
Now comes the fun part


If you are using large, 12-inch tortillas just lay the filling on half of the tortillas, as you will be folding it over. If you are using smaller, 8-inch tortillas, cover the whole surface and cover with another tortilla. Spread some sweet potato down, lay a few pork slices about then crumble some goat cheese. If you feel like adding an extra something, saute up some onions until they are nice and caramelized and add those as well.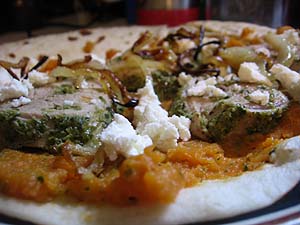 Heat a large, nonstick pan over medium-high heat. Add a little oil and cook the quesadillas, one at a time, until golden and heated through, about 2-3 minutes per side. Repeat with remaining quesadillas. Store finished quesadillas in a 200 degree oven until all are finished. I made two big quesadillas, with about 1/3 of the pork left over. You could definitely get 3-4 quesadillas out of one pork tenderloin.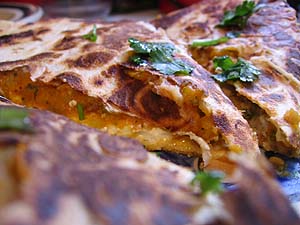 Slice the quesadilla and serve with fresh cilantro and the mojo paste yogurt sauce. As I mentioned earlier, this sauce also makes a great accompaniment. And, of course, the pork could also easily be grilled (I would think), so that you don't have to turn the oven on in the Summer.
Okay! See everyone in July! Monday, I should be posting about the "official" Je Mange la Ville birthday event.