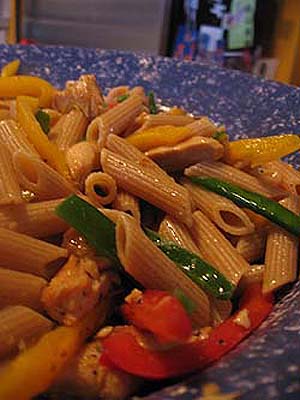 I made this recently and it was really good. It's from the Barefoot Contessa Cookbook and will probably end up to be a Spring and Summer favorite at our house — perhaps yours too!
Sadly, I didn't take many pictures of the making of this meal. I must have been hungry!
Ina's original salad was just the chicken and the veggies, but I really liked tossing that with some wheat pasta. The cookbook gives the grilled chicken recipe in one chapter, then lists the salad as a separate recipe. I'll do the same here just for consistency and well — you can use this chicken recipe for anything!
Well, perhaps not for dusting your living room.
Grilled Lemon Chicken
3/4 cup olive oil
3/4 cup freshly squeezed lemon juice
2 tsp kosher salt
1 tsp pepper
1 tbsp minced fresh thyme leaves
2 lb boneless, skinless chicken breasts, halved
Whisk juice, oil, salt, pepper and thyme together. Pour over the chicken breasts. Cover and marinate in the refrigerator for 6 hours or overnight. I used my grill pan and cooked the chicken for about 8-10 minutes on each side, until it was about 160 degrees. But, of course you can also grill this outside.
Cool slightly and cut diagonally. Use for skewers, wraps or salads.
Or:
Grilled Lemon Chicken Pasta Salad
Grilled lemon chicken
1/4 cup fresh lemon juice
1/4 cup olive oil
1 cup raw sugar snap peas, stems and string removed
1 red bell pepper, julienned
1 yellow bell pepper, julienned
1 lb cooked wheat or regular pasta (I like rigatoni for this)
salt and pepper to taste
Parmesan cheese
Slice your chilled chicken into slightly smaller diagonal slices. Toss them in a bowl with their juices, lemon, oil, snap peas, and peppers.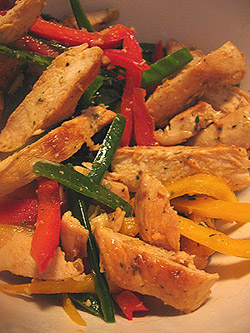 Eat just like this or toss this with your cooked pasta. Add more olive oil and lemon juice if needed. Season with salt and pepper. Serve warm, room temperature or cold. It's all good! Garnish with Parmesan cheese and perhaps some red pepper flakes. Mmmm. Thank you, Ina.