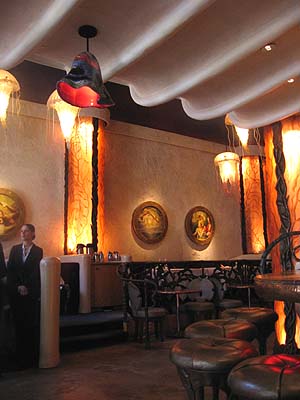 Farallon
450 Post St.
San Francisco, CA 94102

One very good meal that we did have recently was with jwa's parents at Farallon, in San Francisco. I loved the decor and the whole underwater theme, especially these very funky paintings they had throughout the restaurant. They had lights hanging from the ceilings that looked like jellyfish and other sorts of the life aquatic. In case you hadn't figured it out — Farallon is mainly a seafood restautrant.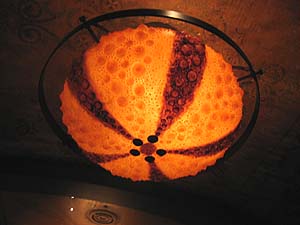 The evening started in the bar (as all fun evenings should) with cocktails such as a mandarin cosmopolitan for me and an appletini for jwa — shout-out to Scrubs! We moved to our table and after ordering, were treated to lobster bisque, served in little cups. I typically prefer to have my soups in bowls and not mugs but it was so delicious that I didn't really mind.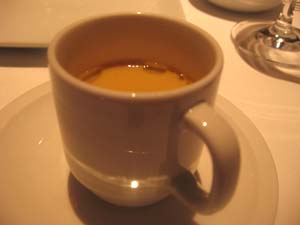 The menu the evening that we were there was really hard to pick from, in that I wanted a number of different things. I'm going to keep each dish's title in capital letters so that it doesn't all run together in one big, tasty culinary text-mess. (I got rid of the caps because they were bugging me).
Here's a rundown of the "Raw Bar":
"Ahi" Tuna Tartare with basil crème fraîche, lemon, crostini.
1/2 Cracked Dungeness Crab with drawn butter, green goddess dressing.
Jumbo Gulf Prawn Cocktail with cocktail sauce, lemon.
Lobster Boudin with avocado, watercress, champagne vinaigrette.
Oysters & Clams, on the half shell, sold by the piece.
Oh, there is more.
The appetizers included:
Butter Lettuce Salad with crispy onions, piquillo peppers, buttermilk vinaigrette.
Maine Lobster "Roll" with brioche and drawn butter.
Local Dungeness Crab with braised artichoke hearts, watermelon radish, Meyer lemon.
Balsamic Roasted Bone Marrow with tempura fava beans, grilled levain, sea salt.
Seared Diver Sea Scallops with sweet fennel, sugar snap peas and black truffle.
Local Asparagus Salad with roasted golden beets, Meyer lemon, parmesan.
Seared Hudson Valley Foie Gras with avocado, garam masala, pain de mie, verjus.
Asparagus Veloute with Dungeness crab, fava beans, chives.
The images of the appetizers that I snapped turned out a bit dark but I had the Diver Scallops and the jwa had the asparagus veloute, which was a soup they served right at the table. My scallops were really, really good. I almost want to try and make them at home again now (yes, I have a scallop mishap story).
But back to this meal, as I haven't mentioned the entrees yet. There's also dessert coming — so hang in there. I can also supply pictures for this part of the meal, as you can see below.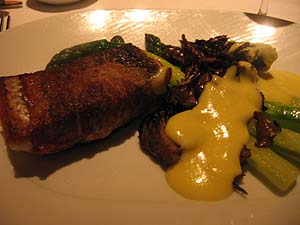 Entrees, anyone?
Grilled Hawaiian Ono with Dijon mustard soubise, haricots verts, sieved egg.
Roasted Local White Sturgeon with chiogga beet relish, sugar snap peas, black caviar.
Milk Poached Alaskan Halibut with green garlic, baby artichokes, hazelnuts.
Serrano Ham Wrapped Maryland Striped Bass with local asparagus, roasted hen of the woods mushrooms, sauce hollandaise.
Seared Local Petrale Sole with braised short ribs, baby carrots, English pea coulis.
Roasted Mediterranean Branzion with king trumpet mushrooms, pea tendrils, truffled Madeira gastrique.
Grilled Leg of Lambwith Italian butter beans, broccoli rabe, sauce Bordeaux.
Grilled Ridgefield Farms Fillet of Beef with Robuchon potatoes, Bleu d'Auvergne, spring onion vinaigrette.
I had the sea bass which was quite tasty and the mushrooms were incredible. Plus, I am inclined to order entrees if they have Hollandaise sauce. Call me kooky.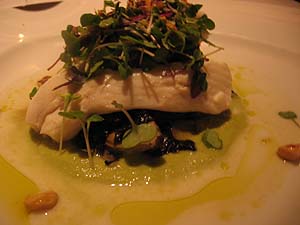 jwa had the halibut — he seemed to enjoy it very much. I snuck a little taste and it was indeed quite good, very mild and I liked the micro greens on top. His parnets both had the sturgeon and both seemed pleased with their choice too.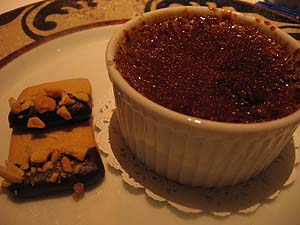 For me, the meal ended with an awesome malt chocolate creme brulee and a peanut butter cookie. Wow, so good. It tasted like Whoppers. Excellent! jwa ordered fresh mangoes and strawberries because he was too full to be truly decadent at the meal's end. Amateur.
Farallon gets four jellyfish out of four.

***
Completely unrelated but worth mentioning — Thank you Stephen! Truthiness, ahoy!