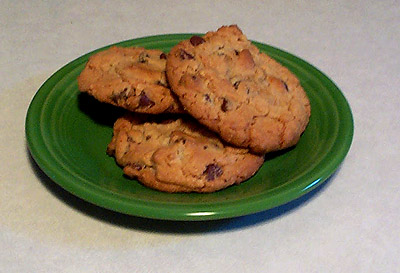 My mother makes the best chocolate chip cookies ever. She would use the recipe out of the classic red and white checked Better Homes and Gardens Cookbook–the one with the stove burner imprint on the backside of it because she accidentally placed it on a burner once. But I digress, and I only mention it because that is like something that I would completely do too.
When I moved away and went to college she bought me one of those cookbooks. It was a different edition than hers, but it still had a whole cookie chapter and, of course, chocolate chip cookies. But whenever I followed the recipe to make them all these years, they were never as good.
Over the weekend I finally called her, asked her to pull down her book and compare the recipes with me, because something was definitely not the same. Sure, the cookies I anticipated as a child were probably going to be the best cookies ever, but still, these were just not the same cookies. I felt that I couldn't be me remembering the flavor and consistency wrong, because even the dough tasted different. Uh, cookie dough which I tried, only for comparative, scientific reasons, of course. Yeah.
Anyway, I was right. Ha! The older and newer recipes were completely different. Her cookbook is an edition from the late 60's or early 70's, mine is from the late 80's. Why they changed the recipe I have no idea, but the older one (in my opinion) is better. The changes included swapping butter for the original shortening, and the sugar measurements were different too.
So, here it is, the best chocolate chip cookie recipe ever:
Chocolate Chip Cookie recipe from the 60s/70s edition of the Better Homes and Gardens Cookbook
1 cup shortening
1 cup granulated sugar
1/2 cup packed brown sugar
2 eggs
2 tsp vanilla
2 cups flour
1 1/2 tsp salt
1 tsp baking soda
1 12 oz package chocolate chips
1/2 cup nuts (if desired)
Preheat oven to 375 degrees F.
Sift together flour through baking soda. Set aside. Cream shortening for about 30 seconds. This should be done in a mixing bowl with a handheld mixer or in a stand mixer. Bottom line: you need technology for this. No matter how strong your arm may be, use an electric mixing device. Add sugar and continue to cream until it is very fluffy (this will take a few minutes). Do not skip this step–my mom swears this is the secret. Add vanilla and eggs and beat for a few seconds more.
Stir in dry, sifted ingredients. Then add the chips and nuts. This should all be done with a wooden spoon (apparently, this is another key strategy to this recipe, she says). Tempting the rage of the kitchen gods, I used a rubber spatula and this seemed to work just fine.
Drop by rounded tablespoons onto a greased cookie sheet. (Okay, so here the recipe is showing it's age a bit, who greases cookie sheets?) I just used parchment paper on the baking sheets and it worked just fine. I would wager that there's enough shortening in the dough that nothing would stick even if you put the cookies right on the sheets, but that's just my hypothesis. Use the parchment if you don't want to test your luck.
Once in the oven, check after 10 minutes. The cookies should get lightly golden, with patches of lighter color around the center. I had mine in for about 13 minutes total.
Once out of the oven, let the cookies sit on the hot baking sheet for about 2 minutes, then remove. As they cool the tops should crackle a bit and get crunchy, but inside they will be all soft (and gooey when warm). Mmm!
Gratuitous dough shot: Oh yeaahhh!