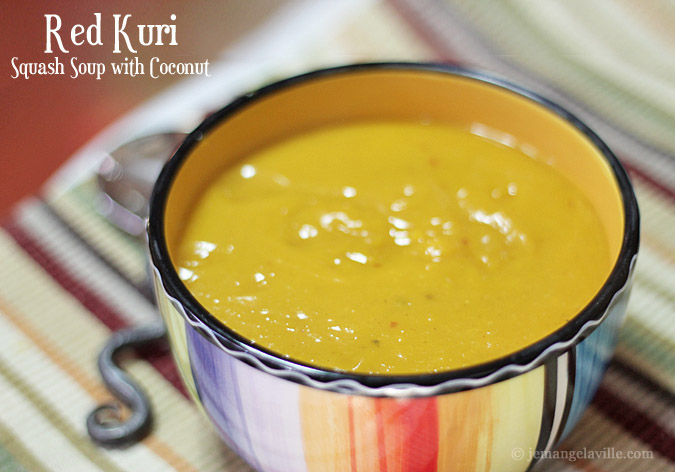 This summer, we had a
mystery squash
growing in a garden. It was a mystery in that neither jwa nor I remembered planting any Red Kuri Squash but here it was – a beautiful red kuri growing in our garden. It was in a bed close to the compost so the theory is we either had a seed or two in the compost that ended up in the garden bed or maybe a critter buried the seed in the garden and it sprouted – either this way this fall we had a nicely-sized (about four pounds!) mystery squash to eat.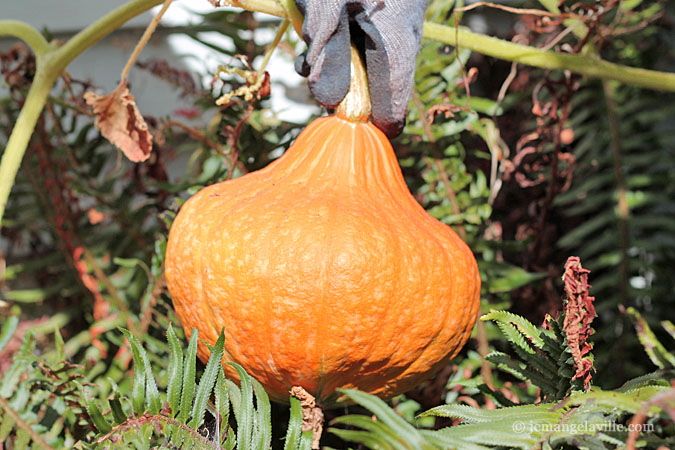 After much contemplation, I decided on a soup. I love coconut, curry, and pumpkin flavors so I went with a kind of a Thai/Curry/Coconut theme here. If you don't have coconut oil, you can certainly stick to olive oil, and for the roasted chili paste, you can get a small jar of it easily enough in the grocery store (Thai Kitchen is the easily available brand), although if you live by an Asian market you can probably get better roasted chili paste.
I am very lucky, in that my chili paste came from
PokPok
*! When you get the Khao Soi there to-go, one of the garnishes you get for the soup is a little container of roasted chili flakes/paste to put in the soup. I do that with some of it, but any leftovers get added to coconut risotto or soup I make that week, as was the case here.
As I was putting this post together, I realized I didn't take many pictures after I roasted the squash. So instead, enjoy some Halloween photos from our front porch. Frank the skeleton is back, along with his little squash friend, vampire Stu (very apropos!).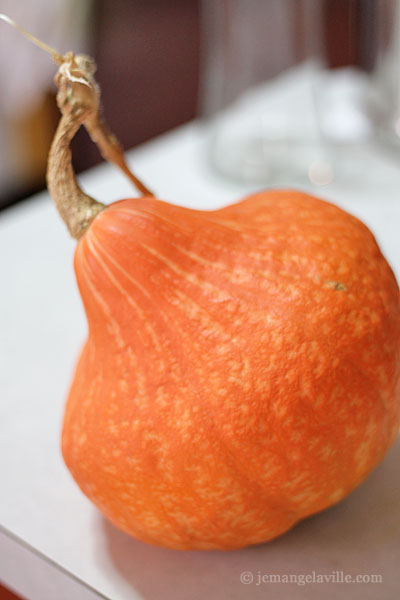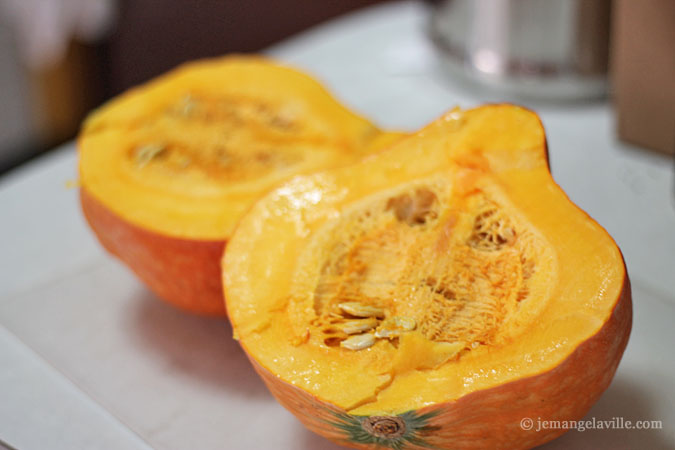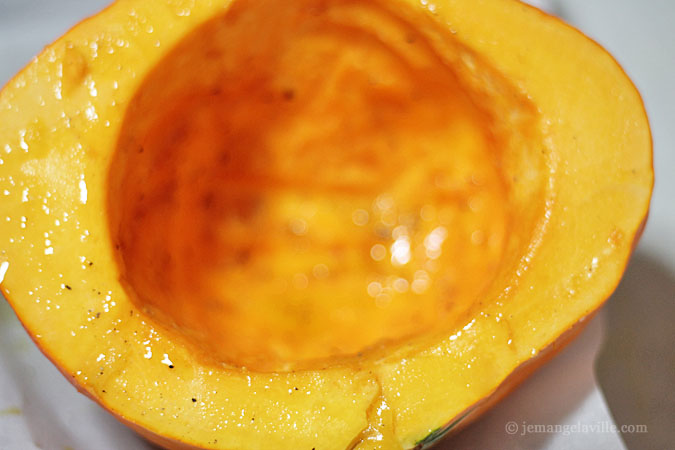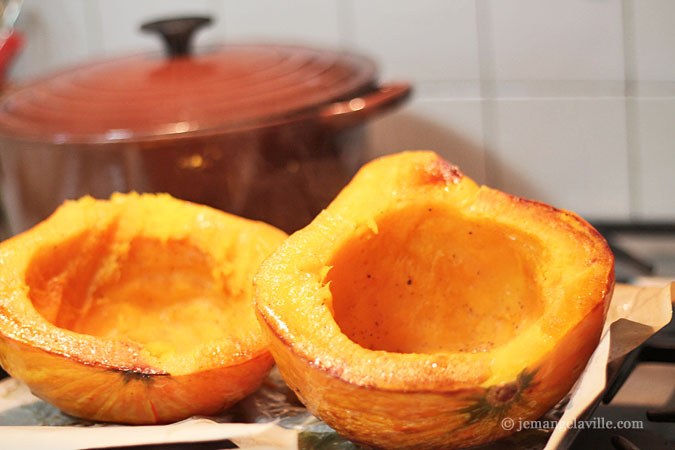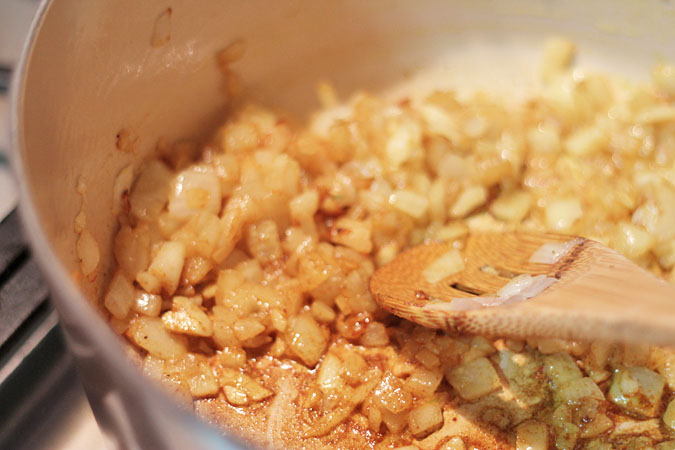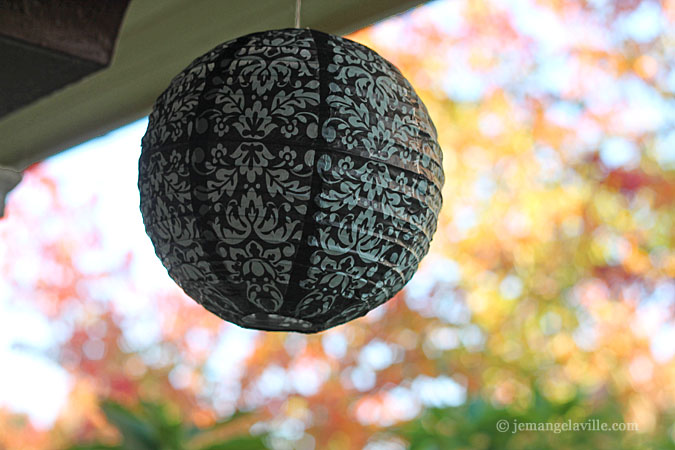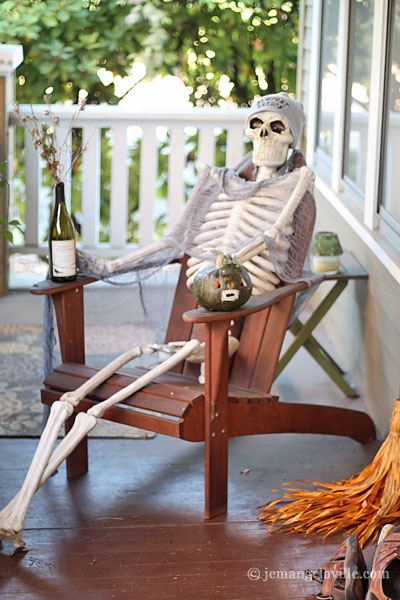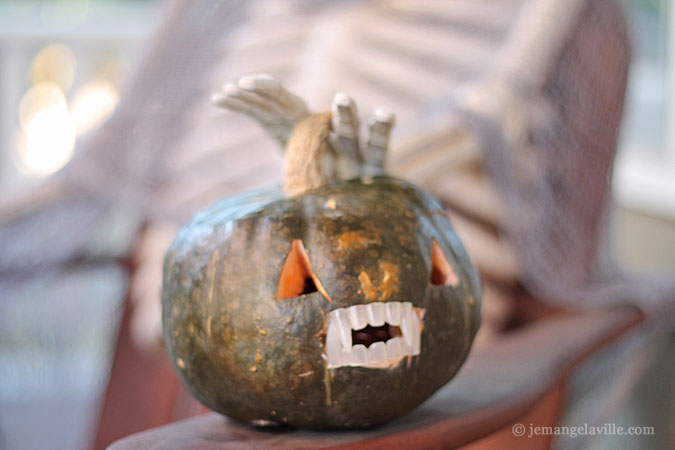 Roasted Red Kuri Squash Soup with Coconut

Serves 4-6
4-ish lb pound Red Kuri Squash (bonus points for growing your own)

1 tbsp Olive Oil
Kosher Salt & Pepper

1 tbsp Coconut Oil (or Olive Oil)

1 medium Onion, diced
3-5 cloves Garlic (depends on size, if they are jumbo-sized, three is probably fine), minced

1 tbsp Curry Powder
1 tsp ground Cumin

1 tsp roasted Chili Paste
13.5 ounce can light Coconut Milk

4 cups low-sodium Vegetable Broth
splash or two of Fish Sauce

1/2 tsp Kosher Salt
1/2 tsp freshly ground Black Pepper

Preheat the oven to 400 degrees F. Carefully slice squash in half. Scoop out seeds and stringy matter, reserving seeds for roasting later. Rub the one tablespoon of olive oil, some kosher salt and pepper over squash halves. Put cut side down on a baking sheet covered with foil or parchment and roast about 40 minutes, or until a knife easily pierces the flesh. Let cool.
While squash is cooling, heat the coconut oil in a large soup pot and add onion and garlic and cook until softened, about 5-6 minutes, stirring frequently. Add the curry powder, cumin, and roasted chili paste and stir about 30 seconds. Add the coconut milk and broth, stirring well and loosening up and browned bits on the bottom of the pot, keep at a simmer over medium-low heat. When squash is coll enough to handle, scoop out the roasted squash and add to the pot, using a wooden spoon or potato masher to break up the squash.
Bring soup back up to a boil, then lower heat again and let simmer about 15 – 20 minutes. Add the fish sauce (just a splash to start – a teaspoon or two) and the salt and pepper. If soup still has lumps from the roasted squash, just blend in batches until as smooth as you would like. Soup can also be thinned down with more broth if it's too thick. Rewarm if needed (after blending), and taste – adjust any seasonings (fish sauce, salt, pepper – just remember the fish sauce is salty). Soup can be garnished with toasted flat bread, lime wedges, spiced, toasted pepitas, or just a spoon! Ad like many soups/stews, this one is even better the next day.
* Speaking of PokPok –
the cookbook is out soon
!