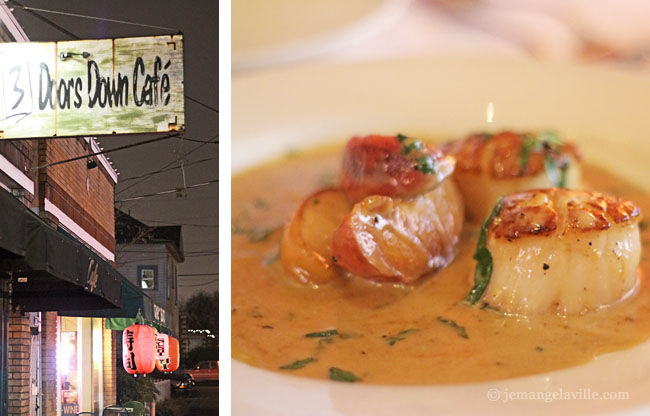 3 Doors Down Café
1429 SE 37th Ave
Portland, Oregon 97214
We actually live close enough to 3 Doors Down to walk there, the problem is, we tend to forget about going there most of the time. Why? I have no idea — every meal we've had there has been wonderful. Maybe it's just because over the last couple of years, when we think walkable dinner, we are always concentrating on SE Division Street.
But, this fall and winter, I am definitely remembering to throw 3 Doors Down into the mix for dinner. Every time we go we get the scallops to start and they are always amazing. Amazing. The recent summer version with seared peaches and basil cream sauce is no exception.
And it's funny, but every other time we've gone there in the past, I'd never gotten pasta as my main course. I always chose the chicken, or pork, or whatever. Not this time! Apparently, summer is pasta weather because I decided to get the rustichella ceppo with ground chicken, rapini, mushrooms, and pancetta — it was so good and creamy. And pancetta-y. jwa got the pasta special and he was just as pleased with his choice.
Anyway, I'm sure we'll spend many more evenings there when it starts to turn a little chilly and it's actual "pasta weather."