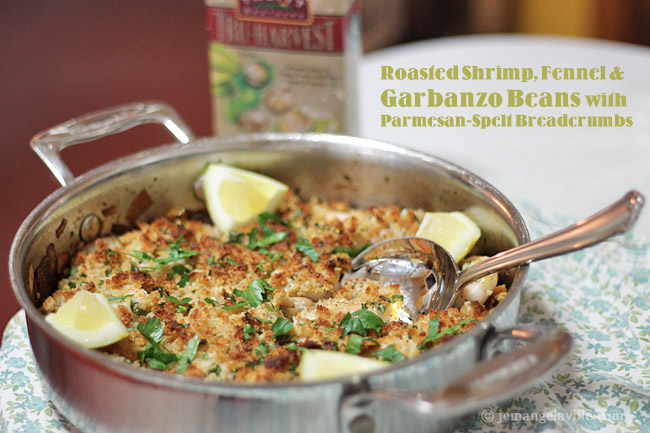 A few weeks ago I was contacted by one of my favorite Northwest companies and asked if I would like some of their Truitt Brothers Beans to play around with for recipes and also to give away on my blog. Of course, I said yes! I was actually familiar with the company before this offer and they are already my bean of choice. How about you? Would you like to try all five (Garbanzo, Kidney, Black, Pinto and Navy) kinds of beans from Truitt Brothers?
These are sustainable cultivated on family farms in the Pacific Northwest, specifically in Central Washington by Haricot Farms. Haricot Farms utilizes innovative no-till farming practices that preserve soil and water resources while creating delicious beans that are packed simply with sea salt and water into TetraPak cartons.
For a chance to win a box of all five varieties of beans, just leave a comment on my blog by Friday, July 12 at noon, Pacific time telling me your favorite bean dish. I'll randomly pick a winner, get your address, and Truitt Brothers will send your beans out to you.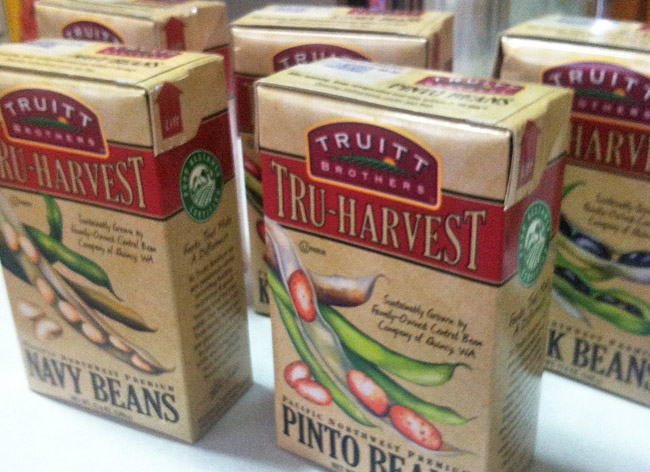 For this first recipe, I used the garbanzo beans and was inspired by a dish I saw on the Barefoot Contessa one day. Except I added beans (and changed a number of other elements). For this, I made my own breadcrumbs with spelt bread, but feel free to use any kind of bread if you don't have spelt, or even packaged breadcrumbs.
This is also a great one dish meal and if you wanted to go vegetarian, you could just omit the shrimp.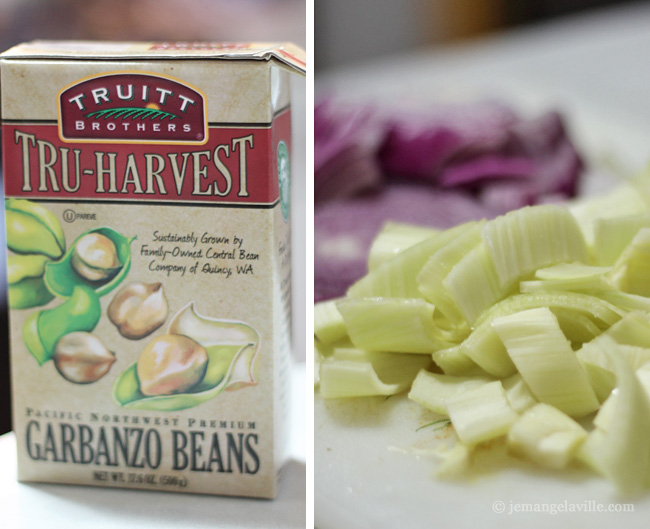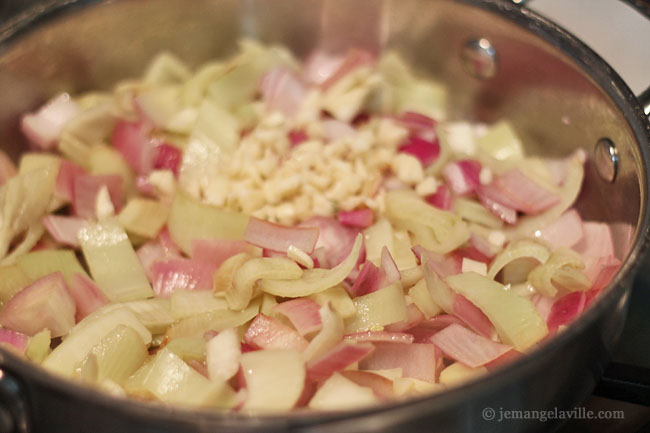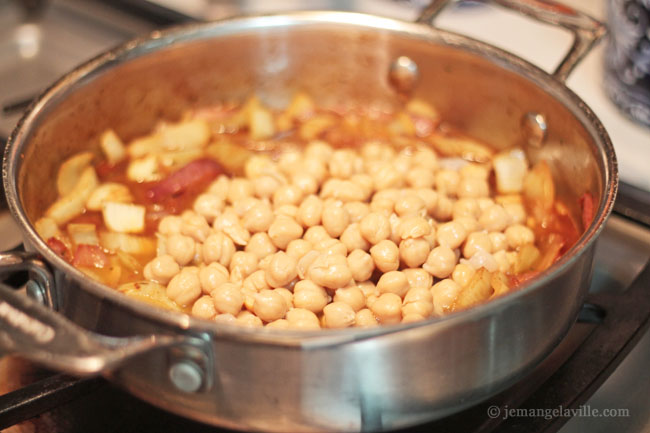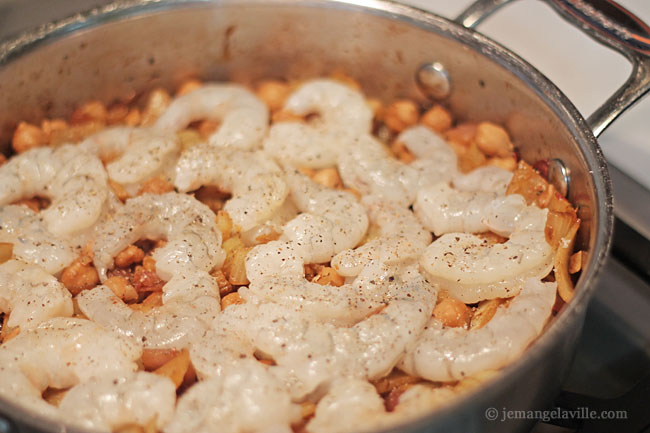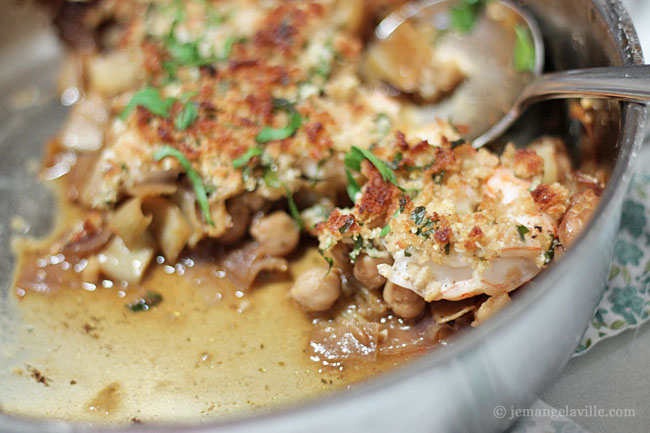 Roasted Shrimp, Fennel, & Garbanzo Beans with Parmesan-Spelt Breadcrumbs
Influenced by a recipe from Ina Garten
4 tbsp olive oil, divided
1/2 onion, diced
2 medium fennel bulbs, cored and diced
4 cloves garlic, minced
1/2 cup dry white wine
1/2 cup low sodium vegetable broth
1 17.6 oz pckg Truitt Brothers garbanzo beans
1 tsp kosher salt
1/2 tsp freshly ground black pepper
1 tsp dried marjoram (can substitute dried oregano)
pinch of red chili flakes
1 lb peeled and cleaned shrimp
1/4 cup Parmesan cheese
2 slices spelt bread, crusts removed, processed into bread crumbs (about a 1/2 cup)
1/4 cup minced fresh parsley
1 lemon, zested and juiced, (divided); 1 lemon cut into quarters (2 lemons total)
Preheat the oven to 400 degrees F. Heat 2 tablespoons of the olive oil in heavy ovenproof skillet over medium heat. Add the onion and fennel and saute for 8 to 10 minutes, until they are starting to caramelize. Add the garlic and cook for 1 minute more. Add the wine and bring to a boil, scraping up any browned bits. Cook for 2 to 3 minutes, until the liquid is reduced by about half. Add the vegetable broth, drained and rinsed beans, salt, pepper, marjoram, and red pepper flakes to the skillet. Simmer over medium-low heat, stirring occasionally, for 10 minutes.
Arrange the shrimp, in one layer over the bean-fennel mixture. In a small bowl, combine the bread crumbs, parsley, and lemon zest and the remaining 2 tablespoons of olive oil and sprinkle this mixture evenly over the shrimp. Bake for 15 minutes, until the shrimp are cooked and the bread crumbs are all toasty and golden brown. Squeeze the juice of the zested lemon over the casserole and serve with the slices of the second lemon and more chopped parsley.
Leave a comment for a chance to win! And please, use an email address that you actually check for email. If the winner does not get back to me within 5 days, I will move on to another winner.
One more note: your comment can certainly be the whole recipe (and that's awesome!), but just a "Three Bean Salad!" or "Refried Beans…Yay!" will do. Even a "I like beans," will work.
Winner has been chosen and it being notified, thanks!