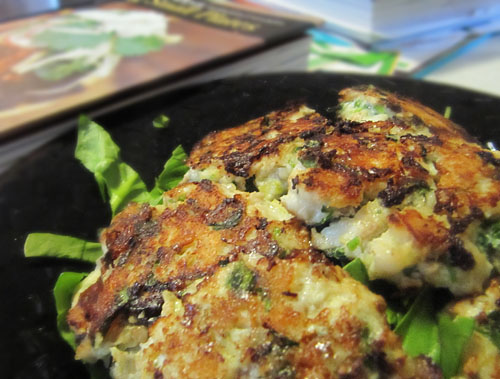 These were very good, and although time consuming, worth it. Although not really a practical, say Wednesday night dinner, this was a fun Saturday afternoon project. We actually made them a few weeks ago, when it was still pretty cool here in Portland, but if you were to grill these, I'd think they'd still be a pretty good hot weather choice.
The original recipe did not call for any kind of binder in the fish cakes. I honestly did not trust my ability to keep the fish cakes together without one so I added an egg white. You do what you need to do there. For serving, you'll want some spinach leaves, basil leaves and maybe some rice.
One important thing before we get to the recipe and photos — this is my friend Michael Grenley. I met him in Flagstaff, AZ in 1995 where we worked together at NAU. He's one of the nicest people I've ever met in my life. He's a husband and a father and has a lot of worried family and friends right now. He's been missing since July 19th from the Phoenix/Glendale area. Please help us find him. Thank you.
Thai Style Fish Cakes with Erasto's Nuoc Cham
Adapted from the cookbook, Big Small Plates
1/2 lb cod, salmon or snapper (I used cod)
2 oz thin asparagus or hericots verts
1 stalk lemongrass
2 shallots, minced (I think I used red onion)
1/2-inch piece of ginger, peeled and minced
2 tbsp cilantro leaves, chopped
2 cloves garlic, minced
1/2 tsp lime zest
1 tsp sugar
1 tsp fish sauce
1 egg white
pinch of salt and freshly ground black pepper
Nuoc Cham
2 tbsp rice vinegar
3 tbsp lime juice
1/4 cup fish sauce
1/4 cup hot water
2 tbsp sugar
1/2 tbsp peeled, minced fresh ginger
1 tsp red-chile garlic sauce (Siracha!)
2 tbsp grated carrot
5 mint leaves, julienned or chopped, depending on your mood
Make the Nuoc Cham
Combine all ingredients and mix well. Refrigerate until the fish cakes are done.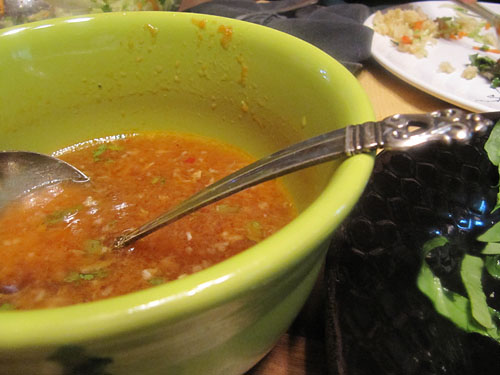 Speaking of fish cakes, here's how you make those
Cut the asparagus or hericot verts into small rounds. Blanch them quickly (30-40 seconds) in boiling water and then shock in an ice bath. Drain and blot dry when cold and add to a bowl. Peel off the outer layers of the lemongrass and mince the bottom 1.5 inches of the bulb end. Save the rest of the lemongrass for another use. Add the minced lemongrass into the bowl with the blanched asparagus and add the shallots, ginger, cilantro, garlic, lime zest, sugar and fish sauce. Mix thoroughly. Place that in the fridge to chill for about 30 minutes.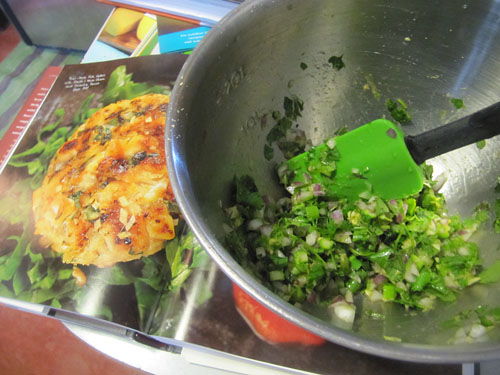 While that is chilling, rough chop your fish and then place it in a food processor. You want very fine pieces but not a puree. Add the fish to the chilled asparagus mixture and add the egg white and a little salt and pepper. Combine well but don't over mix.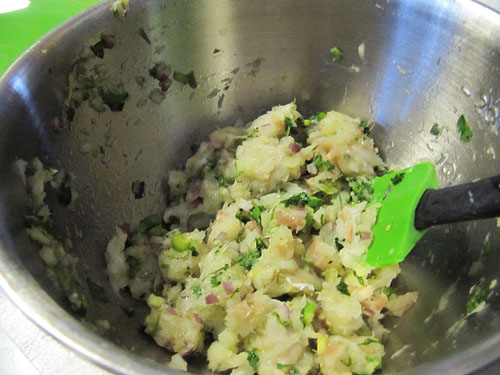 Form about 8 fish cakes about a 1/2-inch thick. You can refrigerate them at this point until you are ready to cook them. (I'd not leave them in the fridge for more than a couple of hours).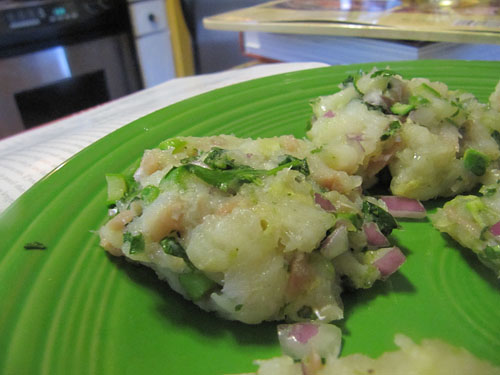 When ready, heat some olive oil in a non-stick pan and fry the fish cakes for about 3-4 minutes per side.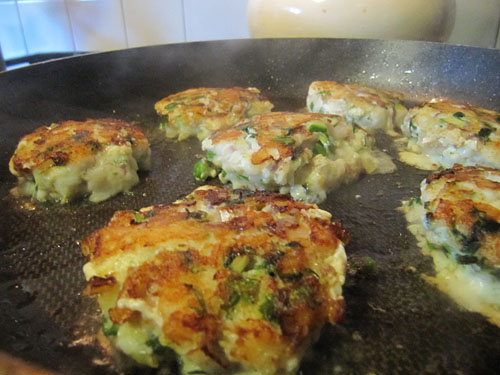 Serve on a platter of spinach and basil leaves with the Nuoc Cham on the side. A bowl of rice on the side is also nice.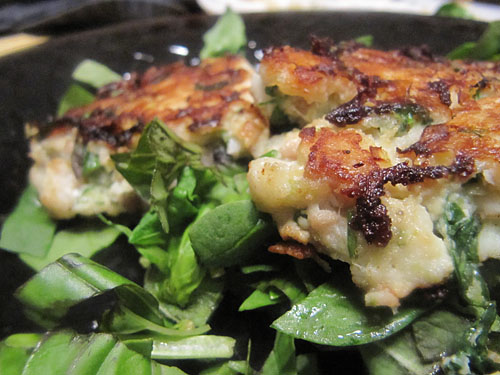 You can also grill the fish cakes by oiling each side and grilling about 1.5 – 2 minutes per side.