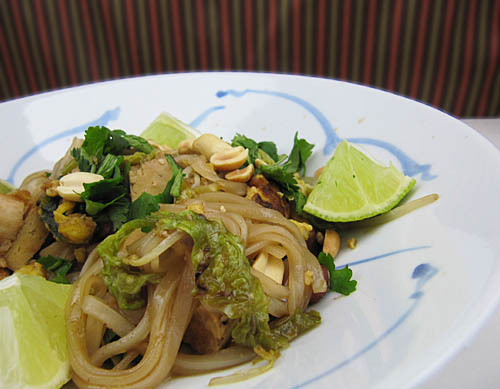 The other day, let's call it "Monday", I had a MAJOR craving for Pad Thai. I waited a day or two to see if it would go away and when it did not, I turned to the google for an easy way to satisfy this craving. I came across the Alton Brown recipe (which I've made before), and while quite good, requires a trip to H-Mart or some other specialty grocery to get all the supplies. Most of the time I'm okay with that, but on a Wednesday after work, I require easier.
Then I came across this recipe in the New York Times by Mark Bittman. "Hey! I have everything already at home!", I thought.
Then, when I got home, I realized I had no tamarind paste. But…I did have Tamarind chutney (a mix of tamarind paste, sugar, water, spices, etc…) and I decided to just use that (and decreased the honey to just 1 tablespoon). Lazy! But actually, it turned out great. And, as I was reading the reviews later, it seems a lot of people had trouble with the sauce being too bitter and tamarind-y.
So, I would suggest if you are following the recipe exactly and are not too familiar with how your tamarind paste tastes/works in recipes (all brands are a little different), to start with a mixture of tamarind paste + water to get the 2 – 4 tablespoons. A lot of the jars of pastes have directions on how to mix with water before using…so I'd do that. And then taste it along the way to make sure you like the flavor of the sauce. Also, remember it is being mixed into a lot of noodles and veggies…it'll dilute a bit.
He says 25 minutes from start to finish, I say about 35-40 (but then I was using chicken — longer cooking time) and spent a few minutes searching the fridge for my tamarind paste.
Original recipe is below, my substitutions are in parentheses.
In the Style of Pad Thai
Adapted from a recipe by Mark Bittman, via The New York Times
4 ounces fettuccine-width rice stick noodles (I used about 3/4 of a package of rice stick noodles….I thought it would be more than 4 oz, but when actually weighed on my kitchen scale, it said 4 oz)
1/4 cup peanut oil
2 to 4 tablespoons tamarind paste (4 tbsp tamarind chutney)
1/4 cup fish sauce (nam pla)
1/3 cup honey (1 tbsp honey)
2 tbsp rice vinegar
1/2 teaspoon red pepper flakes, or to taste (less)
1/4 cup chopped scallions
1 garlic clove, minced
2 eggs
1 small head of Napa cabbage (6-7 large Savoy cabbage leaves, sliced into medium-ish pieces)
1 cup mung bean sprouts
1/2 pound peeled shrimp, pressed tofu or a combination (1 skinless, boneless chicken breast, cubed into bite-sized pieces and about the same amount of cubes tofu)
1/2 cup roasted peanuts, chopped
1/4 cup chopped fresh cilantro
2 limes, quartered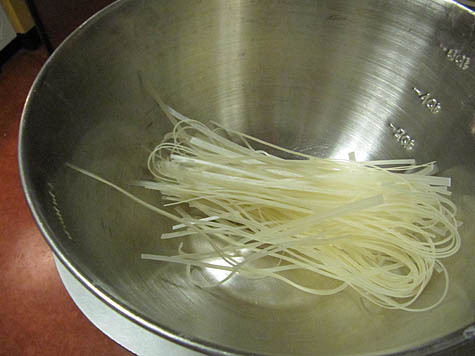 Put noodles in a large bowl and add boiling water to cover. Let sit until noodles are just tender; check every 5 minutes or so to make sure they do not get too soft. Drain, drizzle with one tablespoon peanut oil to keep from sticking and set aside.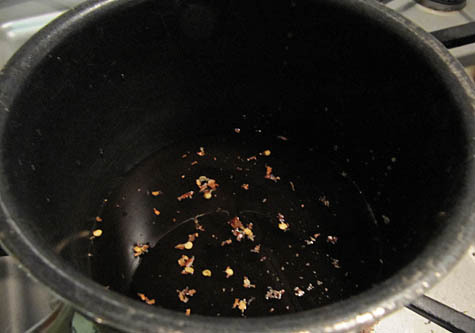 Meanwhile, put tamarind paste, fish sauce, honey and vinegar in a small saucepan over medium-low heat and bring just to a simmer. Stir in red pepper flakes and set aside.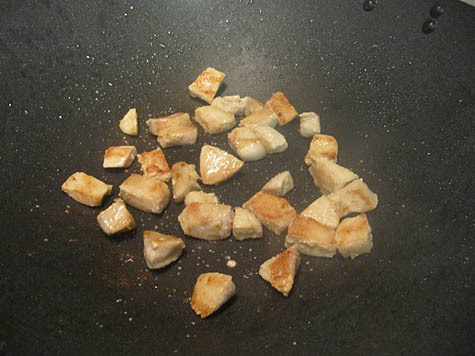 Put remaining 3 tablespoons oil in a large skillet over medium-high heat; if you are cooking chicken, brown it now, and cook it until it is just cooked through, remove and set aside. Then, add scallions and garlic and cook for about a minute. Add eggs to pan; once they begin to set, scramble them until just done.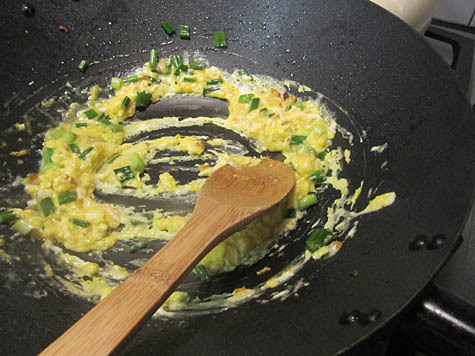 Add cabbage and continue to cook until cabbage begins to wilt, then add shrimp (if using) and/or tofu.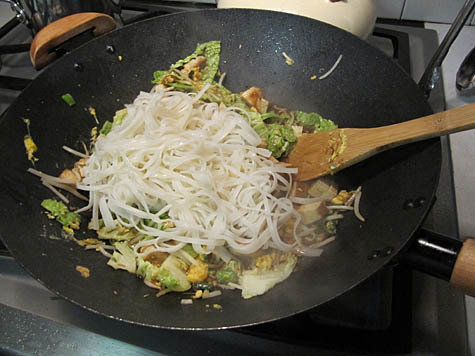 When shrimp begin to turn pink and tofu begins to brown, add drained noodles, the chicken and the bean sprouts to pan along with sauce. Toss everything together to coat with tamarind sauce and combine well. When noodles and sprouts are warmed through, serve, sprinkling each dish with peanuts and garnishing with cilantro and lime wedges.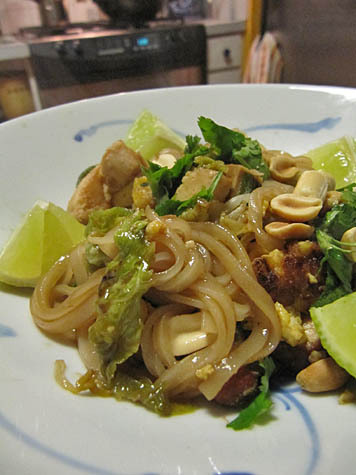 Lastly, I have taken great pains in the title of the post and in what I call it above the recipe to NOT call this authentic Pad Thai. I have also typed out "Mark Bittman" many a couple of times. Hint: This means this is not my recipe! This also means that people should not email me and yell at me about how I have ruined Pad Thai and all of Thai culture. Thank you for your cooperation!