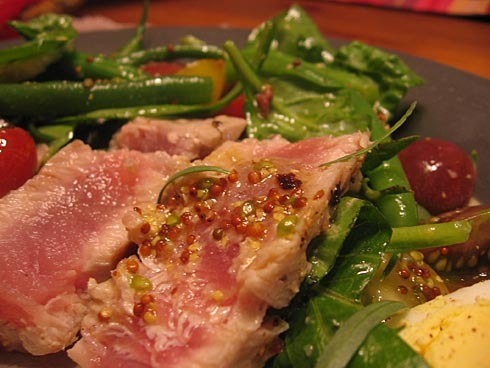 I think I went on a little unplanned hiatus there. Blame it on the Summer, I guess. Anyway, I'm back! And here's a wonderful tuna salad from the Ad Hoc at Home cookbook.
Now I changed a few things from the original recipe, not because I know better than Thomas Keller, or anything, but rather based on what I had at home, what I like, what I could find, and my level of laziness while preparing the meal. Actually, these are usually the components that affect any recipe that I make at home.
So here we go:
1. Tuna: I used an 8 oz steak
2. Lettuce: I used romaine
3. Oil: Olive oil all the way (for the tuna and dressing)
4. no chervil leaves
Also for the dressing, I used some blood orange vinegar that I had recently gotten and was dying to try, as well as stone ground, country Dijon mustard. The recipe is in original form below, but keep in mind my substitutions, if you'd like.
Hard Boiled Eggs How To… at Simply Recipes.
Fresh Tuna Salad
1 lb trimmed, center-cut ahi tuna loin
3 heads Bibb lettuce
Kosher Salt & Freshly Ground Pepper
Canola Oil
6 oz thin green beans, stem ends trimmed, and blanched
4 oz cherry tomatoes
1/2 cup pitted olives
4 Medium-cooked eggs
Extra Virgin Olive Oil
1 Haaas Avocado
Tarragon leaves
Chervil leaves
Simple Vinaigrette (below)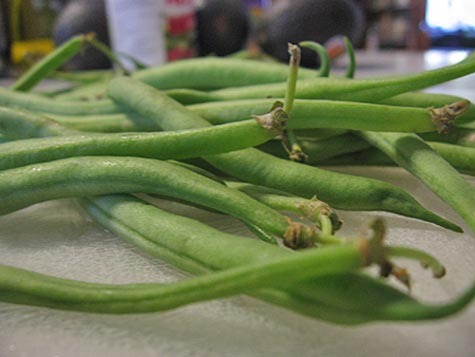 Cut the tuna loin into two rectangular blocks, about 4 inches long and 2 inches thick. Set aside.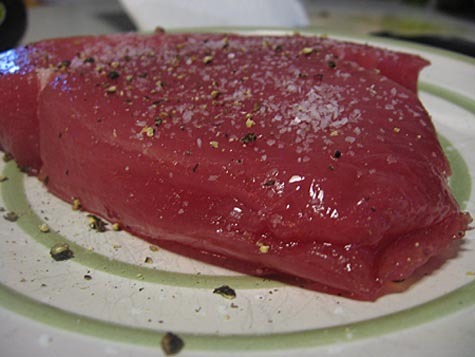 Twist off the core of each head of lettuce and discard any bruised outer leaves. Submerge the lettuce in a large bowl of cold water. The leaves will separate naturally. Remove and dry in a salad spinner.
Season the tuna on all sides with salt and pepper. Heat some canola oil in a large pan over high heat until hot. Add the tuna and lightly brown on all four sides (20-30 seconds on each side). When you turn the tuna, move it to another section of the pan, which will be hotter. You can gauge the cooking process if you look at the end pieces – allow only about 1/4 inch of the tuna to cook on each side. The tuna will be rare. Drain on paper towels and let rest for 5 minutes.
Slice each piece of tuna crosswise into multiple pieces.
Put the lettuce in a large bowl of platter. Drizzle a light coating of the dressing around the sides of the bowl and toss lightly to coat. Season with salt and pepper and toss again.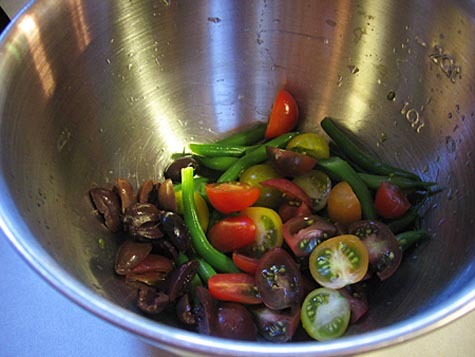 Cut the beans in half diagonally. Put the beans, tomatoes, and olives in a second bowl. Season with salt and pepper and toss with a light coating of dressing.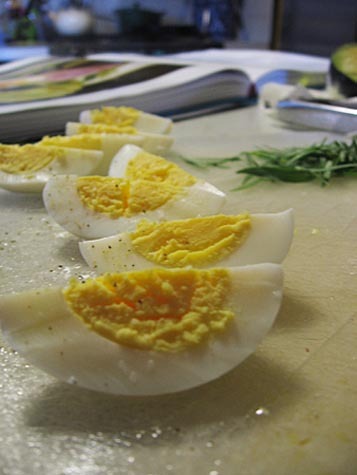 Cut the eggs lengthwise into quarters. Drizzle lightly with olive oil and sprinkle with salt and pepper.
Peel and pit avocado and cut into eight wedges. Season with salt and pepper.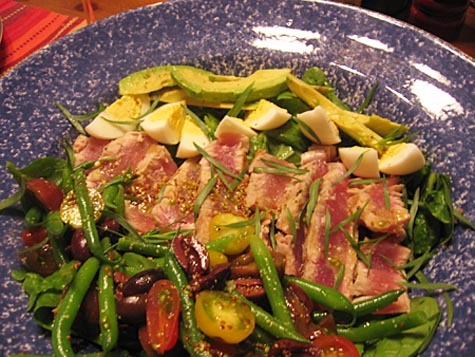 Scatter some of the beans and tomatoes over the lettuce. Arrange the eggs and tuna on top and continue to build the salad. Garnish the salad with tarragon and chervil and serve remaining dressing on the side.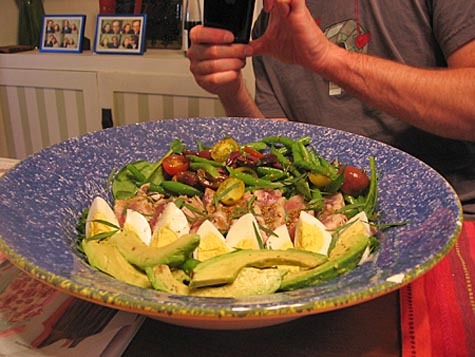 Simple Vinaigrette
2 tbsp Dijon mustard
1/4 cup red wine vinegar
1/2 cup olive oil (originally was canola oil)
Whisk together the mustard and vinegar in a bowl. While whisking, pour in the oil in a thin stream until the dressing is emulsified and smooth. Refrigerate in a covered container for up to 2 weeks.