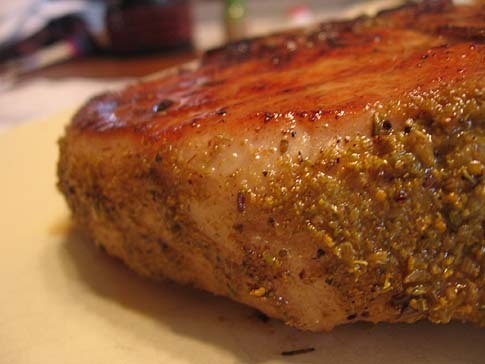 Fennel pollen is kind of expensive but also really amazing. There really isn't a great substitute for it, so if you've got a little extra money, I'd invest in some. So fragrant. Kind of like if you mixed fennel with curry and some kind of mystery tasty ingredient. I've seen it online at Amazon. I was going to go that route but, in the words of jwa, I was able to score some through my "shadowy, underground, food blog connections."
Actually, I made a comment on twitter about wanting to get some and a fellow pdxer offered to sell me some from a big, fancy food order they were putting together! But honestly, I think "shadowy, underground, food blog connections" sounds better. Much more mysterious…
Even without the fennel pollen, I think these are worth making with the brine alone. The chops are so flavorful and juicy!
Pork Chops with Fennel Pollen
Adapted from Secrets of a Restaurant Chef
Brine
1/2 cup kosher salt
1/3 cup sugar
2 tbsp fennel seed
2 tbsp coriander seed
1 tsp crushed red pepper flakes
3 bay leaves
1 onion, diced
2 carrots, peeled and diced
2 ribs celery, diced
4 cloves garlic smashed
1 1/2 quarts cold water
4 bone-in pork chops
1 tbsp wild fennel pollen*
To make the brine: In a large container, add all of the ingredients and stir to combine.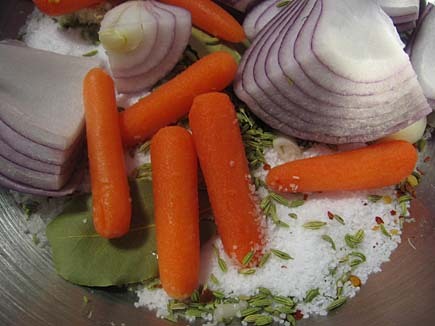 Submerge the pork chops in the brine and refrigerate for 2 days (the original recipe called for 3 days but I only had 2 days. Turned out amazingly well and I almost think they would be too salty after 3 days?). So, after the 2 days remove the chops from the brine, discarding the brine.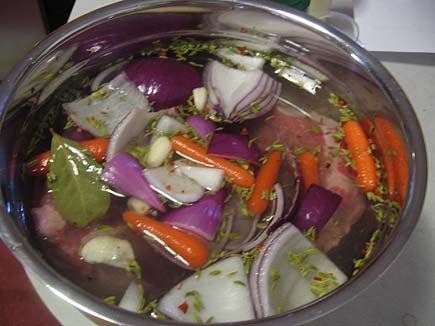 Pat the chops dry with a paper towel.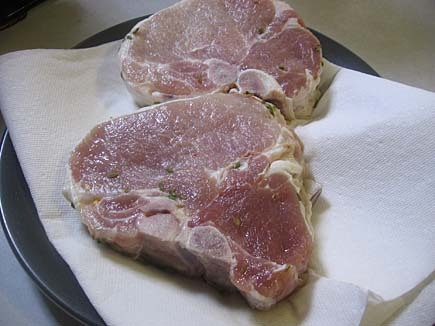 Preheat an grill or grill pan. Use a little of olive oil on the cooking surface of your choice to prevent sticking. Roll the fat edge of each pork chop with the fennel pollen. Place pork chops gently on the preheated grill or grill pan. After 3 to 4 minutes rotate the chops 90 degrees to create decorative grill marks.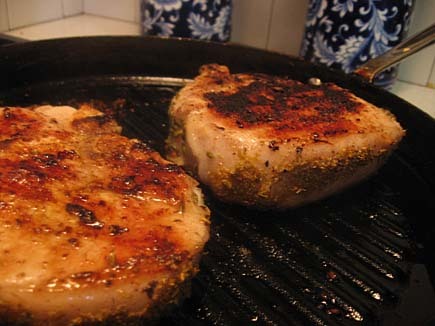 Grill the chops for another 3 to 4 minutes and then turn over and repeat the process. If the chops seem to be burning move the chops to a cooler part of the grill to allow for longer cooking time without burning. Stand the chops up so the fat edge is in contact with the grill to crisp up the fat edge, this will also make the fennel pollen very aromatic.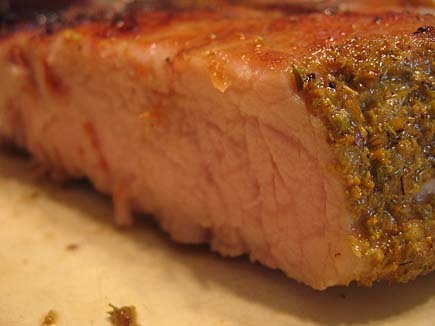 Remove the chops from the grill and let rest in a warm place before serving. The doneness of the meat should be about medium to medium well and very juicy.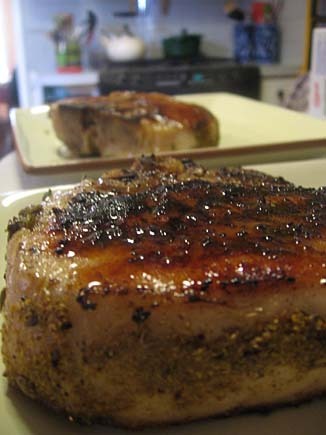 On the side, in the Fall/Winter polenta would be great (it was the pairing on the original recipe). Since it was a little warm when I made this (in the 70's! Woo!) I made a raw fennel, apple, goat cheese and walnut salad.
Fennel, Apple & Goat Cheese Salad
Recipe adapted from Chavrie Goat Cheese Website
5.3 oz goat cheese (room temperature)
2 apples (I used Pacific Rose)
1 celery stalk
1 Fennel bulb
1/2 tsp Lemon juice
1/2 cup toasted walnuts
Remove core and slice apples. Do the same with the fennel. Add those two items to a bowl and toss with the lemon juice. Dice up the celery and add that to the bowl.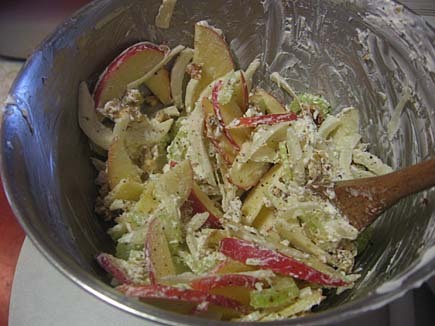 Fold in goat cheese and walnuts. Season with salt and pepper.