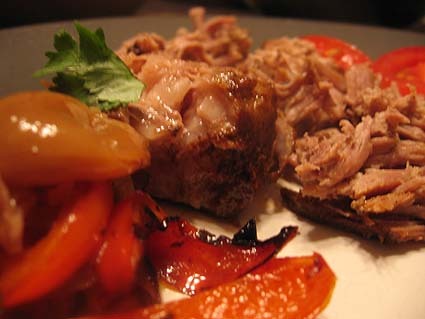 I really like listening to The Splendid Table Sunday nights while I make dinner. A few weeks ago, I heard this recipe and could not wait to make it. I just did and wow, so good. jwa was raving.
Close-Roasted Pork with Mole-Inspired Spice Rub
from The Improvisational Cook by Sally Schneider, as heard on the Splendid Table
2 1/2 tbsp Mole-Inspired Seasoning (recipe follows)
1 tbsp plus 1/2 tsp kosher salt
1 tsp sugar
3-1/2 pounds pork shoulder, trimmed of excess fat, tied to make a compact Roast (bone-in is preferable, though boned is fine)
1 head of garlic, broken into cloves but not peeled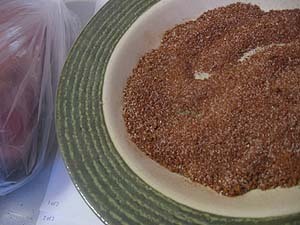 In a small bowl, combine the mole seasoning, salt, and sugar. Rub all over the pork shoulder and place on a plate. Marinate for 1 hour unrefrigerated, or 2 to 24 hours refrigerated.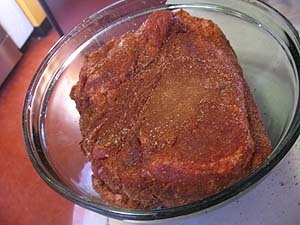 Preheat the oven to 275 F. Place the pork in a Dutch oven or deep-lidded roaster just big enough to hold the roast snugly. Scatter the garlic cloves around the roast.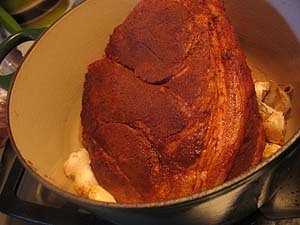 Place a large piece of aluminum foil over the pot, then press the lid down securely. Alternatively, wrap the meat in a tightly sealed foil package (make sure the seam is at the top so the juices don't leak out) and place the package in an ovenproof skillet or casserole.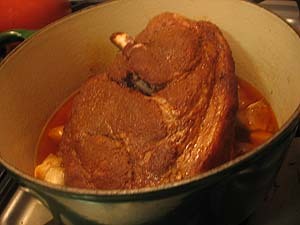 Roast the pork until very tender and practically falling apart, 3-3/4 to 4 hours. Transfer the roast to a platter and cover with foil. I was actually a little afraid that I would have no liquid in my pot and my pork would be all dried out and ruined. As you can see, totally not the case. Yay!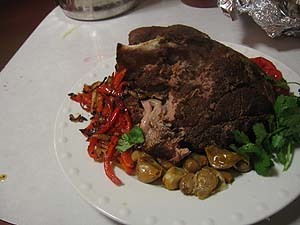 Pour the juices into a sauce boat and place in the freezer for 10 minutes. Spoon off the fat that has risen to the top. Pull the meat apart or slice it across the grain and arrange on a platter. Pour some of the juices over and pass the rest. Save any remaining juices for heating up leftovers.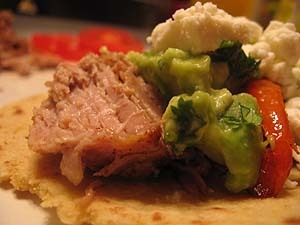 We had our pork with homemade tortillas, avocado, grilled peppers, onions, tomatoes and some cheese. So good. We plowed through about a 1/3 of it that night for dinner (although we each could probably have eaten more) and then the leftovers got stored in the fridge freezer to make a tamale filling later in the month. Now I just have to think of something to put my leftover spice rub on. Oh, I'm sure I'll find something…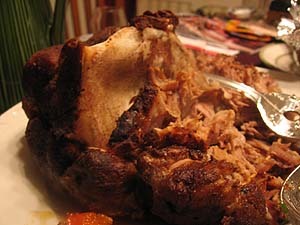 Mole-Inspired Seasoning with Ancho, Cinnamon, and Cocoa
Makes about 1/3 cup
3 tbsp Ancho chili powder and/or pimentón de la Vera (I used 2 tbsp chili powder blend + 1 tbsp smoked paprika)
1 tbsp brown sugar
1 1/2 tsp cinnamon
1 1/2 tsp cocoa powder (unsweetened)
1 1/2 tsp cumin
1 tsp dried oregano
In a small bowl, combine all ingredients. For each pound of meat, combine 3/4 teaspoon kosher salt, 1/4 to 1/2 teaspoon grated garlic, and 1 to 2 teaspoons spice mixture.